For some reason, everything is so much more fun when you can pull out a surprise. Including learning about your numbers! These DIY number rocks are super durable and will last through play and time! There are countless (no pun intended) activities that you can do with them. But here are a few ideas to get you started!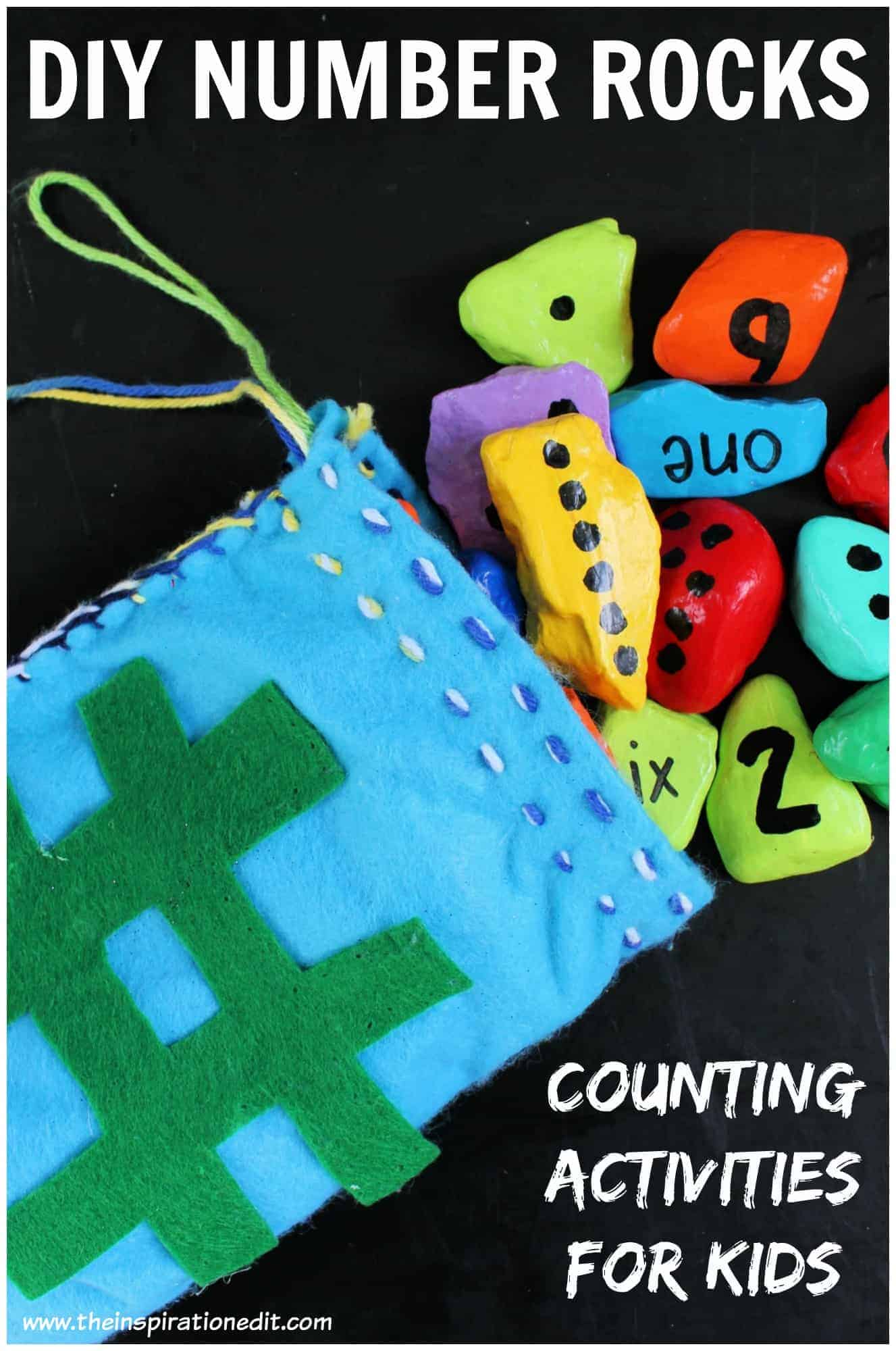 *I use affiliate links in this post. If you buy anything from my links I will earn a small commission*
Number Matching Game.
Pull out two rocks. Do they both have the same number? If so, keep them! If not, put them back and let the next person try.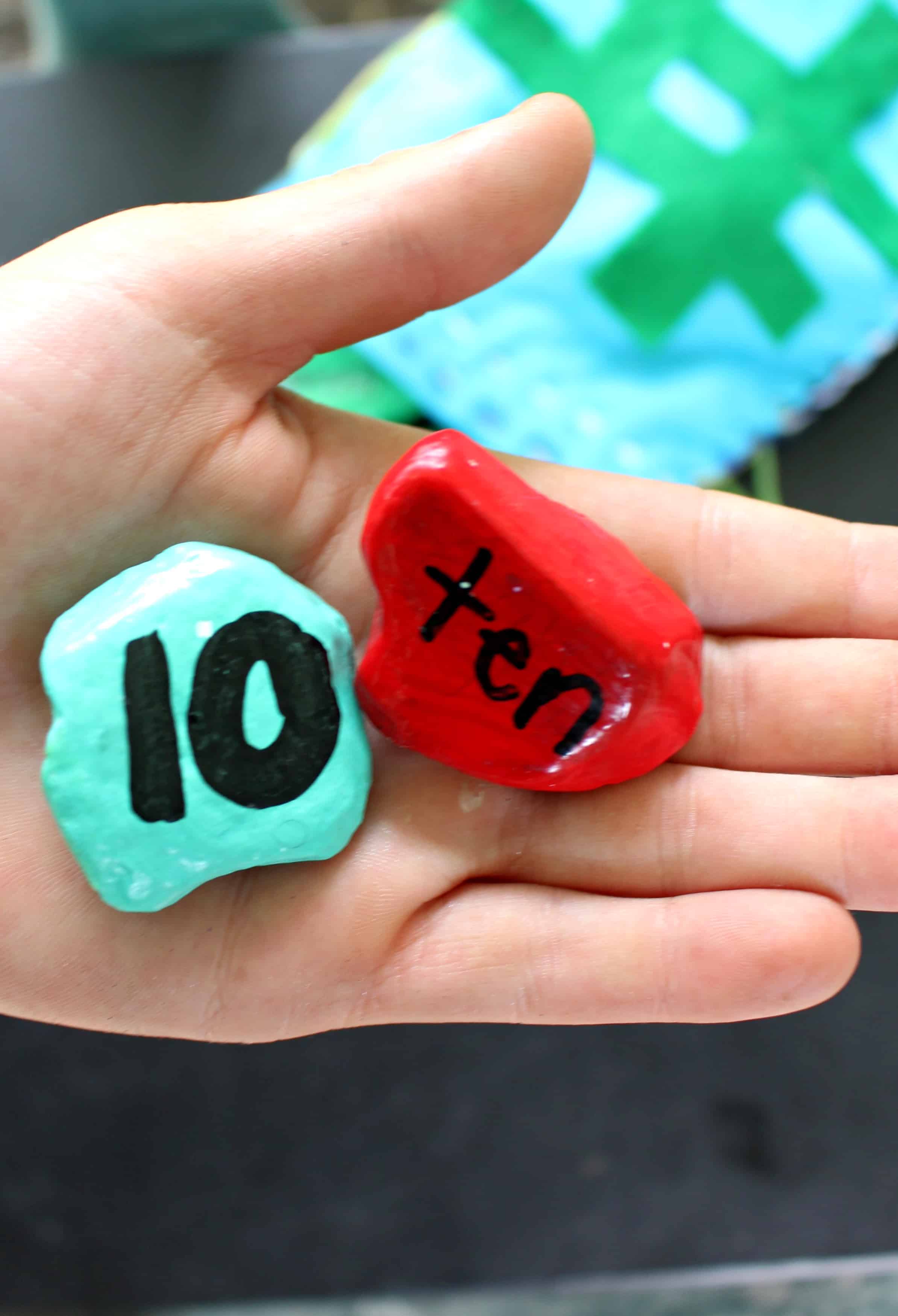 Number Activities Using Playdough
Pull out a rock. What does it say? If it has dots, count the dots and then make your own with Playdoh. But, if it has a number, can you make that number with Playdoh? For a number word, roll out your Playdoh to make a long snake. Try writing the word with Playdoh.
Find The Number Game
Pull out a rock and then search around your home, park or classroom for the corresponding number of objects illustrated on your rock.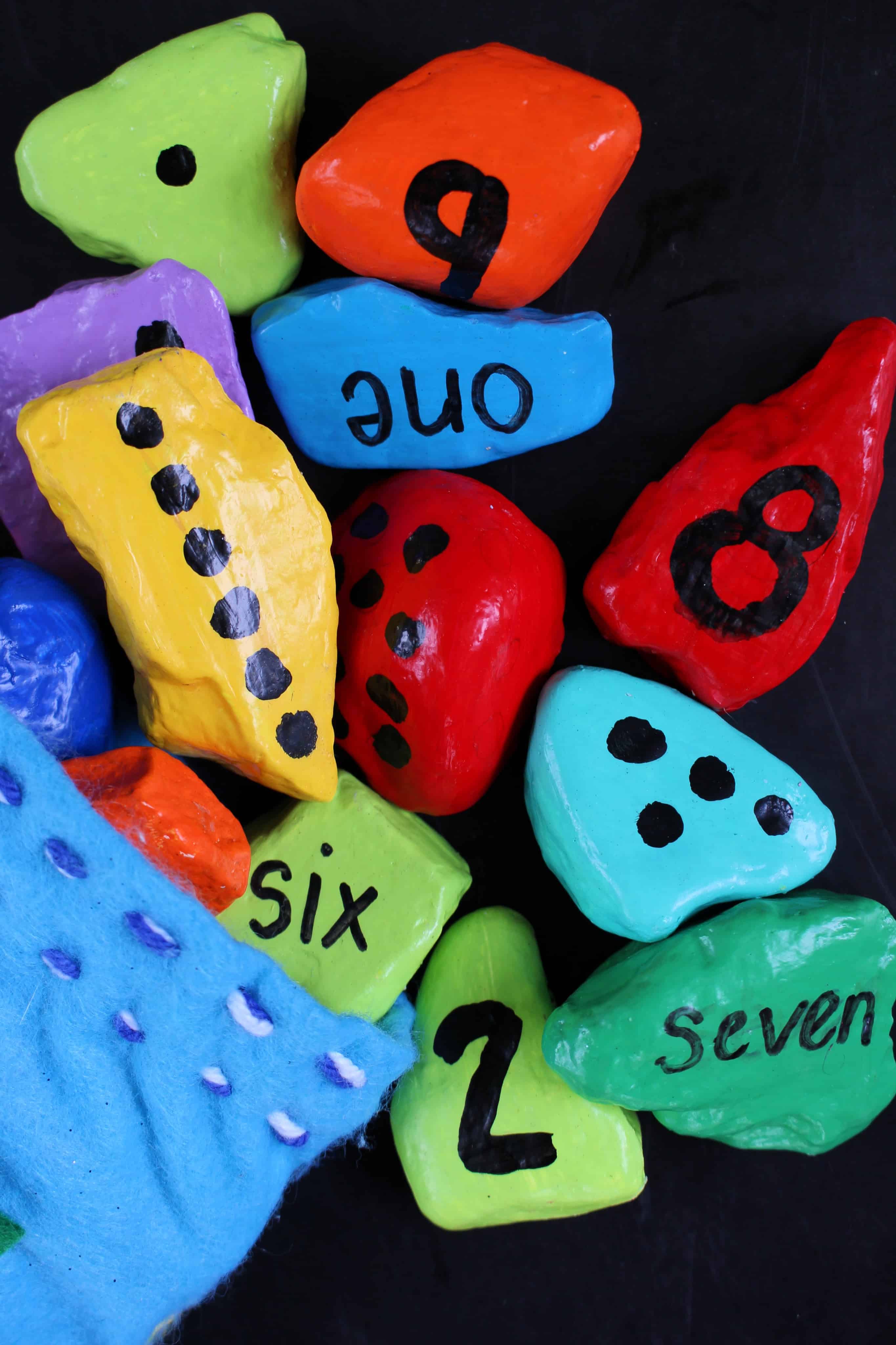 Counting Simon Says
Pick a large motor activity like jumping jacks and pull a rock. Then, use it to play Simon Says. If the picker doesn't say Simon says, everyone who did the activity is out.
Rock Stone Maths
You may need to make some higher value rocks for this one! Pull out two rocks and have kids add or subtract them. You can use counters to help!
The best thing about number rocks is that you can do them yourself. Below you will find everything you need to know to make your own set of number rocks for the kids.
Supplies Needed For DIY Number Rocks
How to Make DIY Number Rocks
To begin, you will need to collect your rocks! You will need 30 for this project to have the numbers 1-10 in dots, numbers and number words.
Wash the rocks and let them dry. Kids love to help with this! So, get them involved!
Once the rocks are dry, paint them white. This is optional, but it makes a HUGE difference in making the colors nice and bright.
Paint the rocks in your choice of colors. I painted mine in a rainbow of colors, but if you want you can make all the 1's the same color, 2's the same color and so on.
Let dry. I painted 2 coats on mine.
Once the rocks are dry, use a Sharpie to draw on the numbers.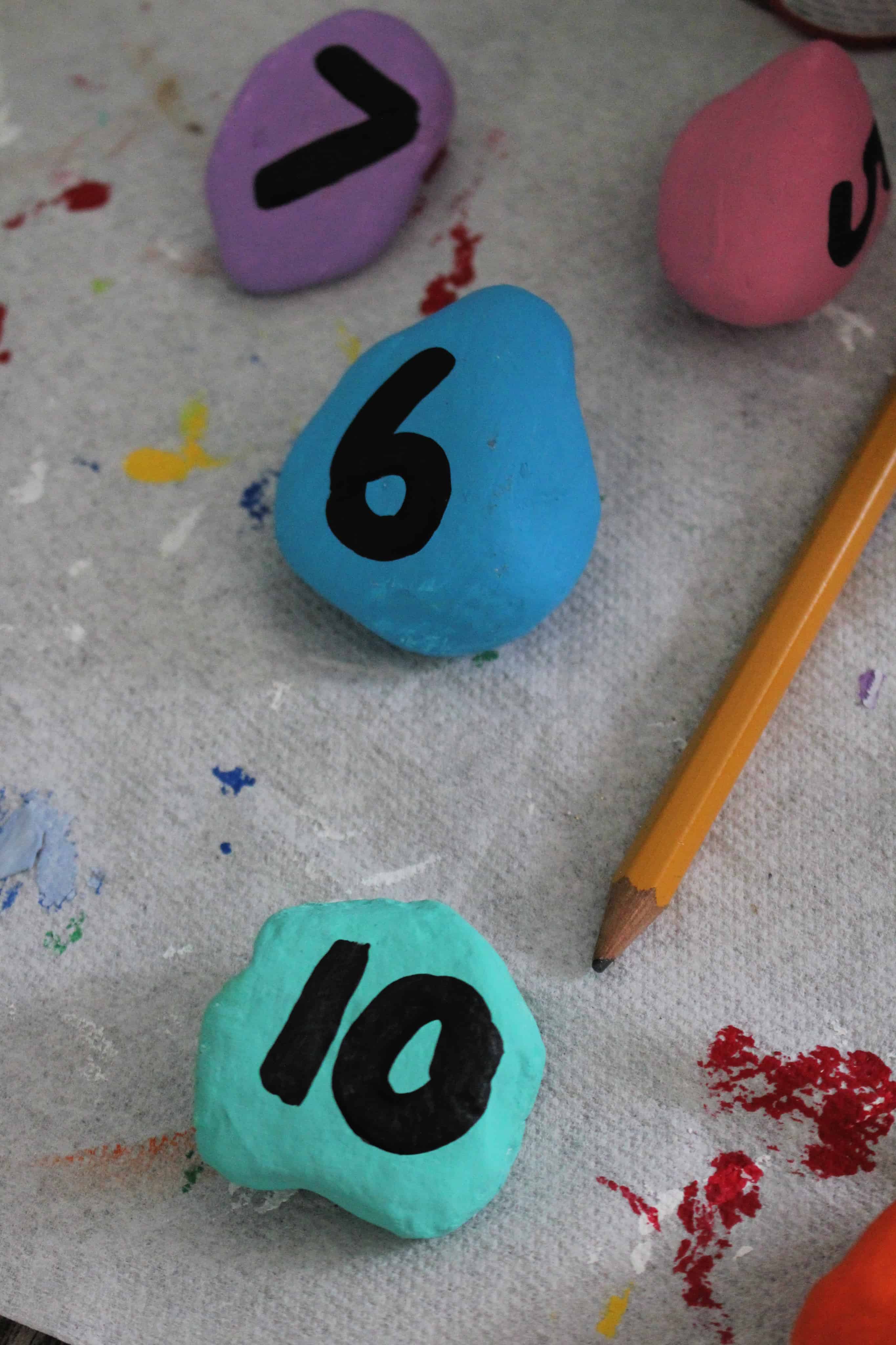 Seal with a thin layer of Mod Podge. This will keep the paint from chipping and help to protect through lots of play! Plus, it gives them a nice shiny look!
Let dry. Your rocks are ready to play!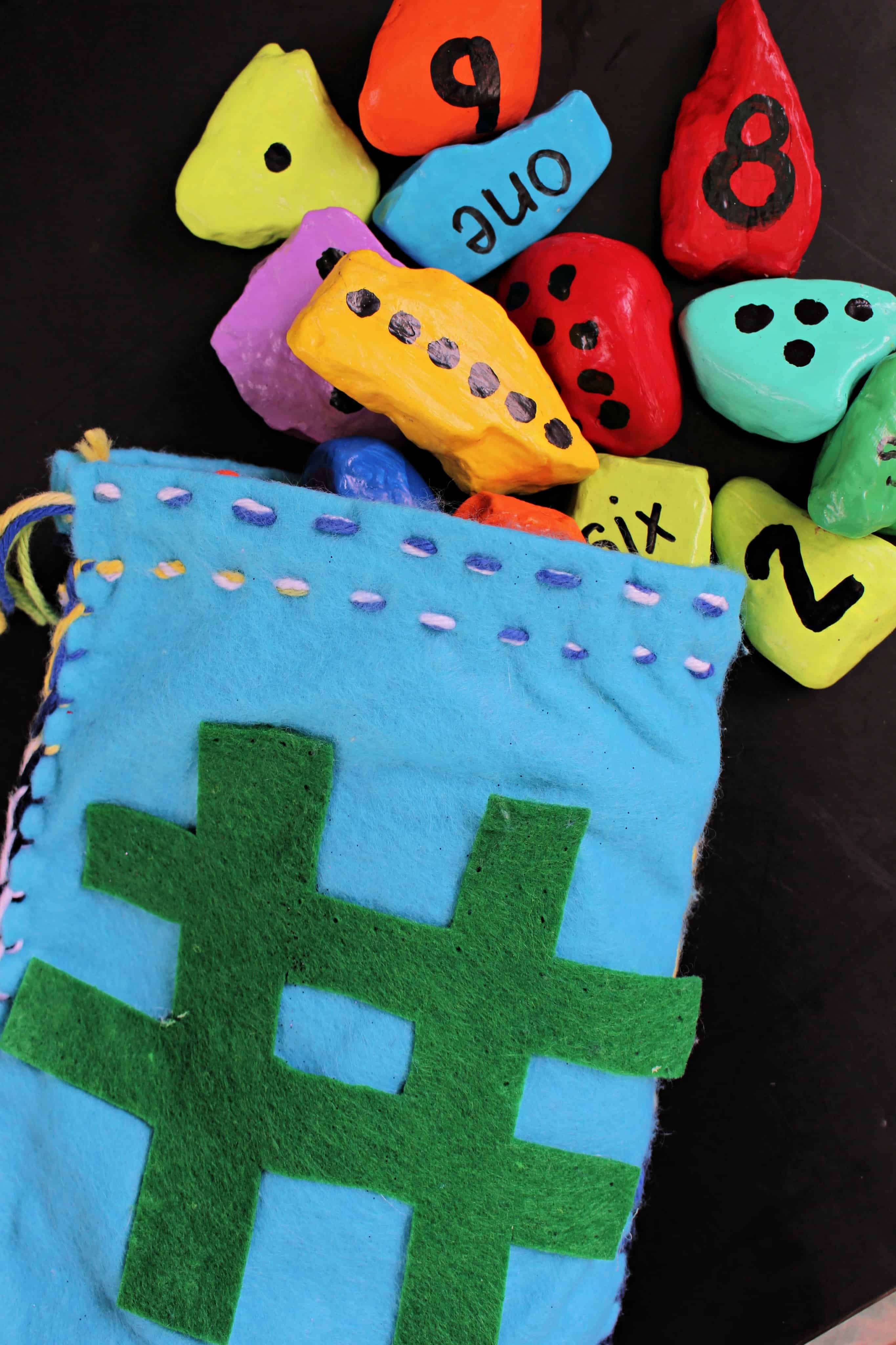 Make a Bag for Your DIY Number Rocks
Follow the steps below to make a bag to keep your DIY number rocks in.
Choose a color of felt for the bag and one for your decoration.

Lay your 'bag' color felt landscape ways (hamburger) on your table. Fold the top part down about 1 ½ inch. Pin into place.

Using yarn (or you can use embroidery floss or regular thread) sew across the top creating a little flap.

Cut a long piece of yarn about 1 ½ times the length of your bag. Tie the ends together to make one long loop.

Slide the loop of yarn inside the flap, folding the felt over the yarn.

Stitch the flap down making sure not to stitch the yarn into place. This will become your drawstring.

Fold the piece of felt together (hotdog style!)

On your second piece of felt, draw and cut out a pound sign (or hashtag sign!) Hot glue to the front of your bag.

Starting inside the bag, just underneath the drawstring area that you stitched, stitch around the sides and bottom of the bag leaving the top open. I did a blanket stitch, but you can use any stitch!

Add your rocks inside.
Please pin this fantastic painted rocks craft. Pinning supports my blog and allows me to share more fantastic posts.
Other Rock Crafts
If you liked this rock number craft, you will love some of our other rock painting ideas. Check them out, below!
Don't have time to read them now? That's ok! Just pin them for later…..