This year my family are taking part in a Christmas project called Light The World. Each day we try to do an act of service or show kindness to someone in our local community, at school or at home. Showing kindness especially around the Christmas season is such an important thing and a great value to teach to our children.
There are so many wonderful things you can do to spread kindness, visiting sick ones, the elderly who may be lonely, donating and giving to your local food bank. Lighting the world this Christmas season is a wonderful thing to and I love to see what others are doing to show kindness to others.
In fact, one person over in Sevierville, Tennessee is spreading kindness this year by painting and giving rocks to people in her community. Barbara Garvin, has painted lots of penguin themed rocks which she is handing out to those she encounters whilst out and about. From people in shops and restaurants to the staff at her local Doctors office. This is a fantastic way to spread kindness this Christmas and is sure to put a smile on people's faces.
*I use affiliate links in this post. If you buy anything from my links I will earn a small commission*
Uni-posca Paint Marker Pen – Medium Point – Set of 15 (PC-5M15C)

Margo 30lb. Decorative Pebbles River Rocks Colored Stones Medium Snow White Pebbles 1 in. to 2 in.

BIC Pencil Xtra Sparkle Mechanical Pencil, Colorful Barrel, Medium Point (0.7 mm), 48-Count

Barbara has kindly shared her photos of some of the Penguin rocks of kindness which she has painted this year. Not only does she pass them out she also, I hides some penguins in her local community spreading love, kindness and Christmas cheer one rock at a time.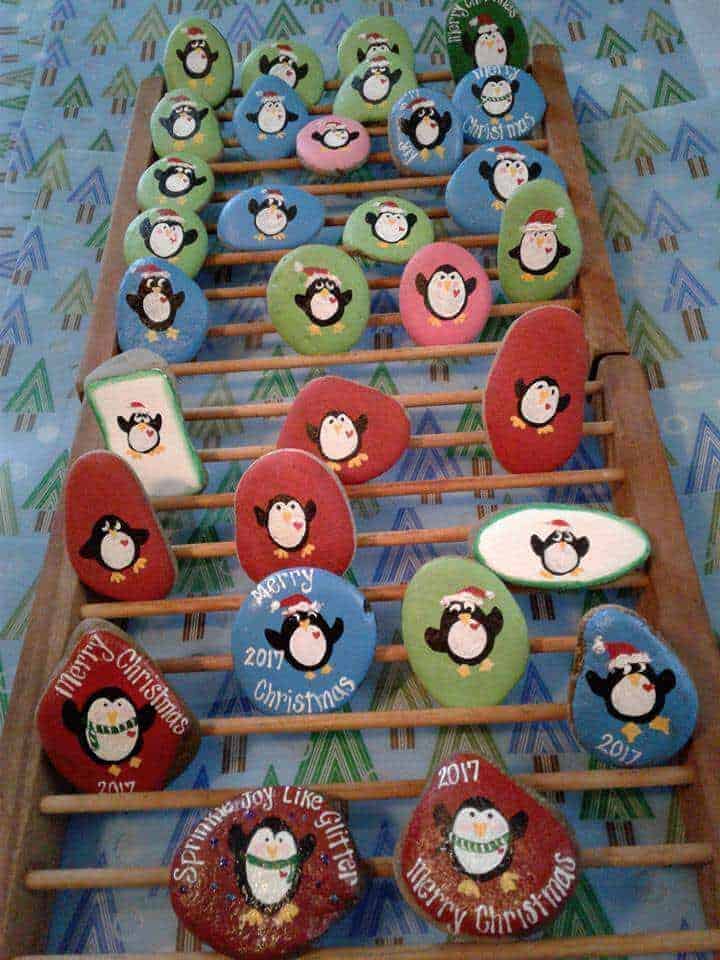 Thanks for sharing your rocks here on The Inspiration Edit Barbara. They are really awesome.
If you would like to share your own Rock stone creations, I'd love to hear about them. Please do message me at [email protected] I would love to hear from you.
Angela x
Related Products
Rock Art!: Painting and Crafting with the Humble Pebble

Uni Posca Paint Marker Pen, Fine Point, Set of 7 Natural Color (PC-3M 7C)

Mandala Stones: 50 Inspirational Designs to Paint

PLEASE PIN ME