Minion Rock Painting can be so much fun. We have always been huge Minion fans and when we saw these amazing Minion painted rocks we were so excited to share the here on The Inspiration Edit. This minion craft is super fun and the minion rock art tutorial will show exactly how to paint a minion on a rock. Enjoy!
Painted by Barbara Beal, these amazing minion painted rocks are super cute and a great fun rock painting activity to enjoy!
Barbara Beal is the creator of "Final Breath For You" A Facebook Page where she shares her amazing rock painting and art. Thankyou for granting permission to share these rocks here on The Inspiration Edit.
*I use affiliate links in this post. If you buy anything from my links I will earn a small commission.
Minions Painted Rocks Supplies
Here are the supplies you will need for this Minion rock painting tutorial.
Rock stones
Acrylic Paint – yellow, blue, black, white, silver and pink.
Pencil
Paint Brush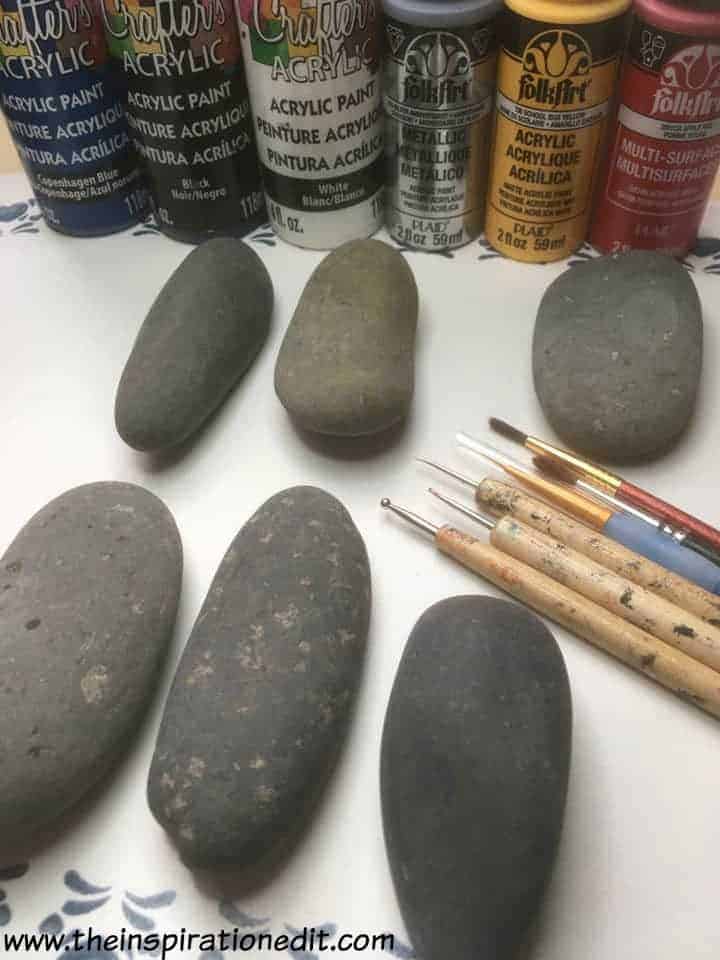 How To Paint Minions
Instructions written by Barbara Beal
Kids love minions and they aren't that hard to paint.
To create your minion rock art you will need an oblong shaped stone. (Use as many as you like)
You will also need six paint colours yellow and blue, black, white, silver and pink.
I used brushes and dotters. A pencil was used to help draw the mouths.
Paint the top 2/3 of the minion rock in yellow. The yellow I used here is school bus yellow in three coats.
On the bottom of the minion rock paint 1/3 blue. Add a raised portion in the front for a bib. The blue is Copenhagen blue.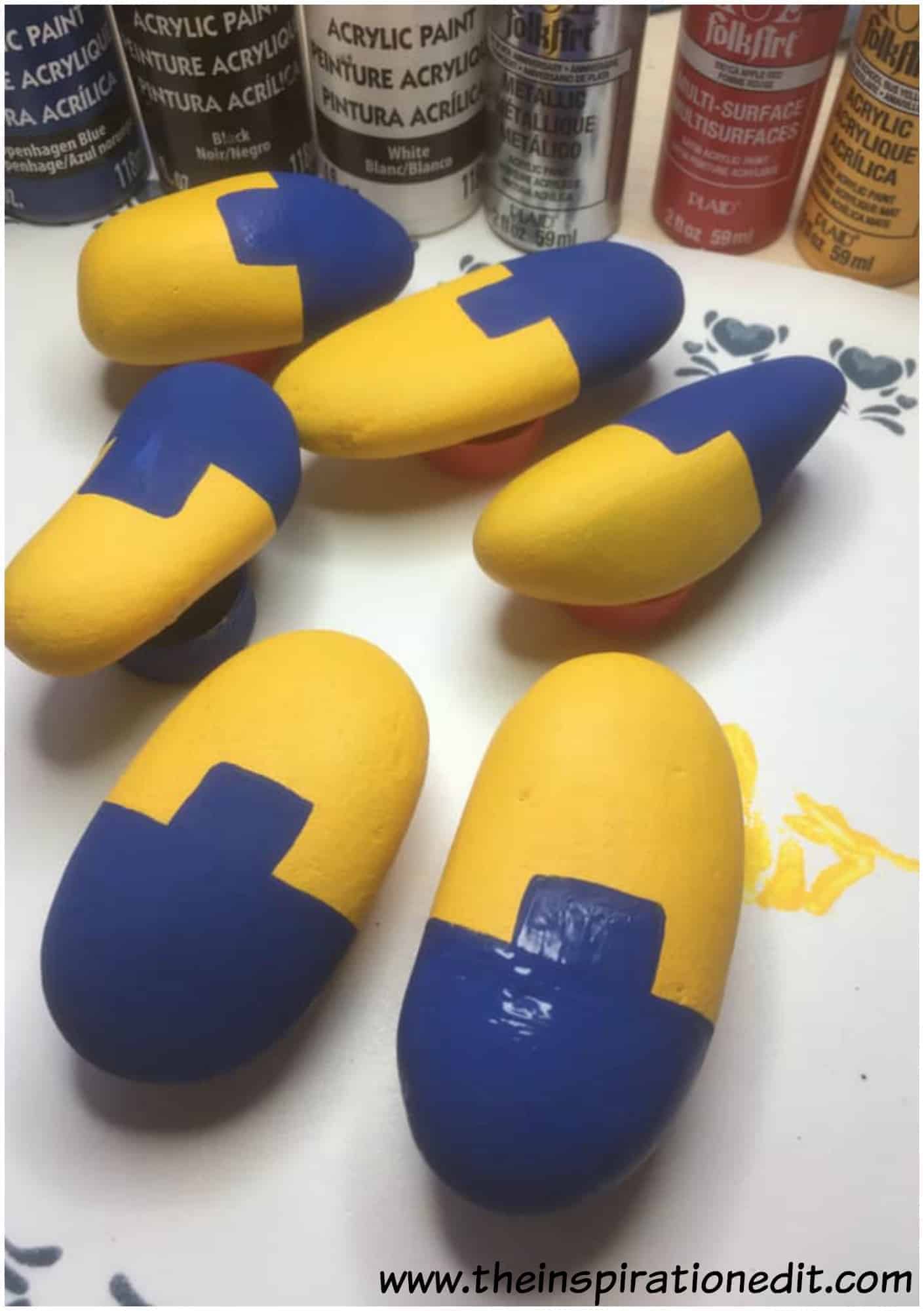 I used a dotter to add the shoulder straps to the minion rock painting.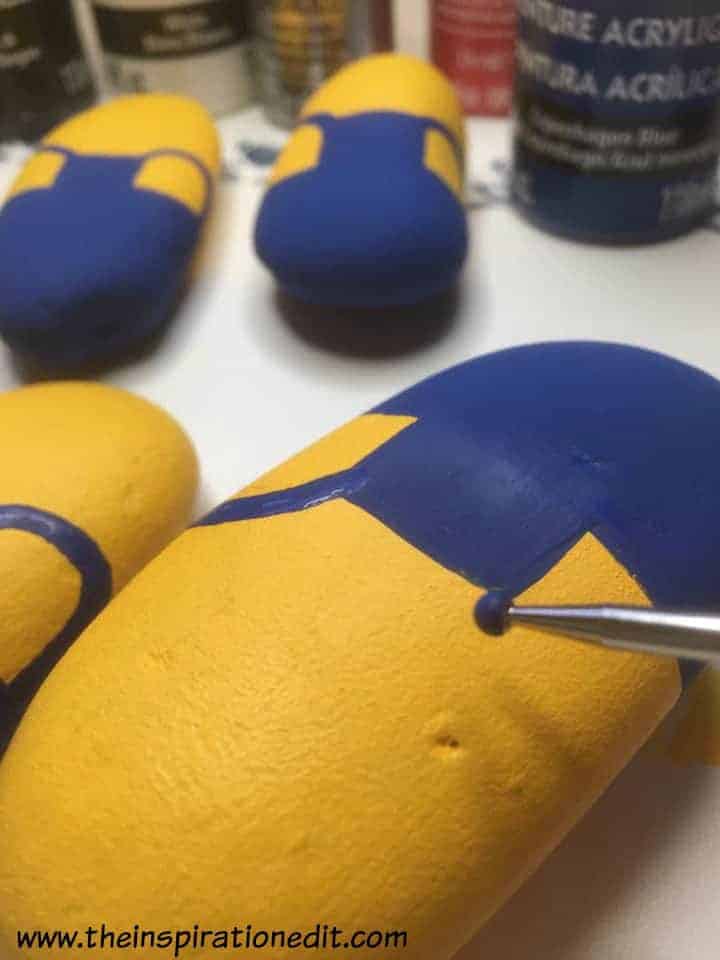 Next step is to add goggles to your minion art work. You will want to use black for the base.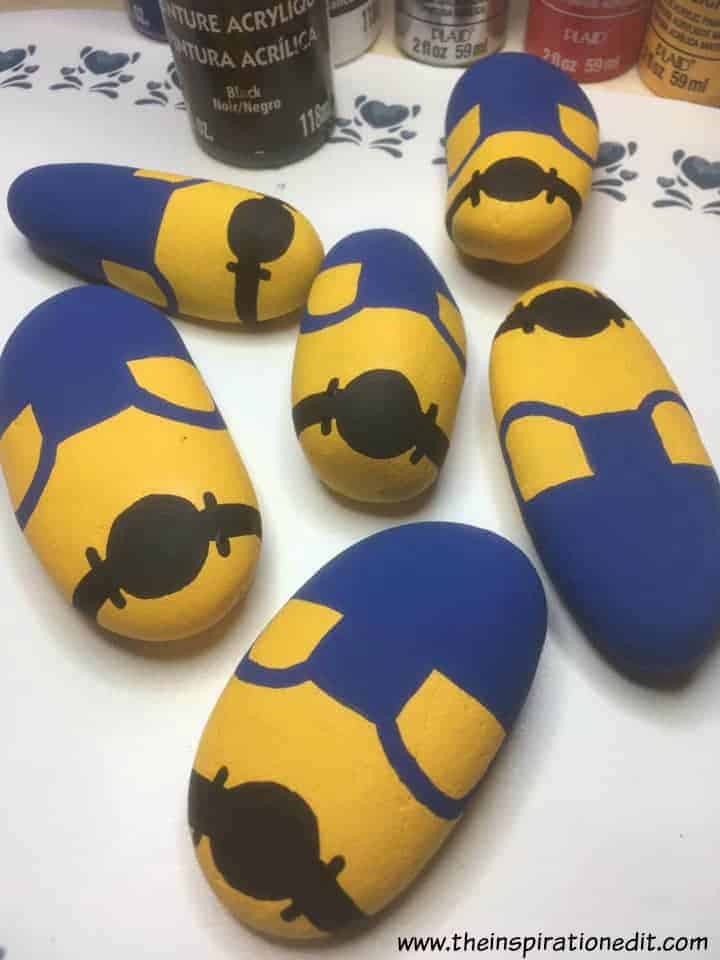 Add silver highlights for the goggles. I used a dotter to apply this to the diy minion rock stones.
Add white in the centre for the eyeball.
Draw the mouth onto your minion characters. I used Pinterest to get mouth ideas.
Outline the mouth in black. Fill in any openings. Add the black in the eye.
Paint the teeth and tongue if you have any. Here I used pink for the tongue.
Highlight the eye with white.
I used a liner brush to add the buttons and seams of the pockets.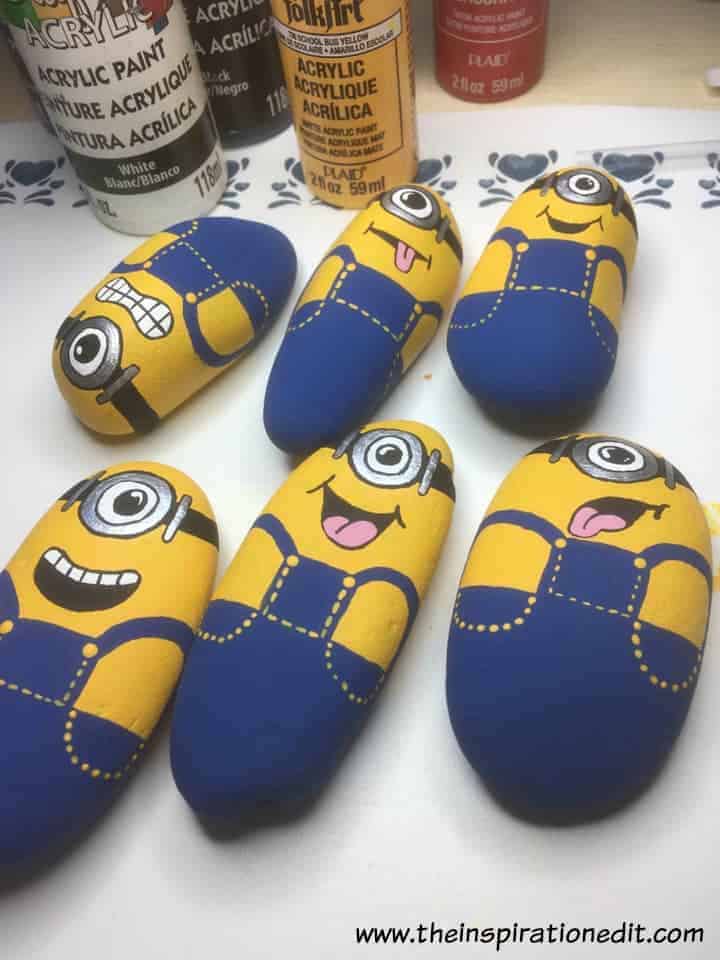 The last step is to add hair to you minion rock art and to seal.
I hope you enjoyed this Minion rock painting tutorial and would love to see your own versions!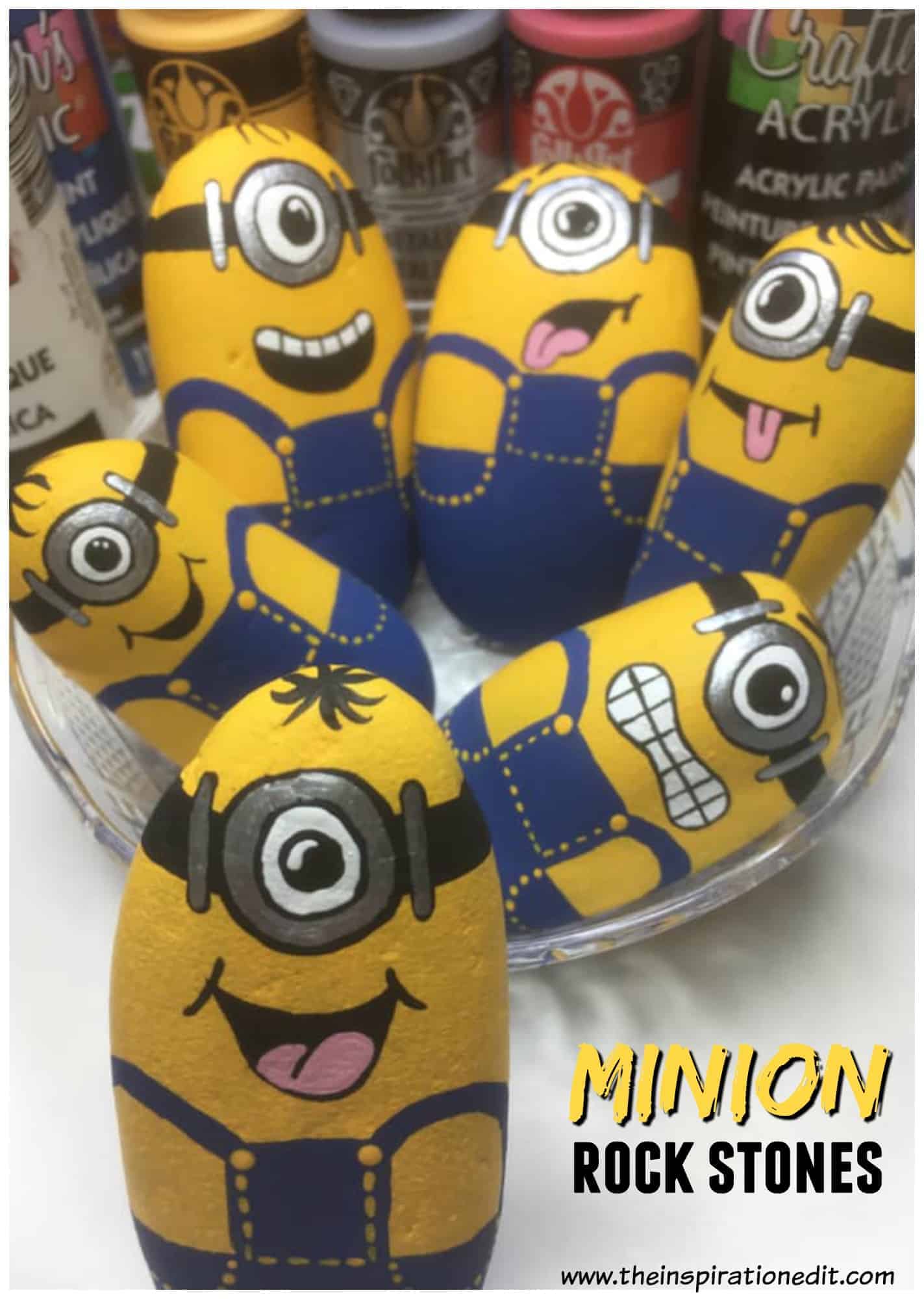 Don't forget to put the rock group on the back of your minion rocks so your rocks can be shared when they are found!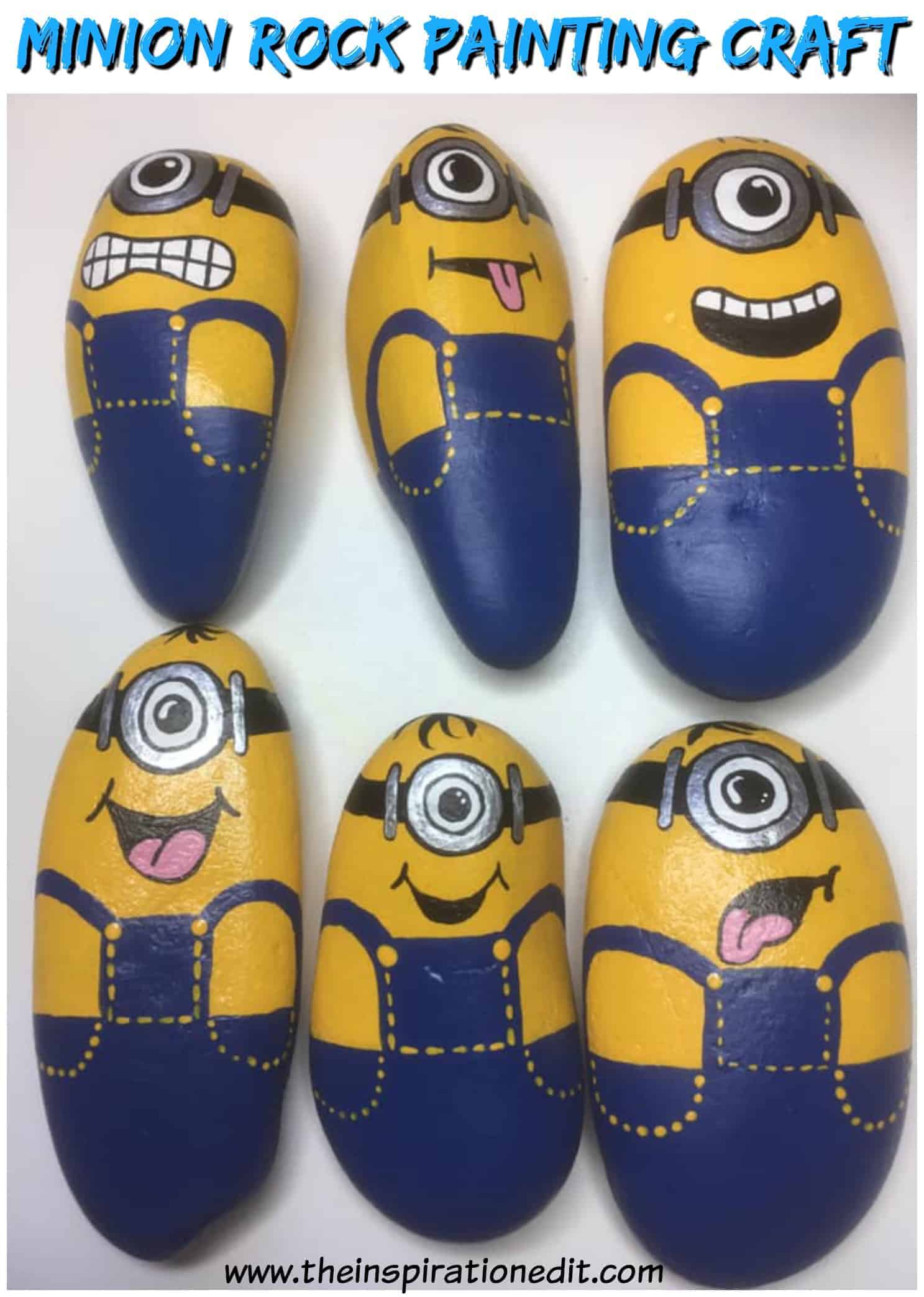 I loved painting these lil guys! So fun! So easy! Kids will love them!
Check out our Minion Cookies here!
Check out these fantastic M&M Painted Rocks! or these super cute Lion King Painted rocks. Rock painting can be super fun! We even have some fantastic Halloween painted rocks here on The Inspiration Edit. I'm sure you will love those!