How To Make A Rock Stone Crocodile
Today I am sharing my latest Rock stone creation which is a super fun crocodile rock stone craft and activity which the kids will love to make and create and of course play with once the craft is completed.
We love rock painting and it's so simple and easy and can be done by any age from little ones through to adults.
This is a great art project and a good way to develop literacy skills as you can use the stones alongside a story book about crocodiles. There are plenty to choose from. Enjoy!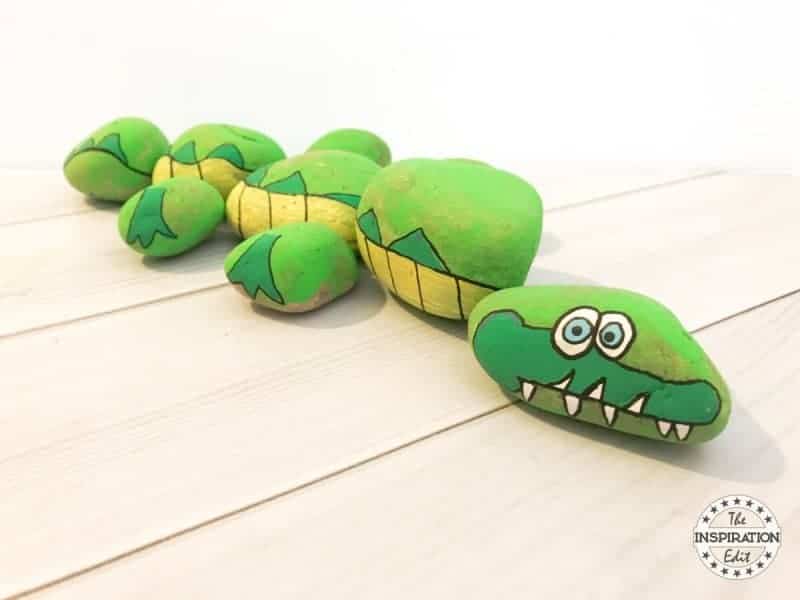 *I use affiliate links in this post. If you buy anything from my links I will earn a small commission*
Let's Make It – Preparing The Rocks
First collect or purchase some rocks. You will want to choose a number of different size rocks and try to build the shape of your crocodile.
Now using the paintbrush, paint the rock stone with green acrylic paint. The paint will look dark at the start but will lighten up once dry.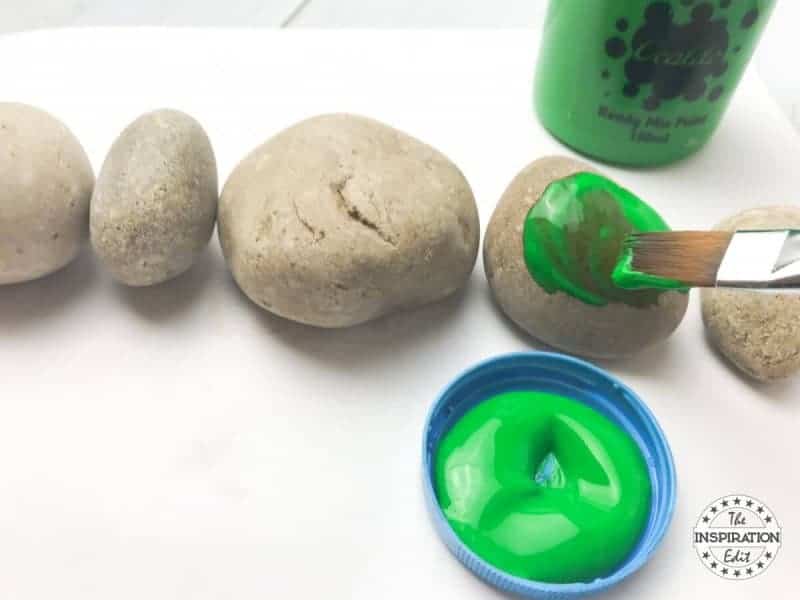 Once the stones are painted leave to dry overnight or at least for one to two hours. I like to use bottle top lids as paint containers. It's a great way to use these and recycle.
Painting The Crocodile
Once the stones are dry you can line them up again into the crocodile shape.
Using your pencil draw a line to shape the belly of your crocodile.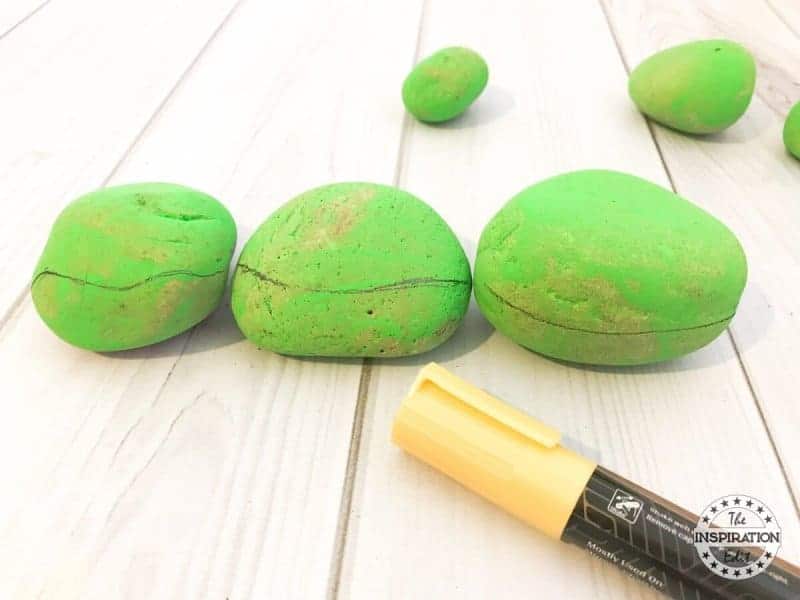 Next use a paint pen to colour the underbelly of your crocodile.
I chose a light yellow but you can use yellow or green.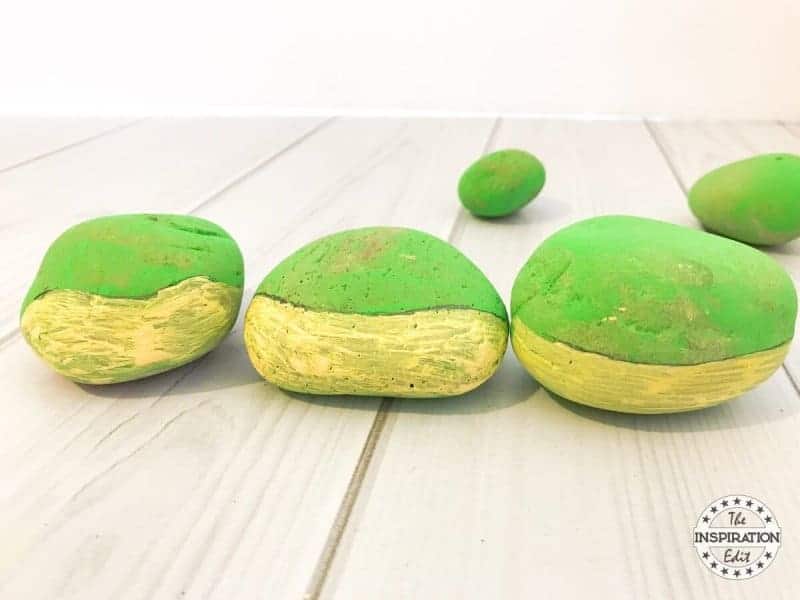 Using a fine black posca pen line the belly of your crocodile.
While you wait for the paint to dry. (It won't take long) draw the face of your crocodile onto the head stone and add white paint for the teeth and eyes.
Use a dark green posca paint pen to add crocodile features to the stones and to paint the face of your crocodile.
Once this is dry, draw and outline the stones using the black posca pen.
Finally paint feet on the four feet stones and your crocodile is now complete.
You may want to add more details. I added some purple dots to mine.
Why not be creative and let the little ones use their imagination to make their crocodile unique.
Playing With The Crocodile – Story Stones Idea
You can use the stones in the home or in the garden. You may want to get a crocodile book to act out the scenes of a story.
This can help the little ones to develop their literacy skills and have fun whilst learning.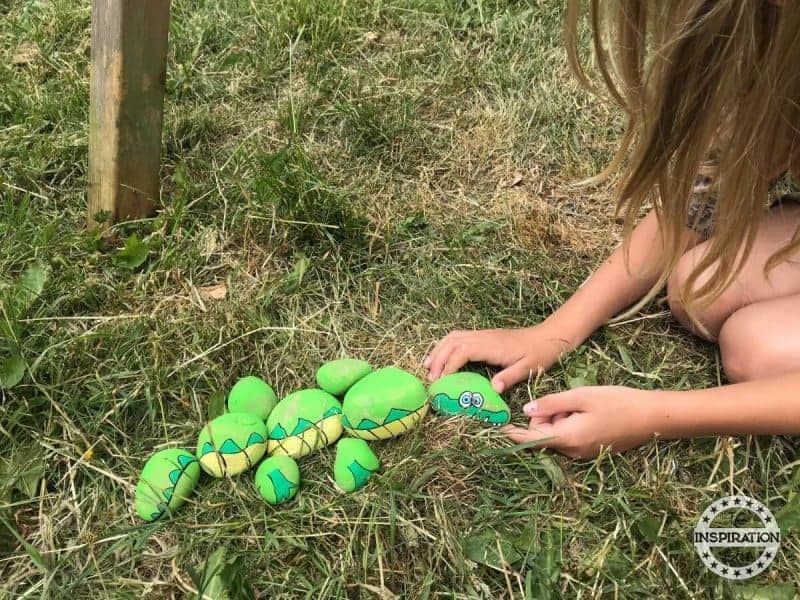 I hope you loved the tutorial. I had a lot of fun making this Crocodile stone. It's super cute. Enjoy!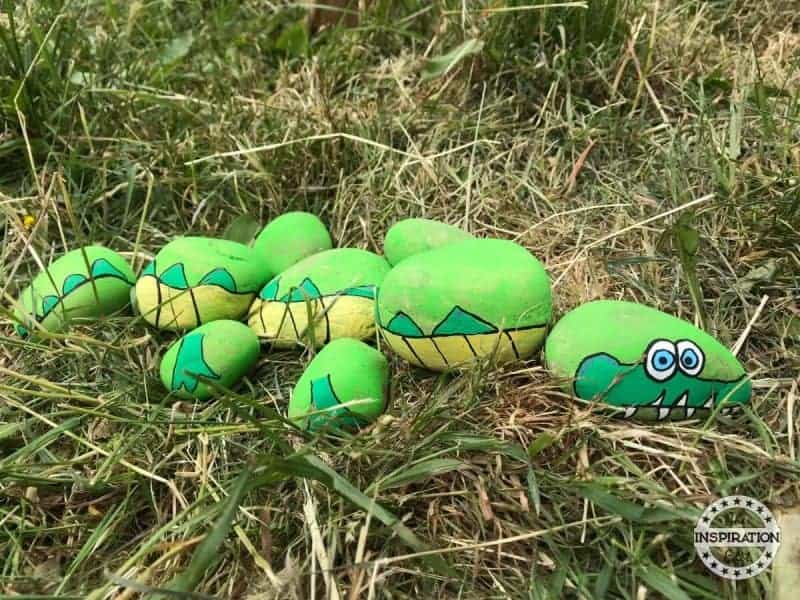 Related Products
FloraCraft, Rocks with 5-Pound Square Reuseable Jar, Multiple Sizes, Black

Creativity Street Wiggle Eyes Assorted Sizes, Black, 100-Piece (CKC344602)

Carioca the Crocodile | 13 Inch Large Alligator Stuffed Animal Plush | By Tiger Tale Toys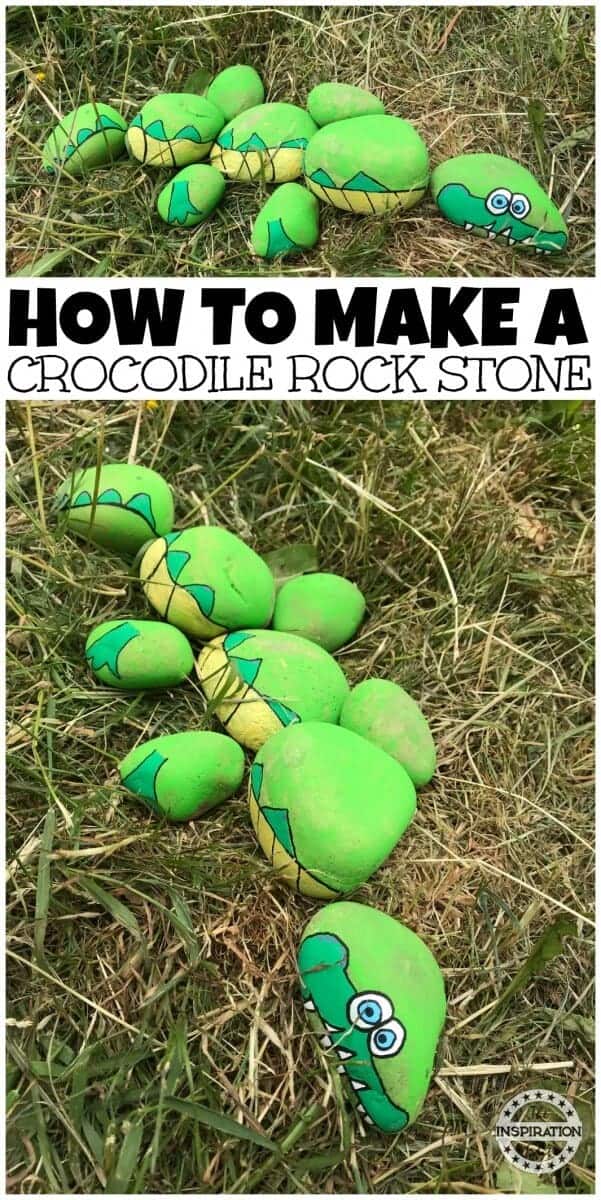 You May Also Like These Fun Kids Craft Ideas:
Paper Bag Frog And Duck Puppet