Stuffed pepper soup is something Weight Watchers members will love! Made with delicious zero-point veggies, this low carb stuffed pepper soup is the perfect way to stick to your diet while loving what you eat. Not only that, but it is a perfect dish for the cooler weather coming in.
*I use affiliate links in this post. If you buy anything from my links I will earn a small commission*
Why Is Soup Great For The Weight Watchers Plan?
Soup is a great option when on the Weight watchers plan because many soup ingredients are either low in points or zero points. You can bulk out a bowl of soup with zero-point veggies and this low carb stuffed pepper soup is perfect for a healthy lunch or as a meal prep idea for work.
Don't forget to check out our Zero point Chicken and Butterbean Weight Watchers Soup Recipe. It's a huge hit here on The Inspiration Edit.
Ingredients For Easy Stuffed Pepper Soup
1 lb ground meat
1 green bell pepper (chopped)
1/4 tsp dried sage
1 C onion(finely diced)
1 can diced tomatoes (29 oz
Chopped fresh sage
1 can tomato sauce (15 oz)
1 can chicken broth (14 oz)
1/4 tsp dried thyme
salt and pepper (to taste)
1 C white rice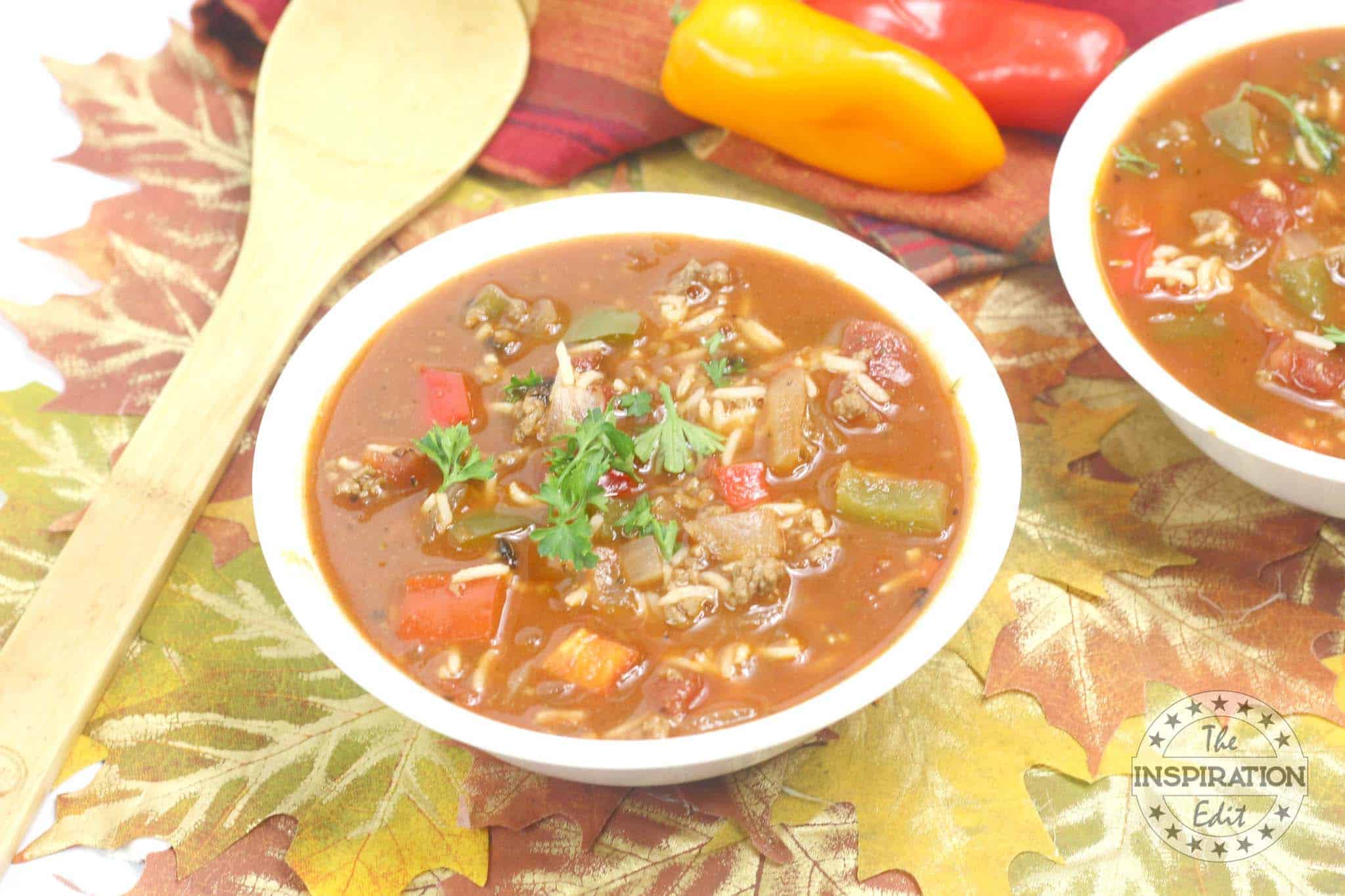 Utensils For This Stuffed Pepper Soup Recipe
How To Make Stuffed Pepper Soup Weight Watchers Style
Prep stockpot with cooking spray.
Add the ground meat in the stockpot.
Brown the meat. Drain the fat.
Add the pepper and onion.
Cook the onion and pepper until the onion is translucent but not brown.
Add the tomatoes, tomato sauce, chicken broth, thyme, and sage. Season with the salt and pepper. (to taste).
Cover the stockpot. Allow the soup to simmer for 30-45 minutes. (Or until the peppers are tender)
Add 2 cups of water in the saucepan. Bring to a boil.
Add rice cooking until tender.
Add the rice to the soup.
Garnish with the fresh chopped sage.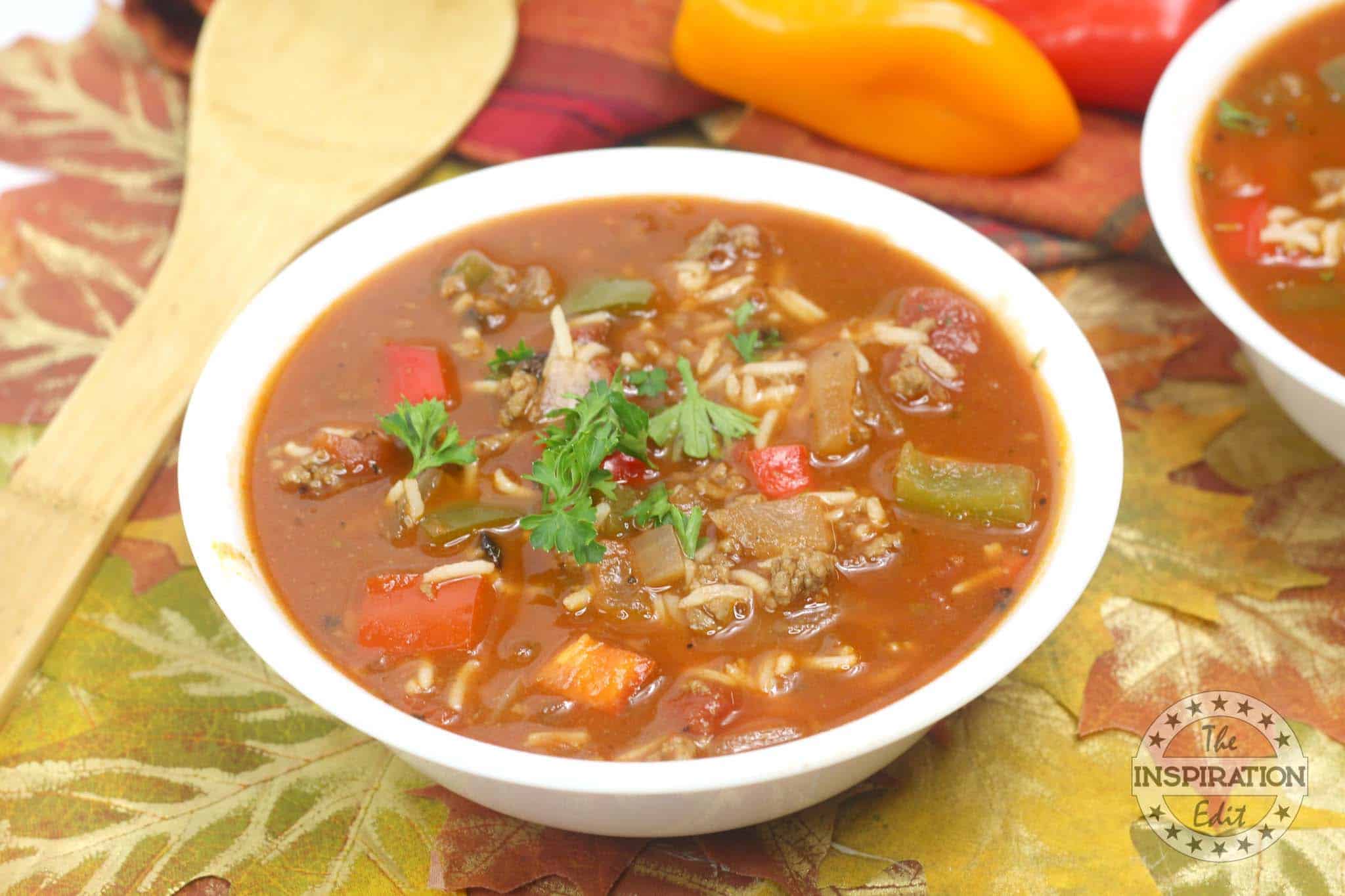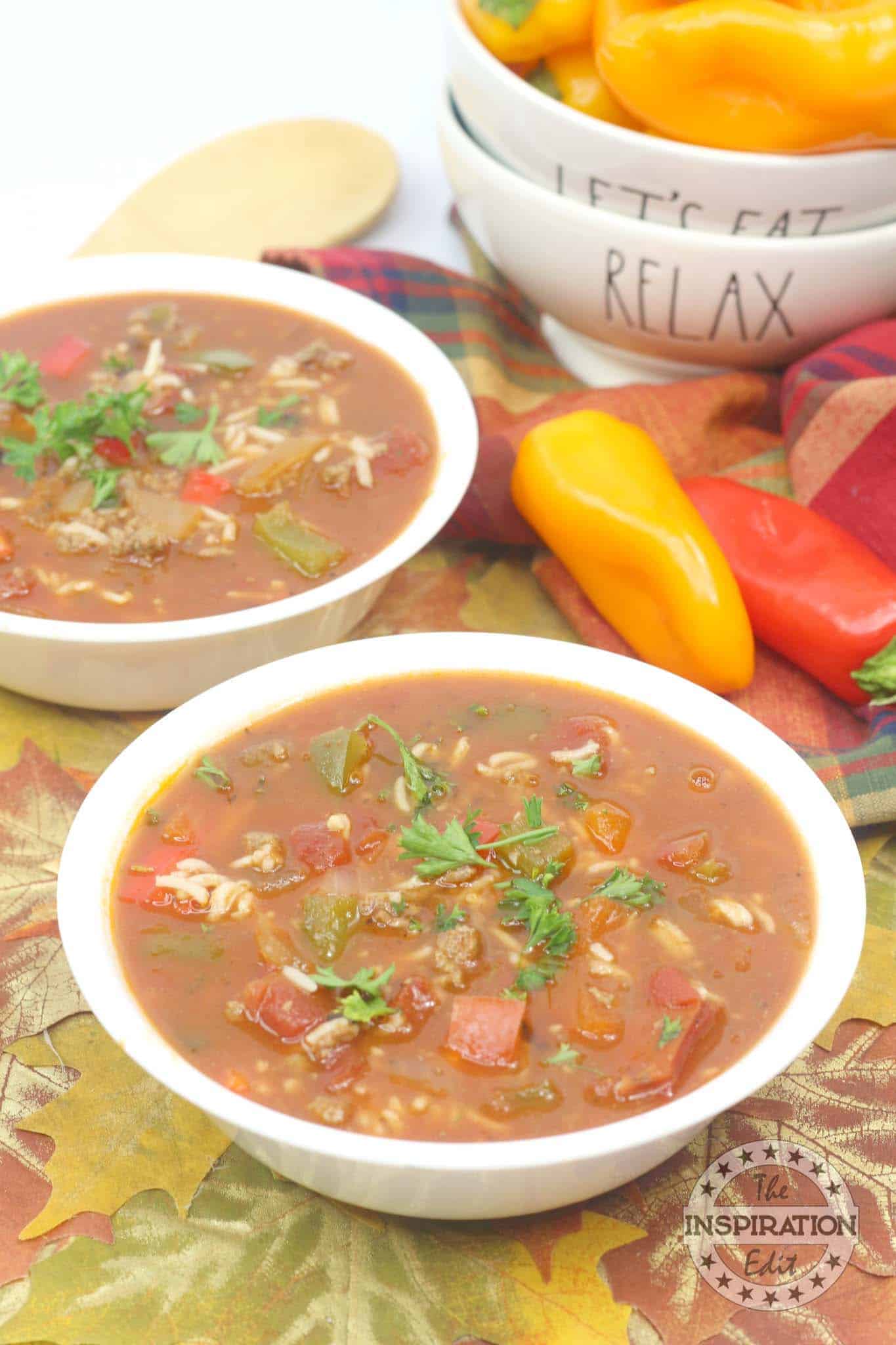 Busy now? Please pin this recipe for later! Pinning supports my blog and allows me to share more fantastic recipes and content.