A Tasty Caprese Salad You Will Love.
Eating healthy is always so much easier when the food is tasty and delicious. It's easy to say eat food with wholesome ingredients or eat lots of salad, however eating the same kind of salad time after time can become very boring and quite unappealing.
Adding new and exciting toppings, trying out new combinations, and making your own salad dressings makes eating healthier fun, tasty, and more interesting. You will love this delicious Caprese Salad recipe which is simple, easy and fun to make, but first what goodness can you find in a caprese salad?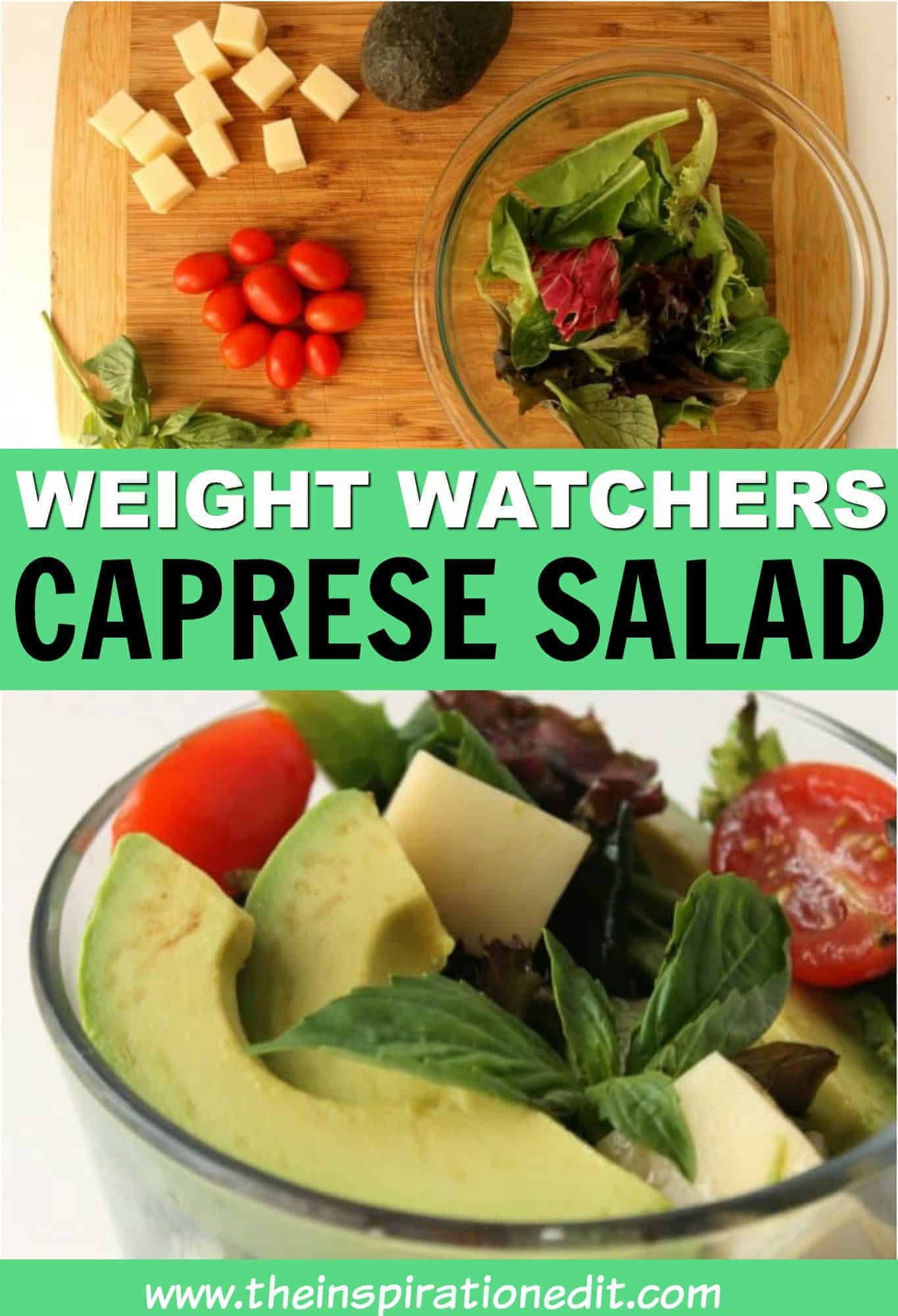 Tasty Weight Watchers Salad
This healthy Avocado Caprese Salad is a fantastic salad for those following the new Weight Watchers Flex plan. At just 6.5 points per serving this salad combines creamy avocado and mozzarella.
Paired with vibrant sweet basil and earthy spicy baby spring mix this salad is so delicious.
Of course you can't go without the dressing that adds a vinegar-y deliciousness with just a touch of sweetness that really ties the whole thing together!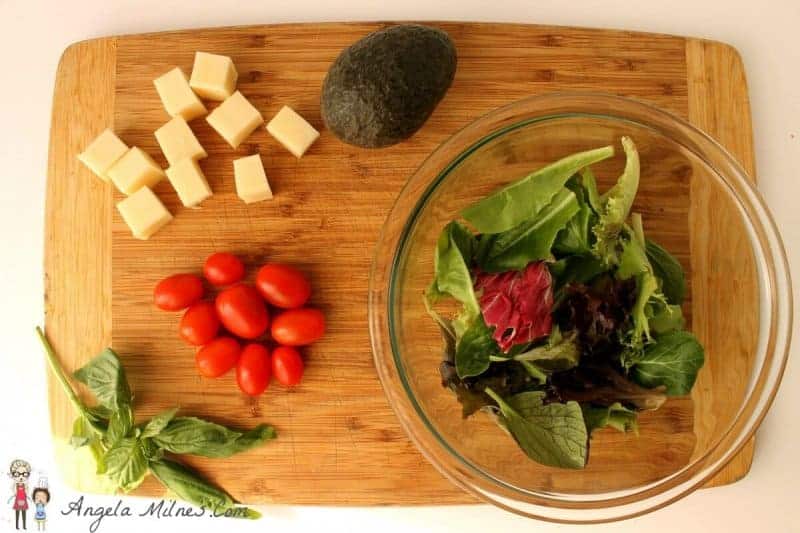 *I use affiliate links in this post. If you buy anything from my links I will earn a small commission*
Health Benefits Of Caprese Salad
Every single ingredient in this healthy avocado caprese salad does wonders for your body. The baby spring mix, cherry tomatoes, mozzarella, avocado, honey, black pepper, balsamic vinegar, olive oil…I mean do I really have to explain how healthy this is? But, for you, I will anyway!
Baby spring mix is a really great source of vitamin A, and fibre. Which helps with things like healthy vision, bones, skin, and immune function. Which are all things I could use a little help with! As for the fiber, it is great for slowing the digestion of your food so you get the most out of it. A.K.A. you are going to get more out of your salad.
Cherry Tomato Nutrition
Cherry tomatoes are also a good source of vitamin A but more importantly vitamin B-6 which is UH-MAZING! They help with metabolizing protein, supports healthy cognitive development and brain function, as well as immune function.
When making salads, it is easy to pile up ingredient after ingredient, eat the whole thing, and still be hungry by the end of it. That why it's so important to add a protein (in this case mozzarella) and a healthy fat (we are using avocado).
Your body needs protein to help build and repair muscles, prevent weight gain, keep a healthy digestion process and balance hormones. The healthy fats from the avocado will assist you with any inflammation, lower cholesterol, and risk of heart disease.
And the prep? Pssshht! So simple you can have it done in 5 minute for a quick meal by itself or add a zero point chicken breast to create a larger meal.
All you will need for the base of the salad is baby spring mix, cherry tomatoes, avocado, basil, and some mozzarella. Fresh mozzarella would be best but a whole milk (not low moisture) mozzarella is also great. Just cube it up bite sized and you are good to go!
Did you know how many calories are in cherry tomatoes? Well it's only 18 calories per 100g. That's pretty good!
Fresh Avocado In Salad
To prepare the avocado for this salad, cut longways working the knife around the pit until you can twist it into two halves. Hack your knife into the pit so it is wedged in there, twist, and pull up. Then to get the peel off, I just use my fingers to get it all off. It should come up pretty easily.
Then just slice your fresh avocado like so.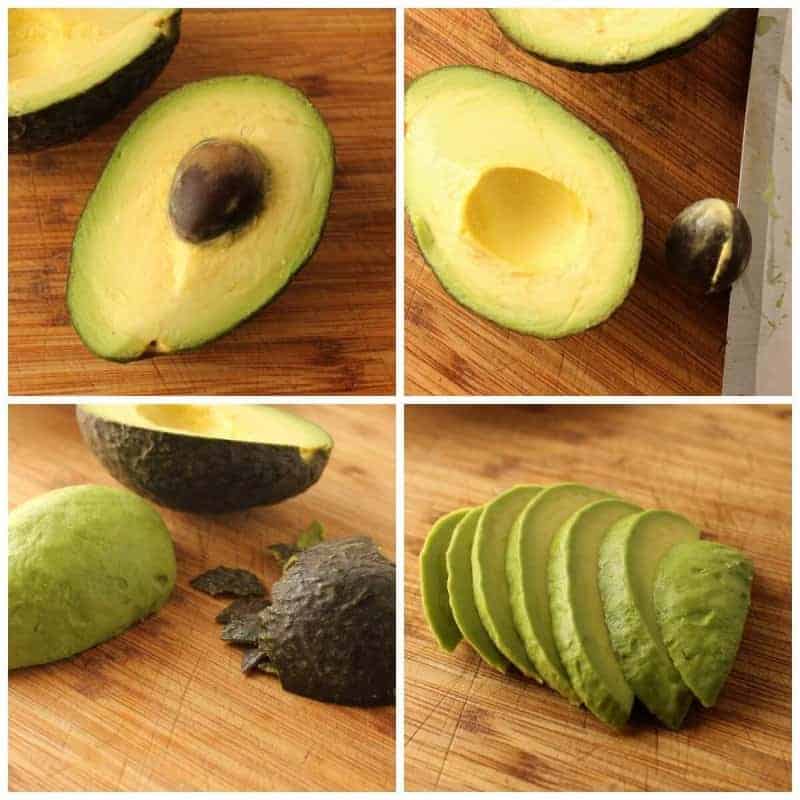 The quickest and most efficient way to prepare the basil, is to roll it up so it looks kind of like a cigar, and while still pinching it cut small sections off and you will have beautifully shredded basil in less than 10 seconds.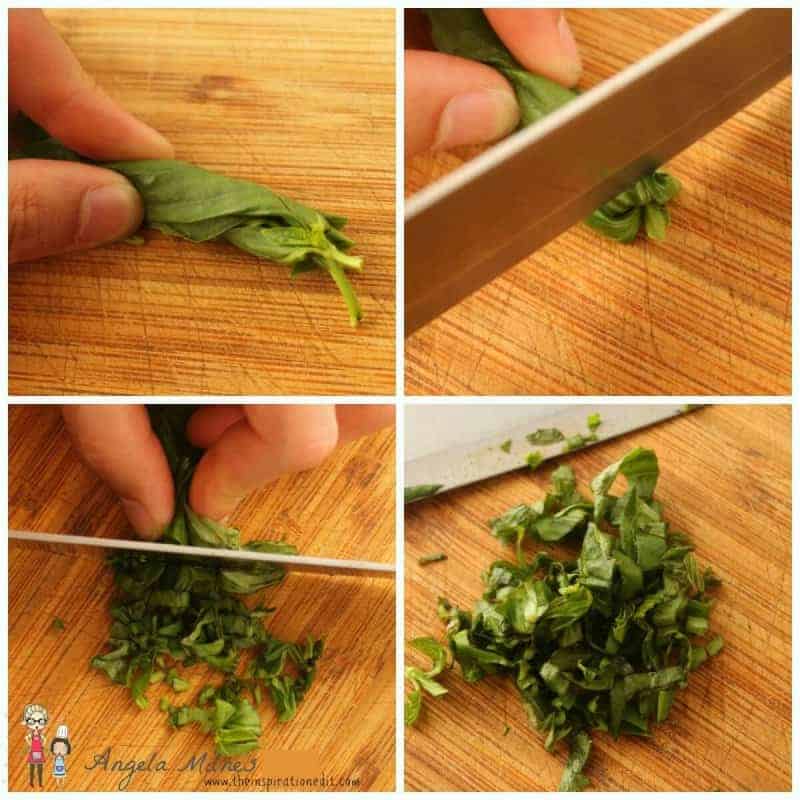 For the dressing all you need is olive oil, balsamic vinegar, a little honey, and salt and pepper to taste. Whisk until mostly emulsified.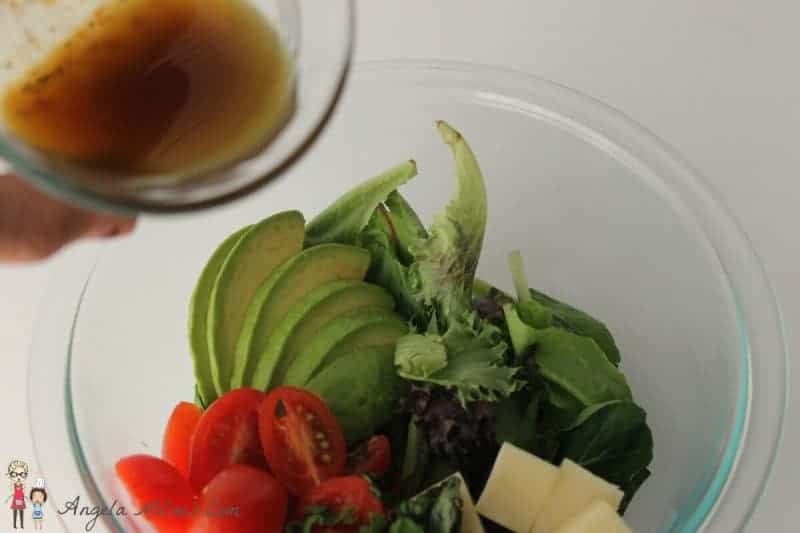 Combine all the salad ingredients in a bowl, and drizzle the dressing over the top.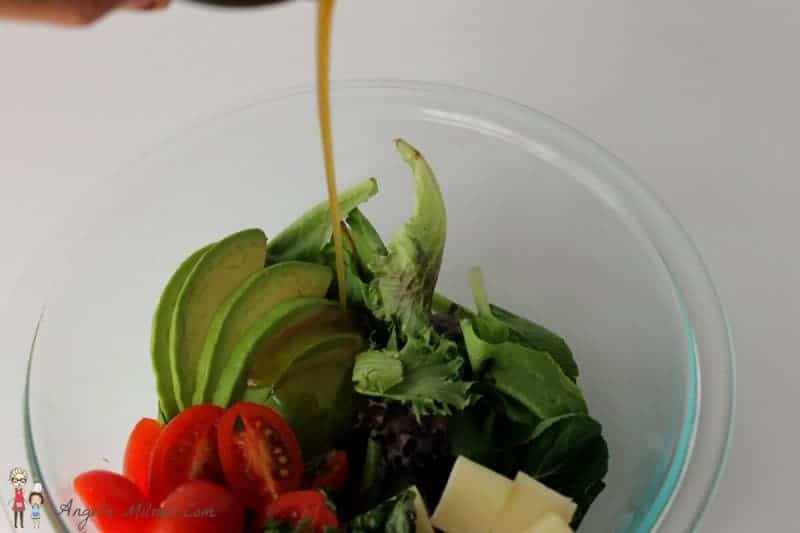 Toss to coat. Taste to see if you need a little more salt or pepper, and serve!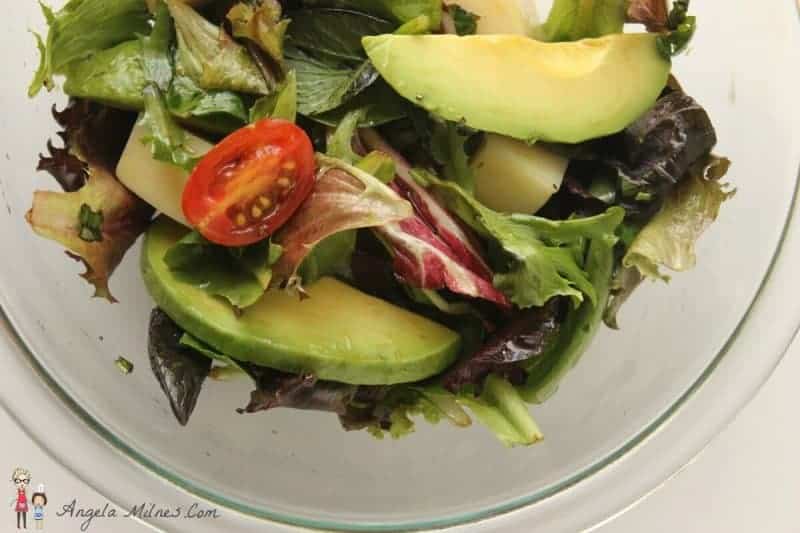 Caprese Salad Ingredients
Ingredients:
2 Generous Handfuls of Baby Spring Mix (0 Points)
½ avocado (pitted, peeled, and sliced) (5 points)
40g cubed or sliced mozzarella (4 points)
⅓ cup halved cherry tomatoes (0 points)
6-7 fresh basil leaves (shredded) (0 points)
For the Dressing:
1 TBS Olive oil . (4 points)
1 ½ tsp Balsamic Vinegar (0 points)
Scant tsp honey (1 point)
Salt and Pepper to taste (0 points)
Serves 2
6.5 Points per serving
Caprese Salad Recipe
Assemble the baby spring mix, sliced avocado, mozzarella, cherry tomatoes, and basil in a bowl.
In a smaller bowl, whisk together all of the dressing ingredients.
Drizzle the dressing over the salad, and toss to coat.
Serve.
You could also add Tuna, Chicken or another 0 point food to stretch your meal further.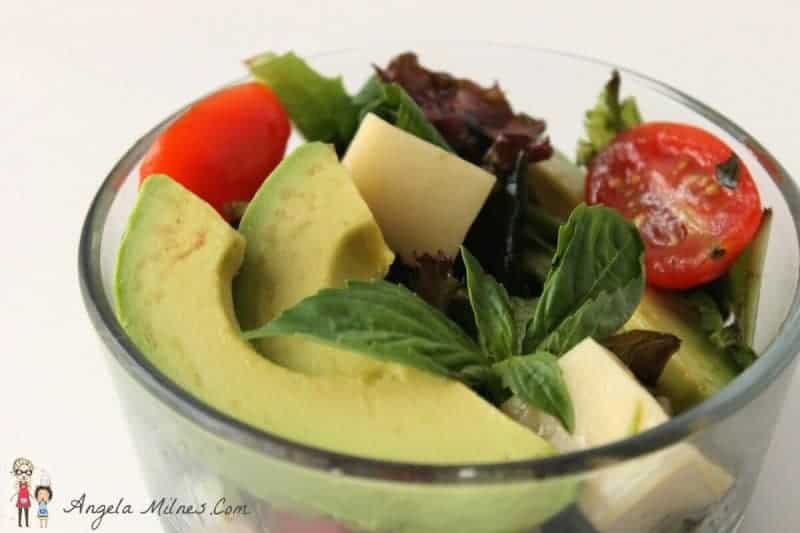 Caprese Salad Recipe Notes:
Make sure your avocados are at the perfect ripeness. Meaning not too firm and not mush with lots of gross brown patches. A good way to tell is by looking at the stem. Just pick the stem off and if the coloring is a creamy yellow-green then you are good to go! Also, if you give it a light squeeze and the avocado does not give at all (basically if it's rock hard) then it is not ripe enough yet.

If you would like to make this ahead of time, the jar method would be a great option. Put the dressing in the bottom, then tomatoes and basil, then cheese and avocado, then your greens. When you are ready to eat, simply stir or shake the contents til it is all mixed up and enjoy!

Where I live, the basil plants, and the packages of fresh bail cost about the same. Except there is much more basil on the plant AND it will keep growing back. So, pro-tip: Opt for the plant!
What are your favourite salad toppings?
You may also enjoy the following Salad recipes: