Minions Paper Plate Craft
I think it's safe to say everyone loves The Minions! There is just something so fun about them! There is nothing I enjoy more than stumbling upon a craft involving one of our favourite movie characters!!
Another awesome crafty perk? When I find all the supplies in my craft draws and we have everything we need to make our project. That's right! We have craft drawers full of materials, new and recycled items and I'm so excited. In fact my hubby bought me the craft drawers from Hobby Craft and it's so exciting to give everything in order.
With a craft this simple and easy to make, you can use these Minion Plates as birthday party entertainment or for everyday fun with the kids! Whatever you decide, I guarantee these Minion Plates will be a huge hit!
*I use affiliate links in this post. If you buy anything from my links I will earn a small commission*
Supplies For These Paper Plate Craft
Yellow Paper Plates
Black Construction Paper
White Construction Paper
Black Sharpie
Glue
Scissors
Yellow Paper Cake Plates, 20ct

Crayola 96 Ct Construction Paper, Assorted Colors

Sharpie Permanent Marker, Fine Point, Black, Pack of 3

How To Make These Minions Paper Plates
Take your black construction paper and cut yourself a black glasses band.
Make sure it's the length of your yellow paper plate!
Take that white piece of construction paper and cut out those eyes!!!
You will need either one or two eyes per plate depending on which Minion you choose!
Take your leftover black construction paper and cut out black circles for those eyes.
Next, you're going to want to cut out some Minion hair with that black construction paper.
Cut out a mouth.
Grab that glue stick and assemble your Minions.
Glue on those eyes.
Add the hair!
Don't forget to glue on that mouth.
Then let your Minion Plate dry!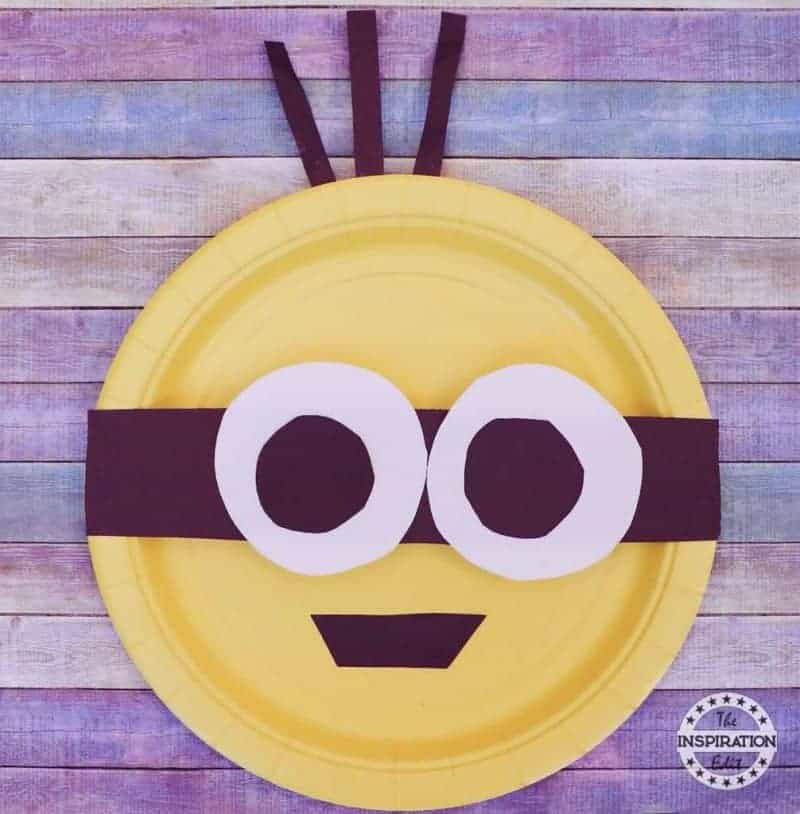 Ta-da! You now have cute and adorable Minion Plates!
Definitely the cutest paper plate anyone will ever lay eyes on & a craft worthy of hanging on that refrigerator.
Related Products
Yellow Party Supplies – Plastic Spoon Fork Knife Utensil Combo Set (Serves up to 15)

Elmer's Glue Stick (E588)

Fiskars 8 Inch Softgrip Scissors Straight, Stainless Steel (01-004761J)

Please Pin Me