This Lego Rice Krispy Treats recipe is simple, delicious and so adorable. If you have a Lego lover in your house, this lego rice Krispy treat idea is perfect for them!
I can't even begin to explain how much I love Legos. These adorable Lego Rice Krispy Treats are so cute, I couldn't wait to share them with you. Even better? These Legos aren't on the floor just waiting to be stepped on, causing pain and injury to every adult in a 2-mile radius. (you know what I'm talking about, right?!)
The beauty of these treats is that they are crazy simple, and the kids will go bonkers over them. Plus, they're really fun to make and create so more than likely, you'll have a few kitchen helps creating these fun treats as well!
Fun Lego Treats For A Lego Party
There is literally NO BAKING at all required for these treats. Talk about a dream come true! If you're running low on time and needing a fun dessert or treat, these are what you've been waiting for.
Perfect for birthdays, class parties or just "because", you can't go wrong decorating these fun treats.
INGREDIENTS FOR THIS FUN LEGO ACTIVITY
– 8 Rice Krispy Treat Bars
– 1 Can Vanilla Frosting
– Large bag M&M's
– Red, Orange, Yellow, Green, Blue, Food Colouring
YES…those simple ingredients are literally all that you need!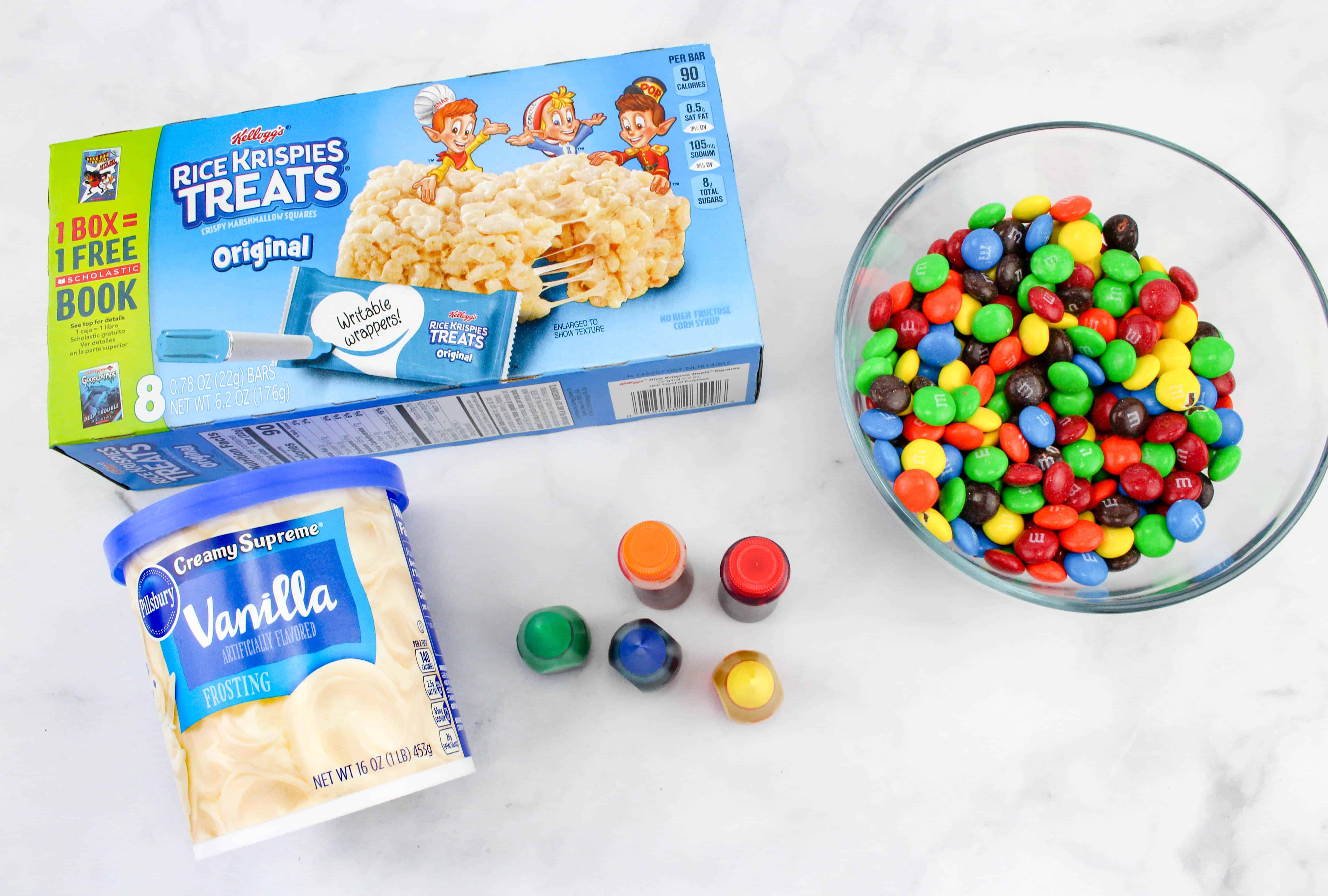 Directions to make Lego Rice Krispy Treats
1. Divide the frosting into 5 bowls and add 4-5 drops of food colouring to each
bowl. Mix well.

2. Unwrap Rice Krispies, leave some whole and cut some in smaller square pieces
so you'll have a variety of Lego sizes.
3. Frost each bar different colours. Place matching M&M's on the side edges of
each bar, just like a Lego.
4. Serve and Enjoy!!!
Can you believe that they are just that simple? "Lego" of the fear of creating, and have fun with these simple Lego treats!