Halloween Spider Cookies Tutorial
Halloween spider cookies are a fun idea to make with the kids this Halloween. In fact, you could make all sorts of fun shaped cookies this year from spiders to bats to witches hats. I hope you enjoy this easy to follow recipe and have fun icing these super cute googely eyed spider cookies. Enjoy.
Ingredients For Your Halloween Spider Cookies
1 C of unsalted sweet cream butter, softened
1 1/2 C Powder sugar

1tsp vanilla

1 egg

3 C of flour

1 tsp baking soda

1 tsp cream of tarter

Cookie Cutter: wrapped candy shaped
Ingredients For Your Spider Icing
4 egg whites
1/2 tsp cream of tarter
1/2 tsp vanilla
4 1/2 C powder sugar
Black gel food colouring
1 disposable piping bags fitted with a number 2 tip
1 squeeze bottles
1 package of small edible eyes
How To Make Your Halloween Cookies
Preheat oven to 350 degrees
Cover a cookie sheet with parchment paper and set aside
Using a standing mixer, cream together the butter, powder sugar, vanilla and egg and mix until combined and creamy
Using a large bowl, combined the flour, baking soda and cream of tarter
Gradually add in the dry ingredients and mix on low speed
Using your hands continue to mix until fully combined
Lightly flour a cutting board and knead the cookie dough a couple of times
Roll out the dough to about 1/4 inch thick
Cut out 12 spiders and place onto a cookie sheet
Bake for 8 minutes or until lightly golden brown
Repeat steps until completely out of dough
Let cookies cool completely
Royal Icing Directions:
Using the standing mixer, combine the egg whites, cream of tarter, vanilla and powder sugar and mix until combined and stiff peaks form
Add in a few drops of the Black gel colour into the bowl and mix until combined
Scoop some icing into the piping bag and set aside
Add in a few tablespoons of water into the remaining black icing and mix until combined
Pour the black icing into the squeeze bottle
Using the black piping bag, pipe a outline around the centre of the cookies
Fill in with the thinner black icing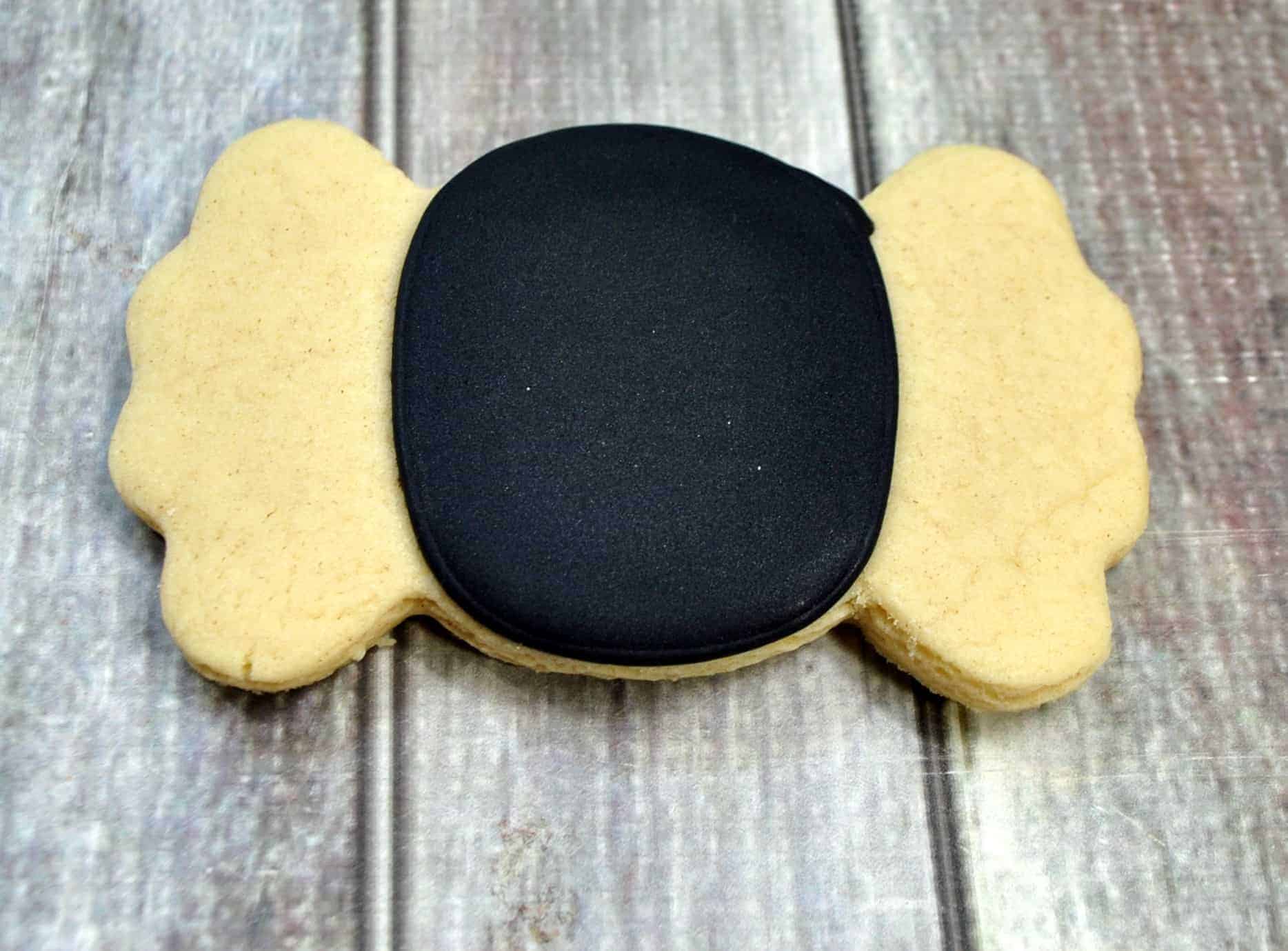 Let cookies dry overnight
Using the piping bag, pipe the legs on the sides of the circle in the shape of an L
Pipe small dollops of black icing onto the back of the eyes and place onto the top part of the circle
Let cookies dry for an hour before enjoying.
Yield: 6
Halloween Spider Cookies
These spider cookies are the perfect treat for your halloween party.

Prep Time 20 minutes

Total Time 20 minutes
Ingredients
1 C of unsalted sweet cream butter, softened
1 1/2 C Powder sugar
1tsp vanilla
1 egg
3 C of flour
1 tsp baking soda
1 tsp cream of tarter
Cookie Cutter: wrapped candy shaped
4 egg whites
1/2 tsp cream of tarter
1/2 tsp vanilla
4 1/2 C powder sugar
Black gel food coloring
1 disposable piping bags fitted with a number 2 tip
1 squeeze bottles
1 package of small edible eyes
Instructions
Directions

Preheat oven to 350 degrees

Cover a cookie sheet with parchment paper and set aside

Using a standing mixer, cream together the butter, powder sugar, vanilla and egg and mix until combined and creamy

Using a large bowl, combined the flour, baking soda and cream of tarter

Gradually add in the dry ingredients and mix on low speed

Using your hands continue to mix until fully combined

Lightly flour a cutting board and knead the cookie dough a couple of times

Roll out the dough to about 1/4 inch thick

Cut out 12 spiders and place onto a cookie sheet

Bake for 8 minutes or until lightly golden brown

Repeat steps until completely out of dough

Let cookies cool completely

Royal Icing Directions:

Using the standing mixer, combine the egg whites, cream of tarter, vanilla and powder sugar and mix until combined and stiff peaks form

Add in a few drops of the Black gel colour into the bowl and mix until combined

Scoop some icing into the piping bag and set aside

Add in a few tablespoons of water into the remaining black icing and mix until combined

Pour the black icing into the squeeze bottle

Using the black piping bag, pipe a outline around the center of the cookies

Fill in with the thinner black icing

Let cookies dry overnight

Using the piping bag, pipe the legs on the sides of the circle in the shape of an L

Pipe small dollops of black icing onto the back of the eyes and place onto the top part of the circle

Let cookies dry for an hour before enjoying.

You May Also Enjoy:
Halloween Frankenstein Cupcakes
Halloween Spookley Square Pumpkin Treats
Please Pin This Recipe