Toilet tube craft ideas are one craft I absolutely love. As an early years teacher I enjoyed using recycled materials to craft with preschool kids and toilet tubes are one idea that always went down well.
Today we are sharing these fantastic toilet tube cars. This car craft is easy and fun to make. It can spark a child's interest in the community and world around them as well as promote speaking, social and fine motor skills.
I'm sure you will love this toilet tube craft. Don't forget to download the free templates at the end of the post.
Enjoy!
DIY Toilet Tube Cars For Preschool Kids
*I use affiliate links in this post. If you buy anything from my links I will earn a small commission*
Supplies For This Toilet Tube Craft
Paper
Glue
Hot Glue
Scissors
Black Marker
Paint Brush
Paint
Applesauce Caps
Toilet Paper Tubes
Handy Art Little Masters Tempera Paints Set, 16 oz, Pack of 6 .
Wooster Brush Q3208-1 Softip Angle Sash Paintbrush, 1-Inch
Blusmart Upgraded Mini Hot Glue Gun with 30 Pieces Melt Glue Sticks, 20 Watts Blue High Temperature Glue Gun for DIY Craft Projects and Repair Kit

How To Make This Toilet Tube Craft
Download and print out the racing stripes.
Cut the stripes into sections using scissors. (some toilet paper tubes are a bit larger and some are a bit smaller, adjust the size of your printable to suit them accordingly)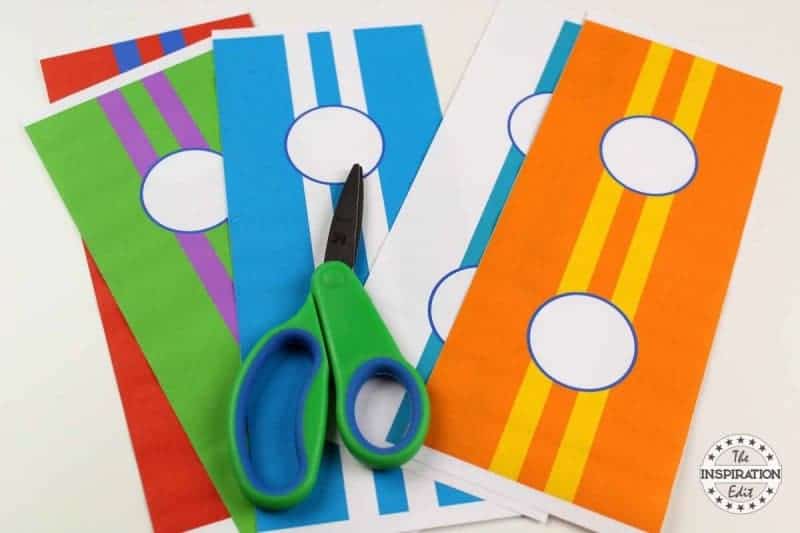 Paint your toilet paper tubes. To cover the cardboard this will require 2-3 coats.
Allow the paint to dry completely. (tip: you don't need to paint the middle since you'll be covering it with the racing stripes)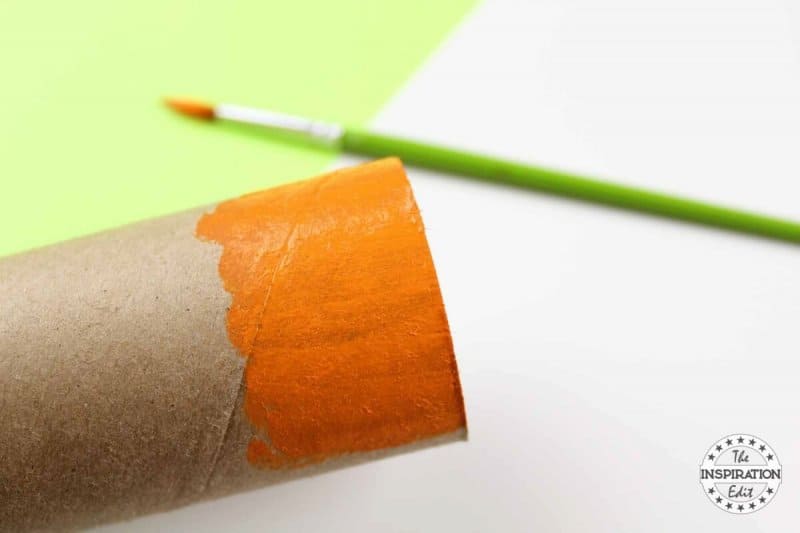 Wrap the racing stripes around the tube and secure with glue.
Use a hot glue gun to glue applesauce caps onto the toilet paper tube.
Cut small rectangles from an extra toilet paper tube.
Cut a bit of a curve into one end.
Paint the rectangles the same colour as you painted your car.
Cut circles from the cardboard tube and flatten them well.
Paint them black and allow the paint to dry completely.
Cut a white circle just a bit smaller than your black circle.
Glue into the center of the black circle.
Use a black marker to add detail to the steering wheel.
Cut tiny strips of cardboard from the toilet paper tube and roll up.
Secure with glue and then paint them black.
Glue the steering wheel pieces together and then glue onto the toilet paper tube car.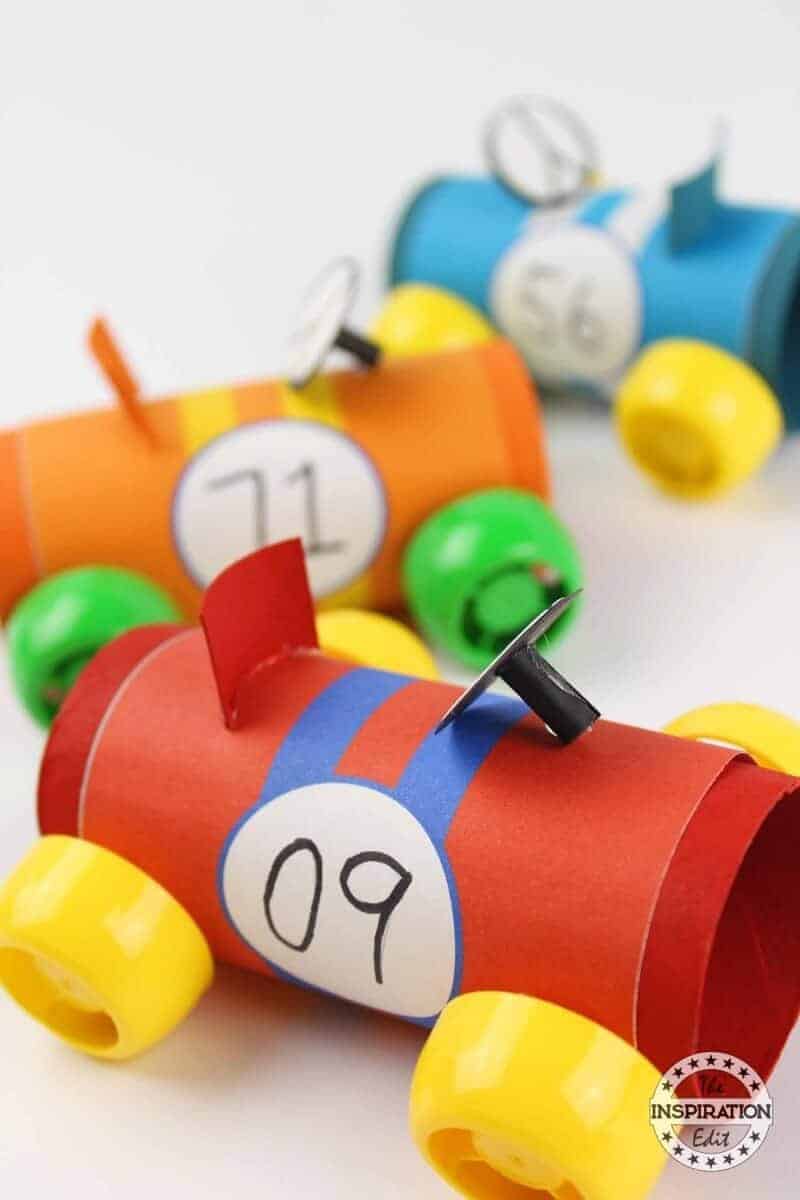 Glue the seat rest onto the toilet paper tube car.
Use a black marker to add your lucky number to the car and then your craft is finished!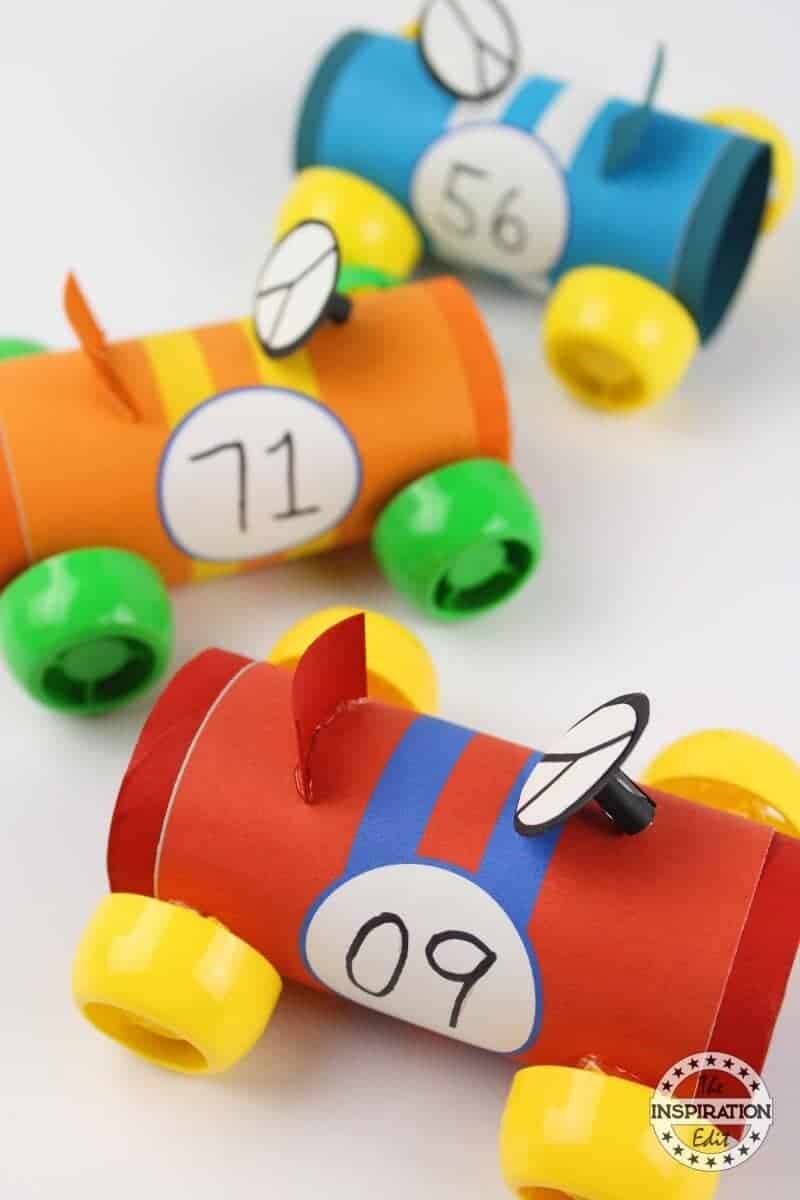 Download Your Template One and Template Two Here!
Pull Back Vehicles,12 Pack Assorted Construction Vehicles and Race Car Toy,Yeonha Toys Vehicles Truck Mini Car Toy For Kids Toddlers Boys,Pull Back And Go Car Toy Play Set
Pop-Up Peekaboo! Things That Go
O Ball 1-Piece Rattle & Roll Car, Assorted Colors
Please pin this super easy craft