One of my favourite desserts during the holidays is pumpkin pie. However, I am one of those people that doesn't really like pie crust. I know it's weird, but I find pie crust to be super dry and it takes away from the deliciousness of the pie. This crustless pumpkin pie recipe makes it super simple to get a pumpkin pie from scratch on the table, and most importantly, it's delicious.
*I use affiliate links in this post. If you buy anything from my links I will earn a small commission*
Don't forget to check out our Instant Pot Pumpkin Puree Recipe!
5 Reasons to Make Crustless Pies
If you have never eaten a crustless pie, you are in for a real treat! Here are 5 reasons why you should make crustless pies instead of with crust!
It's easier. If you have ever made a pie from scratch which includes making the crust, then you know all the prep work you have. Crustless pies have fewer steps.
It tastes better. Pie crust can be dry and bland. This takes away from the flavor of your filling. When you don't have crust, you get all the tasty goodness.
It's healthier. Seriously, you have fewer carbs when you go without the crust. Thus, you can say you ate a healthy dessert.
It looks like an elegant pie. As the cook of your party, you want your pie to look elegant, and that is just what you get when you make it crustless.
You can use any baking pan. Because you don't have to stick to a round pie crust, you can make a crustless pie in any baking pan you have lying around.
Additionally, with this recipe below, you can easily transform it into a keto pumpkin pie that you can add to your fall baking ideas.
The best crustless pumpkin pie recipe
This recipe is perfect for Thanksgiving, Christmas, and even comes in handy throughout the year. This is definitely a recipe you will want to pin to Pinterest so you can find it when you need it!
Pumpkin Pie Ingredients
1 (15 oz) can 100% canned pumpkin puree
1/3 cup granulated sugar substitute
1 tsp cinnamon
1/2 tsp nutmeg
1/2 tsp vanilla extract
1 tsp pumpkin spice
2 large eggs
8 oz. unsweetened almond milk or regular milk
How To Make Pumpkin Pie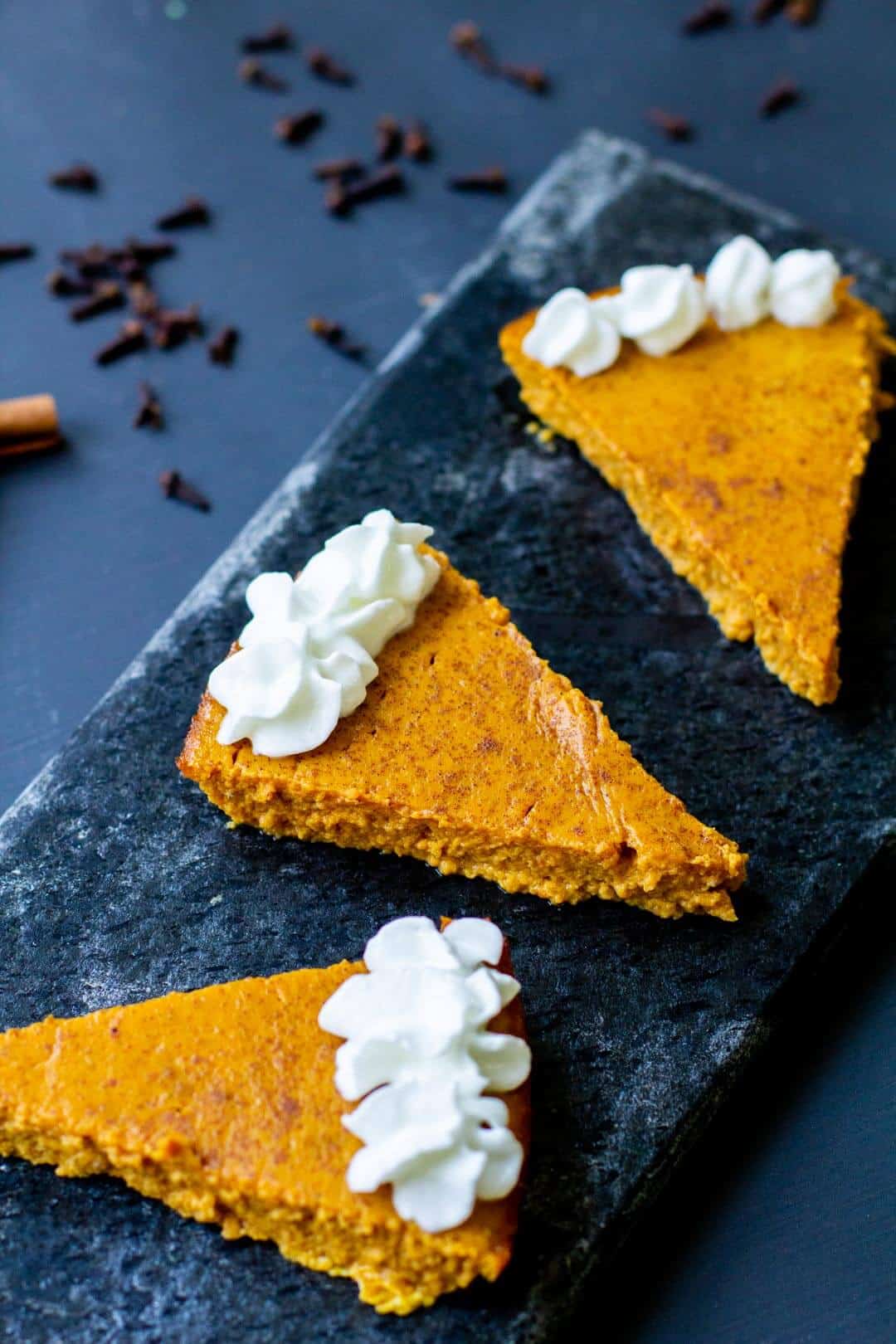 1. Preheat oven to 375 degrees Fahrenheit.

2. In a large bowl, mix together the ingredients well.

4. Pour mixture into the pan and bake for 40-45 minutes, or until a toothpick comes out clean.

5. Allow pie to cool before cutting and serving.
6. Add whip cream for a sweet twist.
Yield: 16 - 18 cupcakes
Blobby Easy Halloween Ghost Cupcakes
super cute Blobby Halloween Cupcakes are a fun and easy idea the kids will love for Halloween.
Ingredients
1 box of chocolate cake mix, any brand
3 eggs
1/3 C. vegetable oil
1 C. water
(2) 8 oz package of lime Jell-O (off-brand works fine)
2 1/2 C. boiling water
Chocolate frosting
Small candy eyes
Black cupcake liners
Silicone Poo mold
Toothpicks
Instructions
Directions:
Preheat the oven to 350 degrees and line a 12 count muffin tin with the black cupcake liners.
Combine the chocolate cake mix, eggs, vegetable oil and water.
Fill each muffin well about 2/3 full.
Bake for 18-20 minutes.
Insert a toothpick into the cupcakes around 18 minutes, if it comes out clean the cupcakes are done.
Remove from the oven and let cool.
Combine the boiling water and both boxes of lime Jell-O, stirring until completely dissolved.
Pour the dissolved mixture into the mold.
Place the mold in the fridge for 2-3 hours or until set.
Once the Jell-O has set, remove from the fridge.
Frost the chocolate cupcakes.
Use a toothpick to apply a small amount of frosting on the back of the small candy eyes. Give each Blobby/Slimer (2) eyes and place on top of the frosted cupcakes.
Repeat with each cupcake.
Don't have time to whip up this delicious crustless pumpkin pie right now? Pin it to Pinterest to come back to later!
More Fall Baking Recipes
If you're looking for more fall baking ideas why not check out the following autumn recipes.
Enjoy!
About Angela Milnes
Angela Milnes is a Qualified Teacher who has specialised in Preschool and Kindergarten teaching. She has studied nutrition for children and has also taught cooking skills to adults. Angela loves to share family meals and easy instant pot recipes here on The Inspiration Edit. Follow her on Pinterest!