Unicorn Poop Gift Idea You Will Love
Unicorns are getting more and more popular. Everywhere I look they seem to be loved. I think it's probably because they are not real and it's something quite magical we can have fun with. Well, today we have a magical Unicorn gift idea.
It's actually Unicorn poop in a bottle and really easy to make. I had plenty of fun making this and absolutely love it.
What do you think. I took in process shots to share the step by step how to for this and think it's a great idea as a gift for friends or even as a teacher appreciation gift. Enjoy.

*I use affiliate links in this post. If you buy anything from my links I will earn a small commission*
What You Need For This Unicorn Poop Idea
Uni Posca Paint Marker Pen, Fine Point, Set of 7 Natural Color (PC-3M 7C)
Set of 4 Fashion Craft Decorative Glass Jar with Screw Top Lid- 6
Skittles Original Candy, 7.2 ounce bag
How To Make Unicorn Poop In A Bottle
To make this adorable Unicorn craft for storing Unicorn poop you need to get a white posca pen.
I used a thin pen which is always best for outlines.
Draw the outline of your unicorn onto your milk bottle.
You may want to create a full bodied Unicorn or just the head as I did in this image.
Once the outline of your Unicorn is complete you can colour in the face white and then start adding colour to the bottle.
I chose a few different colours for my Unicorns hair starting with a blue posca pen.
Next I added purple and pink. Using posca pens on a milk bottle can be tricky but it's easier than using a paint brush.
I got plenty of paint on my hands whilst making this and used a small cotton bud to clean up any mistakes.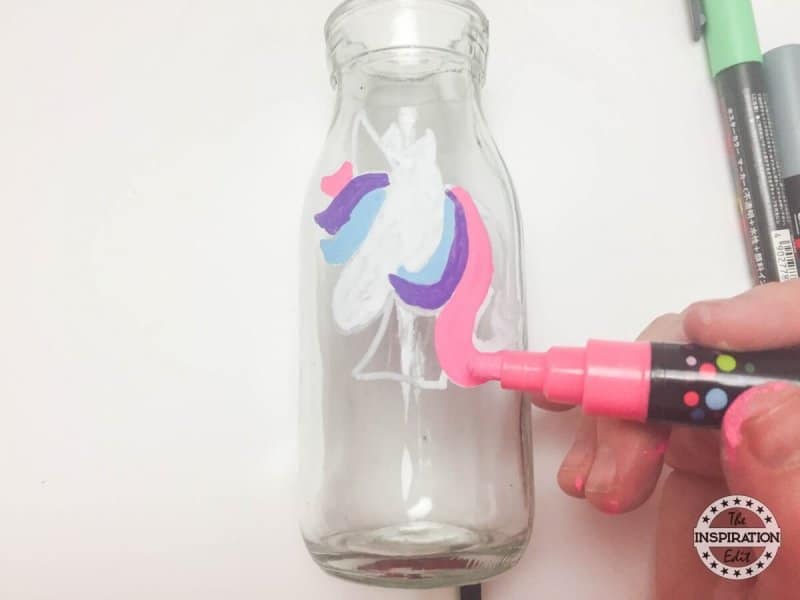 Next I added green and yellow for the Unicorns hair. I then used the yellow posca pen to colour in the Unicorns horn.
You could use a gold pen but I stuck with yellow today.
Next I added pink paint to the ears and went over the colours for a second time.
The next step was to add a black outline to the Unicorn.
I use a thin black posca pen for this process and it helps create a bold and detailed look.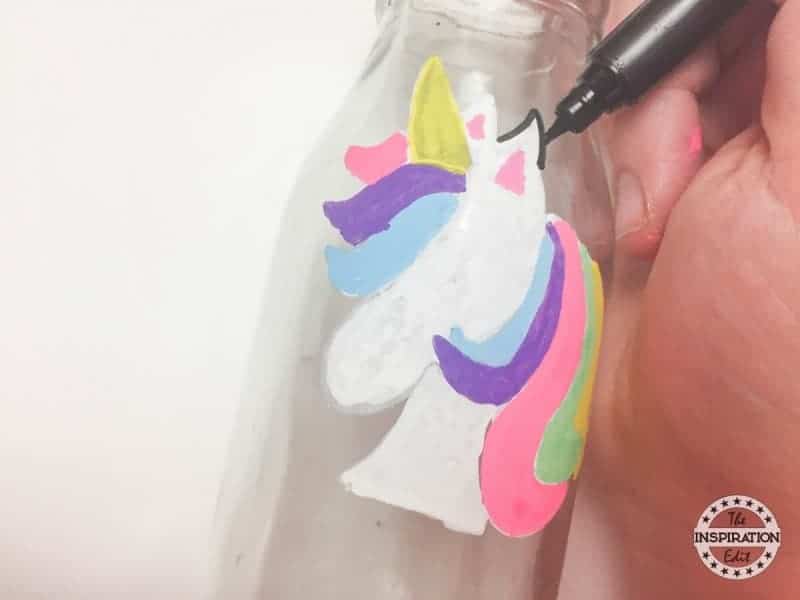 Finally I added facial features to the milk bottle and tied ribbon around to add detail.
You could use any colour that you like, even a rainbow themed ribbo
Now for the fun part. Add Skittles or any other kind of Unicorn poop candy or sweets to your Unicorn bottle.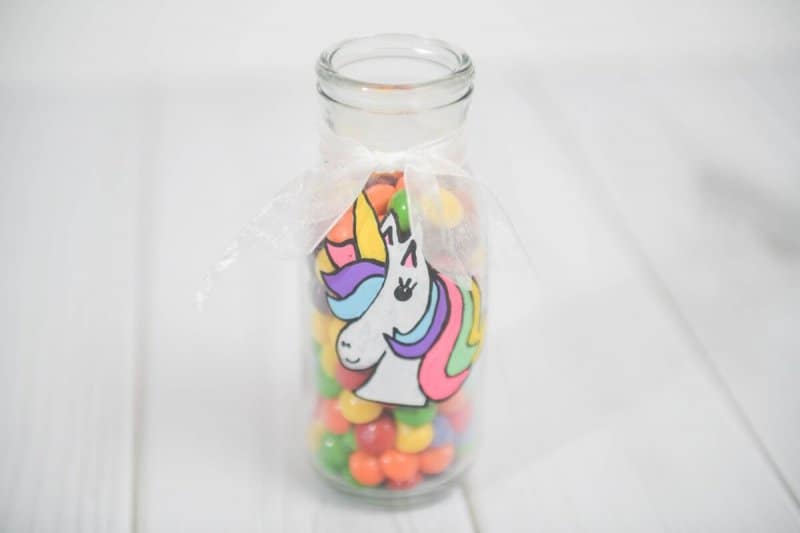 Here is the end product. You can gift this to a child, teacher or a friend.
You may want to pair it with a Unicorn Book or diary, how about some stationary or a Unicorn T-shirt.
We have some fantastic Unicorn gift ideas on the blog that you might want to check out.
So what do you think? I love it and think it's a fun milk bottle painting project which both you and the kids would love to make. Fill it with Unicorn poop and it will make a fantastic gift or unicorn party favor!
Check Out More Milk Bottle Paining Ideas in our Crafty Ideas Section.
Related Products
Precious Moments Sparkle Unicorn Stuffed Animal – 8 Inch by Aurora World
SIFAN Glitter Unicorn Horn Head Band, Flowers Ears Bands for Party Decoration or Cosplay Costume, Gold
BeautyVan Pullover Tops, New Design Womens Unicorn Print Long Sleeve Hoodie Pullover Tops (XL, Pink)