Today on The Inspiration Edit we have a quick and simple paper dog craft for kids. My family loves dogs. We have a whole category on the blog dedicated to A Dogs Life and our Bichon's Yoda and Casper.
Paper Bag Dog Craft For Kids
*In this post I use affiliate links. I will make a small commission if you purchase from them*
We wanted to have some fun making a great paper dog. What do you think? I hope you like the tutorial.
What You Will Need For Your Paper Dog Puppet
For this craft you will need one brown paper bag, brown, yellow, white and blue felt, a marker pen, a pair of scissors, glue and one sheet of sparkly red glitter paper.
Mini Kraft Paper Bags 100 per pack

Elmer's E304 Glue (2 Piece)

AmazonBasics Multipurpose Scissors – 3-Pack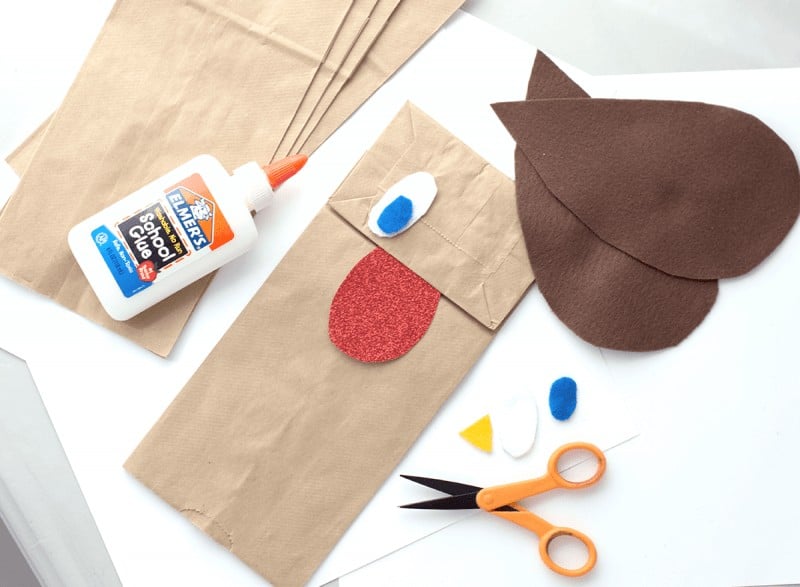 How To Make This Paper Dog Craft
Draw the shapes you will need with your marker pen. Cut out the dog ears from the brown felt.
Cut out two white ovals for eyes and smaller blue ovals for the pupils. Cut out a yellow triangle nose and a red tongue.
Next glue all the pieces in place. The activity will not take too long but you will need to allow time for the glue to dry.
You could also try making other animals from paper bags such as a pig, a cat or a mouse.
Let me know what you think? I hope you like our Paper dog craft.
Angela x
Related Products
Slime Supplies Glitter Powder Sequins for Slime,Arts Crafts Extra Solvent Resistant Glitter Powder Shakers,Bulk Acrylic Polyester Craft Supplies Glitter Loose Eyeshadow,Assorted Colors,12 Pack Glitter

AmazonBasics Multipurpose Scissors – 3-Pack

Apple Barrel Acrylic Paint Set, 18 Piece (2-Ounce), PROMOABI Best Selling Colors I

Please Pin Me