Here is a fantastic crab craft for preschoolers. In fact this craft could be made with a number of age groups and is part of our ocean themed craft month here on The Inspiration Edit.
I am sharing some fun and easy crab craft activities on the blog which are perfect craft ideas for Kindergarten and preschool kids.
Paper Weave Crab Craft For Preschoolers
Don't forget to download the crab craft template at the end of the post. This is a fun Ocean Craft for the school display and can be made with the kids at home over the summer.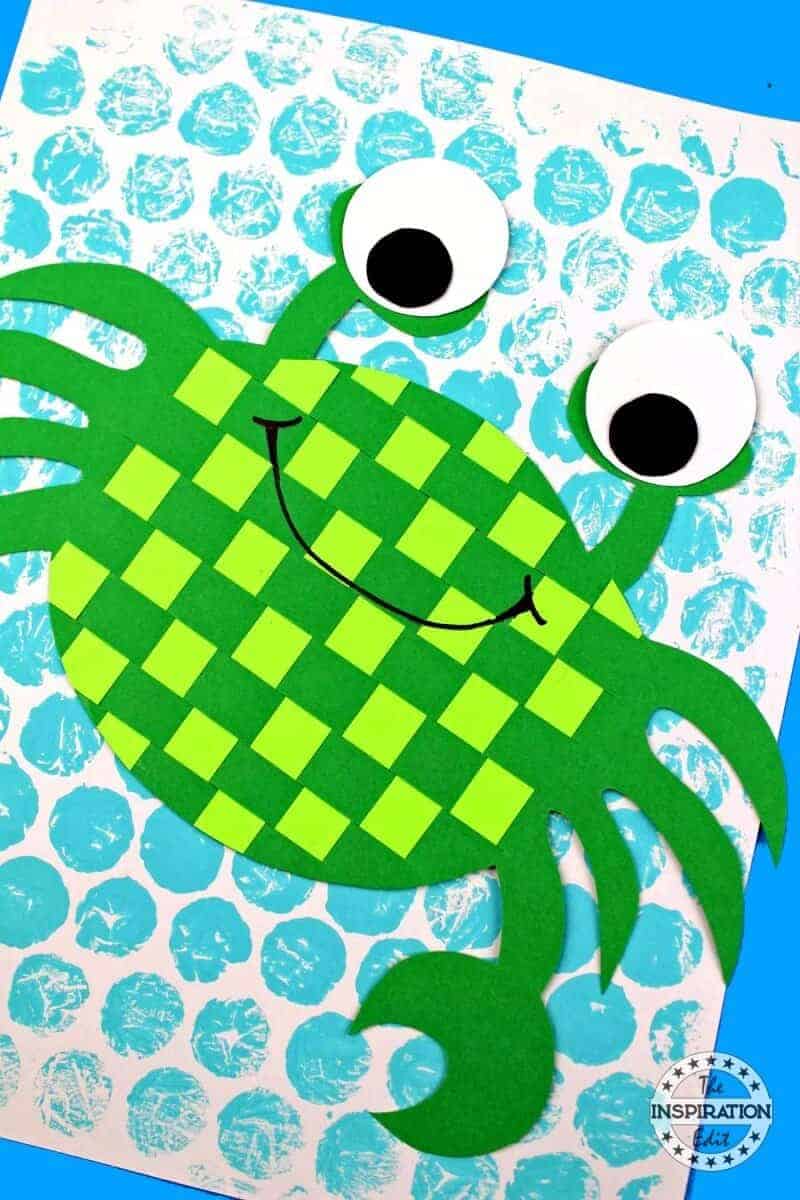 Facts To Teach With This Crab Craft For Preschoolers
Did you know that their are over 4500 species of crabs and that most of them live in coastal areas if salty, fresh or brackish water. Crabs can live in water and on land and the longest lifespan of any crab is 100 years old.
How Many Legs Does A Crab Have?
Do you know the answer to the question, how many legs does a crab have? Look no further, here is the answer!
Crabs have ten legs, including claws. Sometimes a crabs legs can be hidden inside a shell so that only eight legs are visible.
Supplies You Will Need To Make This Crab Craft
So now onto this fantastic Crab craft for preschoolers. Here is all you will need.
You can make an optional background from bubble wrap, using a paintbrush and blue paint, however this is optional. Today I will show you how to make both the bubble background and the paper weave craft.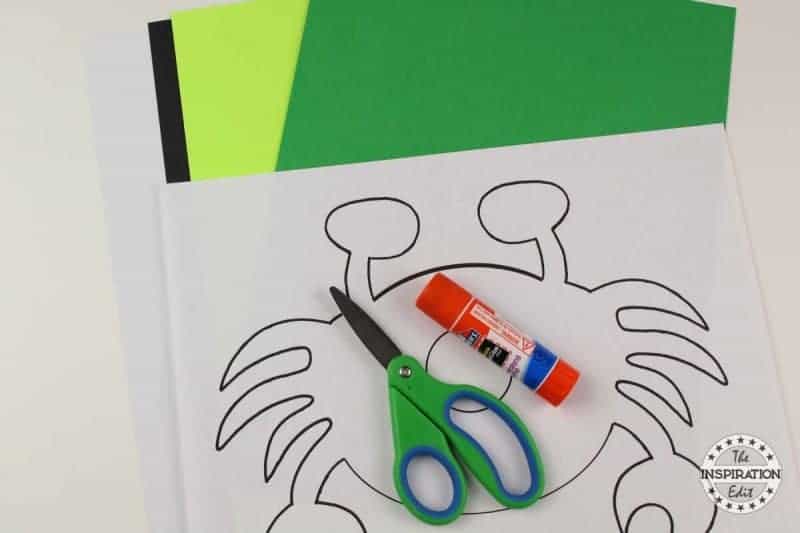 Marigold Professional Metal Base Plate Paper Trimmer, Blue, 12
ColorBok 73477A Smooth Cardstock Paper Pad Green Promenade, 12
How To Make A Crab With Paper
First you will need to download the crab craft template and print out. This can be found at the end of the post.
Cut the crab craft template out. Trace the crab onto coloured cardstock and cut out.
Trace the circle onto white cardstock and cut out x2. Cut 2 smaller black circles. Set aside.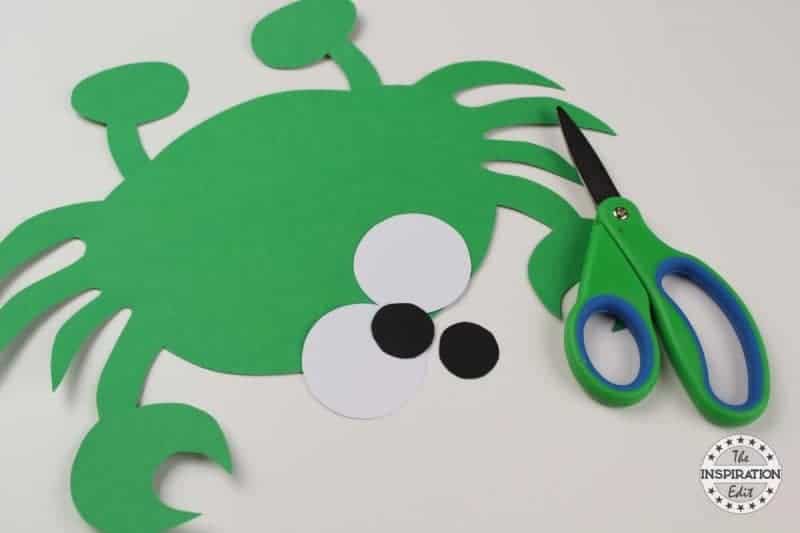 Fold the paper crab in half and cut slits into the middle of the crab.
Leave at least a half of an inch all the way around to avoid tearing the paper.

Cut strips of coloured cardstock. (use a colour different from the crab.
Try using bold prints or textured cardstock)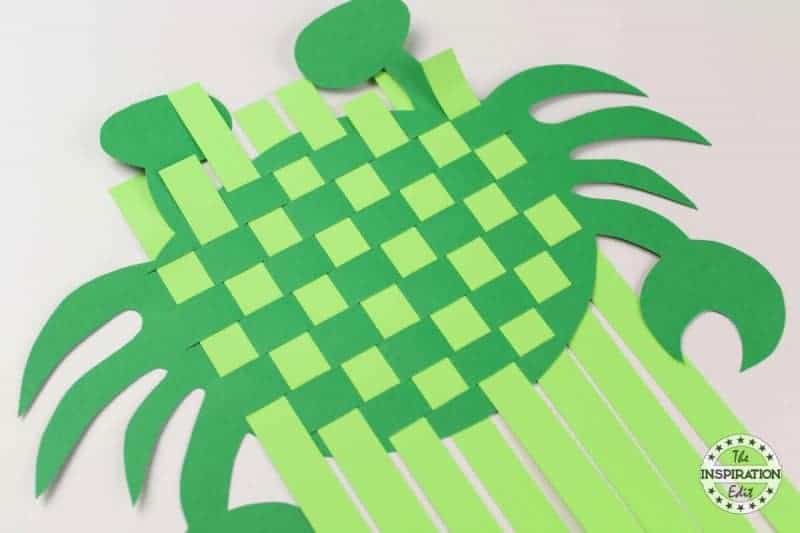 Weave the coloured cardstock strips in and out of the crab. Secure the ends with a bit of glue.
Use scissors to cut off any excess paper hanging over the sides.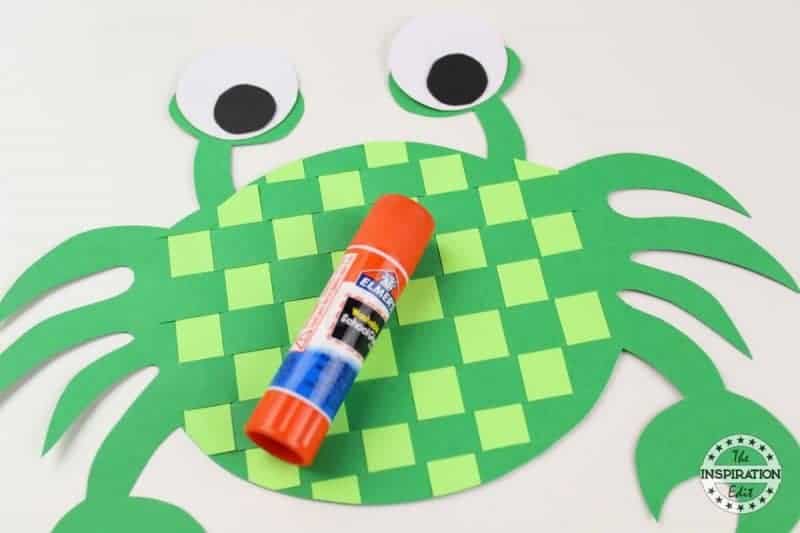 Glue the eyes together and then glue them onto the crab.
Use a black marker to add a mouth to the crab.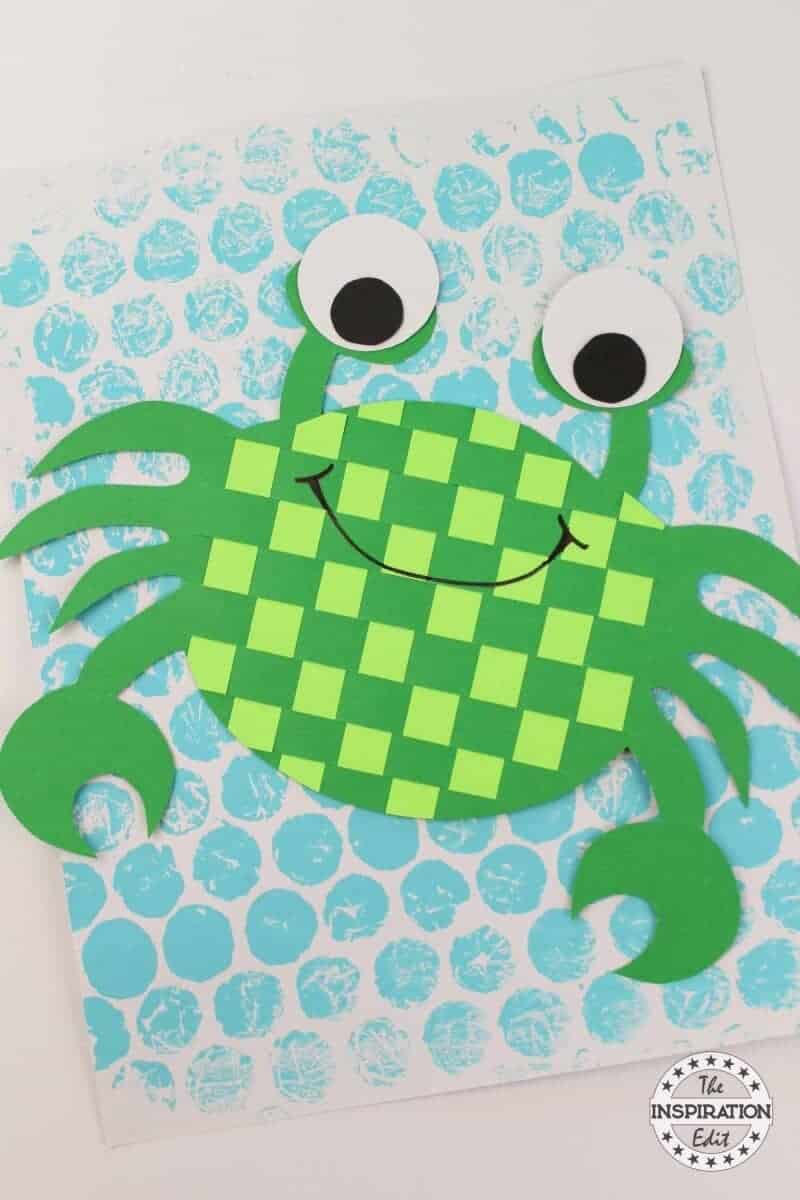 Your crab craft for preschoolers is finished!
There are lots of Ocean Craft Ideas here on the blog that I'm sure you will love.
This is a wonderful classroom project! How cute would these look on a bulletin board in a rainbow of colours!?
It's quick and easy to download the crab craft template and free for all.
More Fun Ocean Craft Ideas You May Love
Related Ocean Themed Products
Crab Bean Filled Plush Stuffed Animal
Seashells, Crabs and Sea Stars: Take-Along Guide (Take Along Guides)
Fun Express Ocean Animals (1 Dozen)

Please Pin Me