18 Brilliant Popsicle Stick Crafts For Kids
Today on the Inspiration Edit I am sharing 18 Brilliant Popsicle stick crafts. When my dad was growing up he used to spend time with his grandad Alfred Airey. Great Grandad Alfred would make little toys and ornaments out of lollipop sticks and wooden pegs.
My dad fondly recalls those memories now and he even picked up the same skill and talent. Now my dad makes lot's of great things from wood and I just love it when he does.
I hope you enjoy this roundup of popsicle sticks or lollipop stick crafts. Do let me know which is your favourite idea. I simply love the Trolls craft!
Angela x
Popsicle Stick Crafts For Kids
Popsicle Stick Butterfly Craft
Whether you're teaching your toddler about butterflies or just trying to keep him busy and occupied for a while, this easy craft has got you covered! 
Halloween or not, these popsicle monsters are another excellent craft idea to keep your kiddo busy with! 
Trolls Poppy Popsicle Stick Craft
Does your little one love Poppy from the Trolls movie? This craft stick activity is just right for you! 
Trying to inspire your kiddo to try gardening? These easy activity will give you just the right push you need. 
How about an easy craft idea to create a wall hanging that your kid can put up in his room later?
And here's yet another spooky yet creative craft activity for your kid to try using extra popsicle sticks. 
Teenage Mutant Ninja Turtle Stick Puppets
Does your little boy love Teenage Mutant Ninja Turtles? These easy popsicle stick puppets are worth a try! 
Nutcracker Popsicle Stick Puppet
Super simple and easy to make, if you're on the hunt for a low-effort craft idea for your kiddo, this is the one! 
Scooby Doo Popsicle Stick Dolls
Does your little one love Scooby Doo and his exciting mysteries? Why not keep his interest going with this fun and inspired craft activity?
Time for little Christmas fun folks! This beautiful ornaments can be crafted using just old popsicle sticks!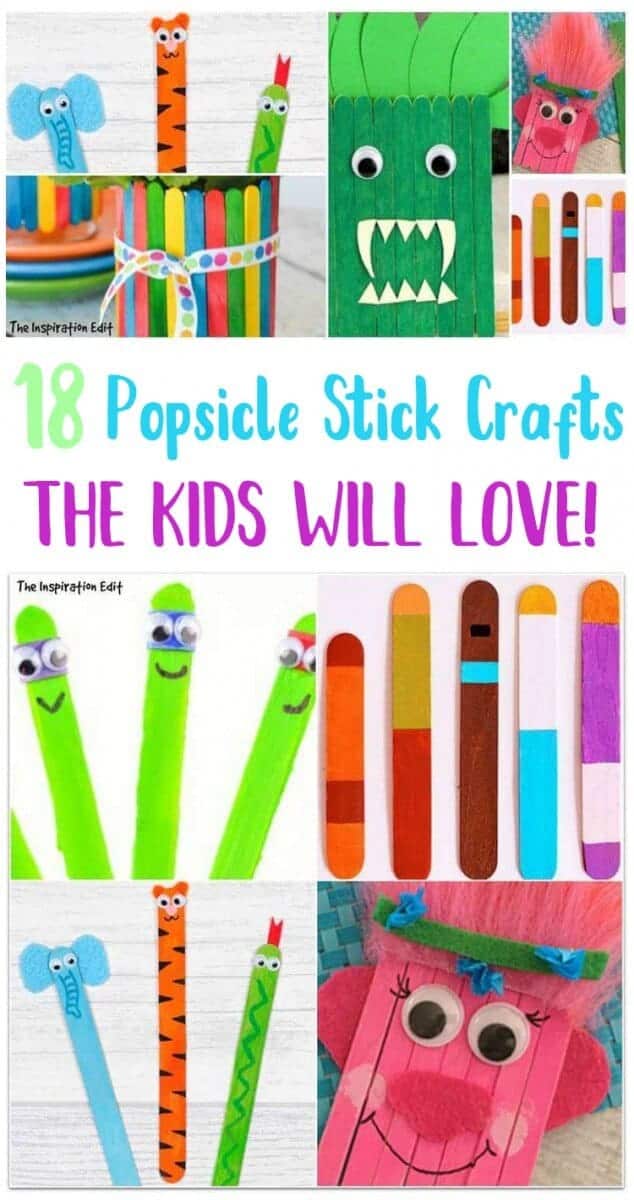 Looking for a fun back to school craft for your kiddo? Give this school bus themed popsicle craft a try! 
Popsicle Stick Bee Kid's Craft
Teaching your toddler all about bees? Make sure you also try this fantastic and super easy craft activity to go with it! 
On the hunt for a fun Thanksgiving themed craft activity for your kiddo? Give this popsicle stick turkey a try! 
Popsicle Stick Caramel Apple Craft
Got a toddler who loves caramel apples? Why not take his love up a notch and try recreating this easy craft together? 
How To Make A Kid's Popsicle Stick Puzzle
Puzzles are an excellent way to keep toddlers busy, and you can actually create them yourself too. This activity is just that and more! 
Related Products
Pacon Jumbo Natural Craft Sticks,100 pieces per pack
Handy Art 8 Color-8 Ounce Primary Acrylic Paint Set, Assorted
Creativity Street Wiggle Eyes Assorted Sizes, Black, 100-Piece (CKC344602)
Please Pin Me