Weight Watchers Zucchini Pizza Boats Recipe
If your children are anything like my daughter, getting them to eat veggies (especially the green ones) can be a real challenge!
Heck even I struggle with veg sometimes and therefore getting creative with vegetables means they will be enjoyable rather than necessary.
It's a little easy in the morning when you can put almost anything in a muffin for or a smoothie.
In fact my good friend makes an amazing Zuchinni Muffin, however when it comes to savoury meals it can get a little more difficult.
I have started cooking veggies in a really scrumptious way and I hope you really like these.
They are only 3 smart points on the Weight Watchers Freestyle or Flex plan, depending where you live in the world.
My biggest success with my daughter so far has been these zucchini pizza boats. Every kid I have ever met LOVES pizza. They wouldn't mind if they ate it every night for a month. That's why it's such a great recipe and you only have to count the cheese and pepperoni.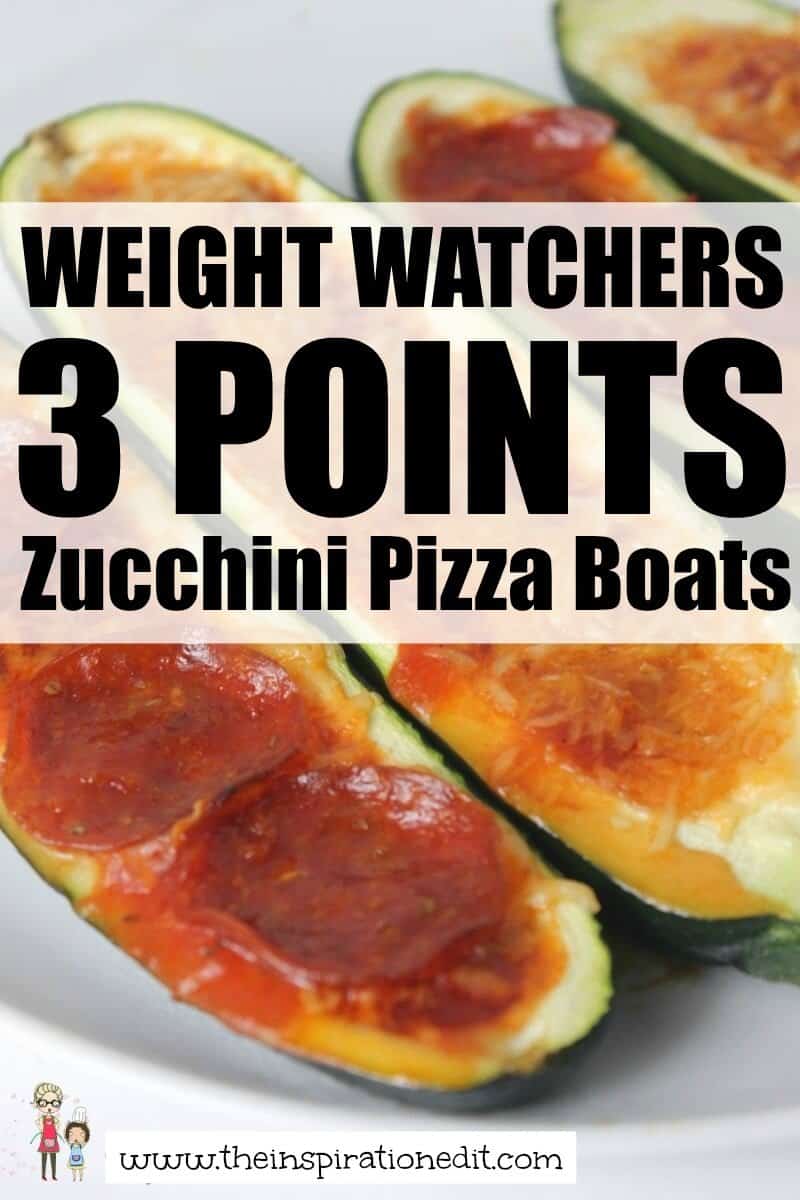 I like this recipe because it's easy to make, it's a really great healthier option (and gluten free if you have that allergy) compared to your typical bread based pizza which would be way more in Weight Watchers points.
And kids will love it because it's pizza and hopefully you will too.
The baked zucchini has a very subtle flavour and soft texture. I typically like to use parmesan cheese because of the somewhat salty flavour being one of the main flavours my daughter tastes making it easier for her to enjoy her zucchini boats!
How To Make Zucchini Pizza Boats
The ingredients and prep are super simple and quick so don't wait to preheat your oven (200 degrees C). All you will need is is zucchini, sauce (I like marinara which can be bought or homemade), cheese (parmesan or mozzarella). For this recipe we are counting the parmesan and the pepperoni and one pizza boat adds up to 3 points. You could literally have 3 pizza boats for the same number of points of one slic of bought pizza. You can also use different toppings depending on your taste.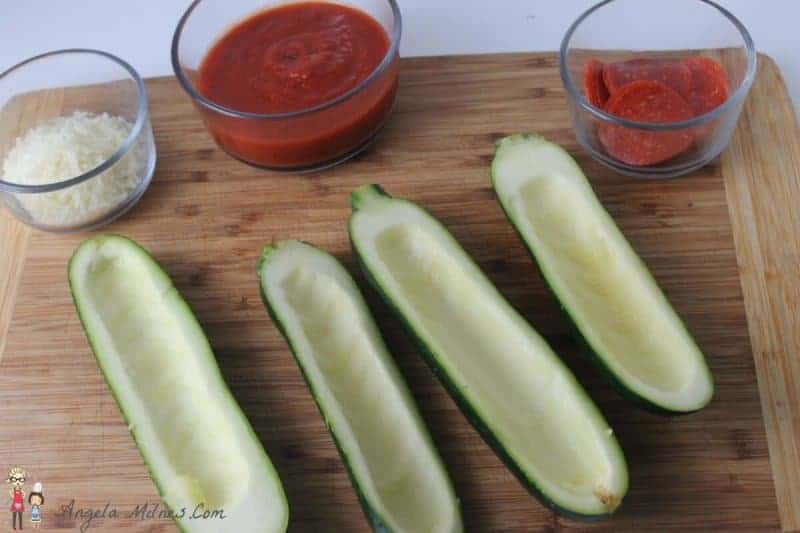 Cut the zucchini in half lengthwise and scoop out the seeds so that it looks sort of like a canoe.
"Zucchini boats"…get it? You could throw away the seedy middle part, compost it, or save it for a stir fry!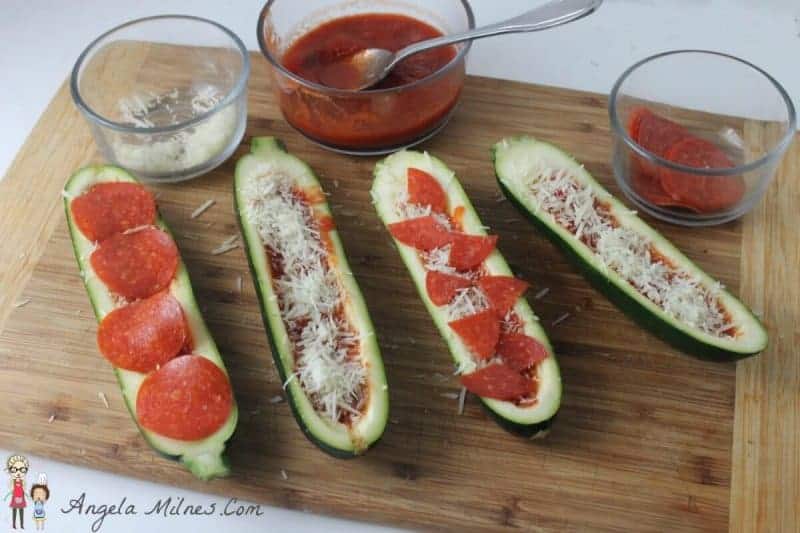 Next fill your boats with the sauce and top it however you like.
I like to keep it simple with the pepperoni, but diced peppers, herbs, onions, bacon, sausage, black olives, etc are all great choices.
Arrange on a baking sheet, and bake for 20-25 minutes.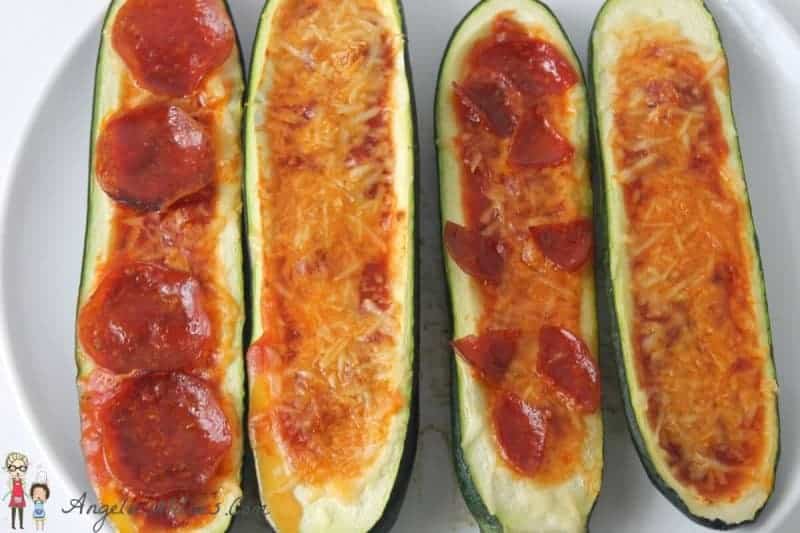 If you want to add some shredded basil or other fresh herbs on top at this point, that would be extra delicious!
They are free on the Flex and Freestyle plan. Enjoy.
Zucchini Pizza Boats
Ingredients:
2 zucchini
⅓ cup marinara sauce (plum tomatoes, tomato puree, chopped parsley, minced garlic, oregano, salt and pepper)
¼ grated parmesan (or mozzarella) cheese
Pepperoni slices
Directions:
Preheat oven to 200 degrees C.
Cut zucchini in half lengthwise. Scoop out seeds, fill the middle with a heaping spoonful of marinara sauce.
Sprinkle each boat with 10g parmesan cheese and top with 4 pepperoni slices per boat
(You can add addition preferred toppings, just make sure you point it).
Also you could switch the pepperoni out for chicken or ham.
Arrange the zucchini boats on a baking tray, and bake for 20-25 minutes.
Related Products
Food, Health, and Happiness: 115 On-Point Recipes for Great Meals and a Better Life

Freestyle 2018: The Ultimate Freestyle Cookbook: Quick and Easy Freestyle 2018 Recipes

Weight Watchers One Pot Cookbook (Weight Watchers Cooking)