Next week is my daughter's birthday and I it's got me thinking about fantastic party ideas. Last year Sylvia wanted an Unicorn party and with that in mind, I thought I'd share this fun and easy Unicorn cupcakes tutorial.
This is such an easy way to turn regular cupcakes into Unicorn cupcakes! We use store bought cupcakes and bring them to the next level with simple decorating techniques. I'm sure these would be perfect as a Unicorn party food idea! Enjoy!
*I use affiliate links in this post. If you buy anything from my links I will earn a small commission*
Ingredients Needed For These Easy Unicorn Cupcakes
– Cupcakes with Vanilla Frosting
– White Airheads Candy
– Rainbow Sprinkles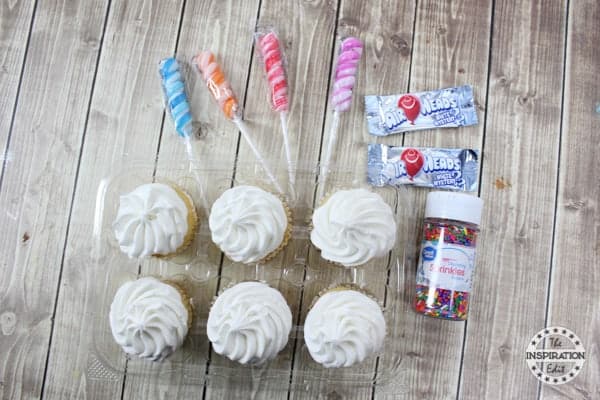 How To Make Unicorn Party Cupcakes
– Cut the stick of the twisty lollipop in half and then stick in the middle of the cupcake – this is the unicorn's horn!
– With a knife, cut a piece of white airhead candy to make two ears.
Use the edges of each one to create a pointy ear. Stick the ears into the frosting on the side of the unicorn horn.
– Top with rainbow sprinkles!
Your Unicorn cupcakes are now ready for your child's unicorn themed party. I'm sure they will be a big hit.