DIY Unicorn Succulents For The Home
We love unicorns at the moment and each week we have been sharing fantastic Unicorn themed crafts. Last week Sylvia and I made unicorn poop in a bottle and the week before that we shared Unicorn Easter eggs and Unicorn Gift Bags.
Today we have these gorgeous DIY Unicorn Succulents to share. They are fun easy and simple to make and will look stunning in any home.
*I use affiliate links in this post. If you buy anything from my links I will earn a small commission*
Supplies For Your Unicorn Plant Pot
DecoArt Crafter's Acrylic Paint, 2-Ounce, White

Winlyn 9 Pcs Small Terracotta Pot Clay Pots 3" Clay Ceramic Pottery Planter Cactus Flower Pots Succulent Pot Drainage Hole- Great for Plants,Crafts,Wedding Favor

DANDAN DIY Upick More Than 26 Colors 40PCS Satin Ribbon Flowers Bows Rose w/ Rhinestone Appliques Craft Wedding Dec (Multi-color)

How To Make This Unicorn Plant Pot
Paint the terracotta pots white.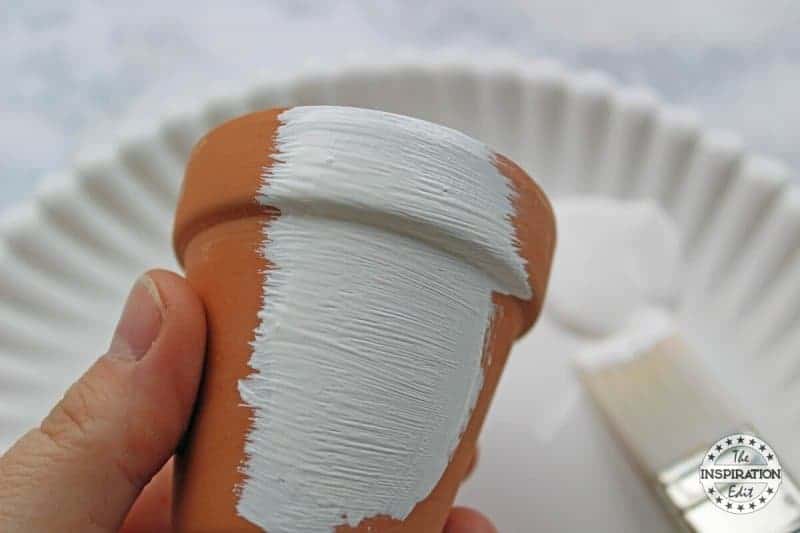 This will require 2-3 coats of white paint. Allow the paint to dry completely.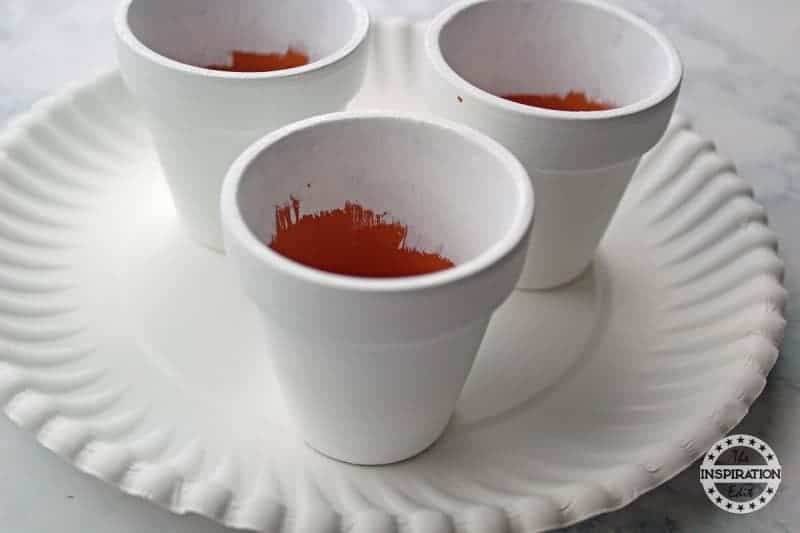 Draw a leaf shape onto green cardstock and cut out 2-3 leaves for each pot.
To make the horn, draw a triangle shape onto gold glitter cardstock and cut out.

Glue the gold horn on the inside of the pot right towards the top.

Glue the leaves and paper or fabric flowers onto the top front of the pot.

Use a pencil to draw eyes onto the pot.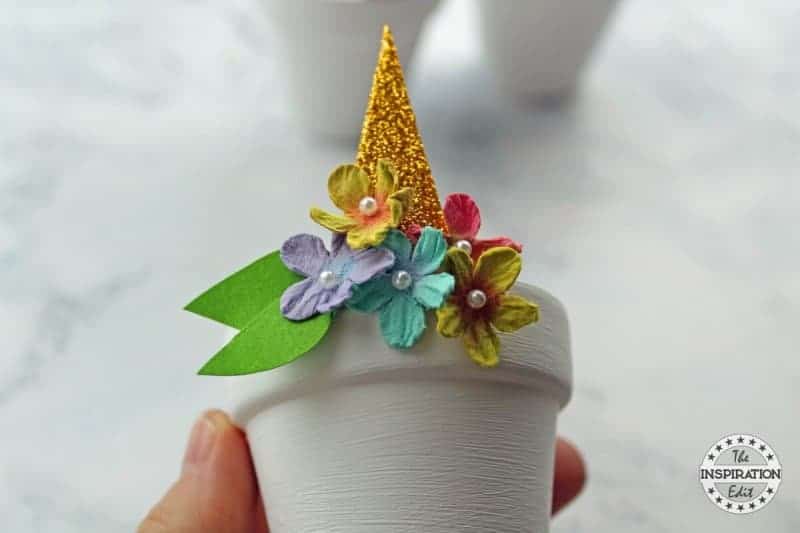 Once you are happy with the result, use a black paint pen or permanent marker to trace over the pencil.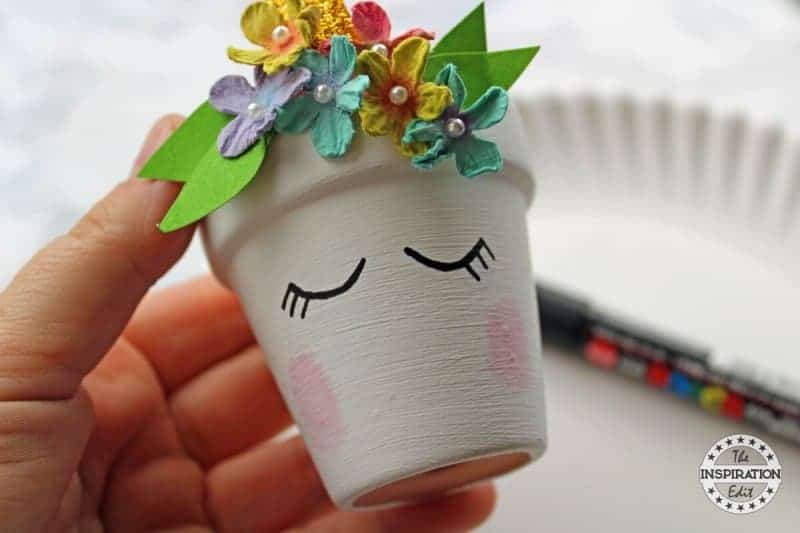 Dip your fingertip into pale pink paint and give the pot rosy cheeks, if you'd like!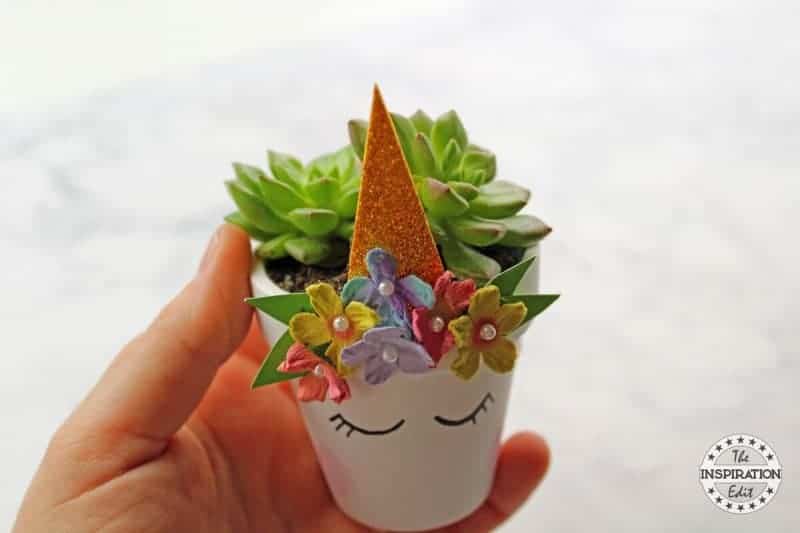 Fill the terracotta pot with soil and then plant your succulents inside.
Succulent Care Tip:
To water your plant, soak the soil each time it's become completely dry.
Allow excess water to drain out of the bottom.
Do not allow the plant to soak in a pool of water all day or night.
Once the soil dries out, you may soak the plant again.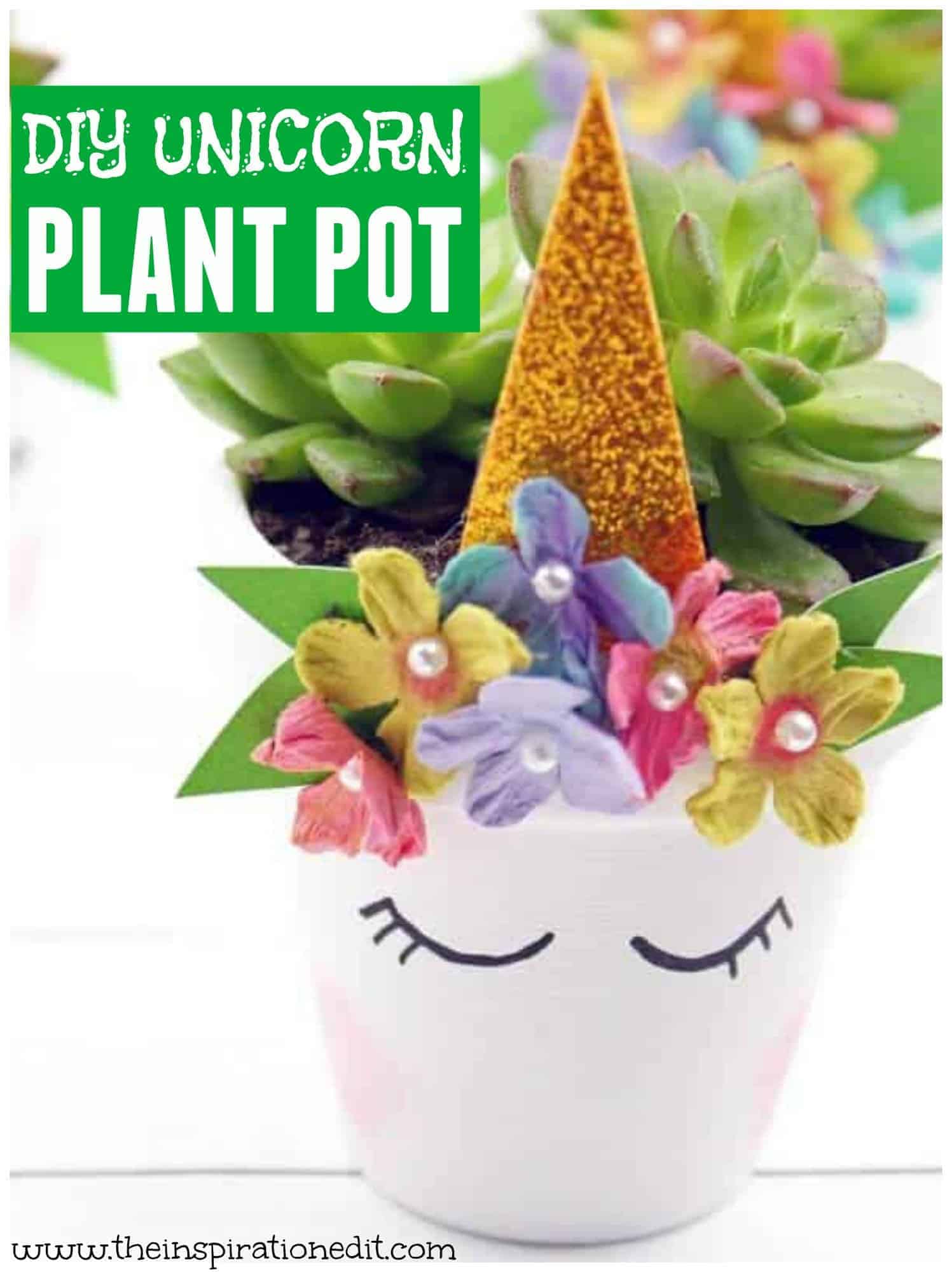 Related Products
Diecuts With A View MS019052 Paper Stack, 6 by 6-Inch, Glitzy Glitter, 24-Pack

Crenova Hot Glue Gun Kit for DIY Small Craft and Quick Repairs in Home & Office, 50 Pieces Transparent Glue Sticks Included,20Watt

Uni Posca Extra Fine Marker, Black (PC1M.24)

Please pin these diy plant pots