Incredible Hulk Craft That Kids Will Love
The Incredible Hulk is a popular superhero and if your looking for a fun Incredible Hulk Craft you need not look any further!
Today we have a few fabulous Avenger themed posts here on The Inspiration Edit this week along with some Hulk Krispie Treats and Captain America Cupcakes . This Hulk craft is fantastic for as a party activity or a superhero gift idea.
These DIY Avenger Bottles which I made are the most exciting thing I've shared in a while. Here is a tutorial on how to make a DIY Hulk bottle.
*I use affiliate links in this post. If you buy anything from my links I will earn a small commission*
What You Will Need For Your Incredible Hulk Craft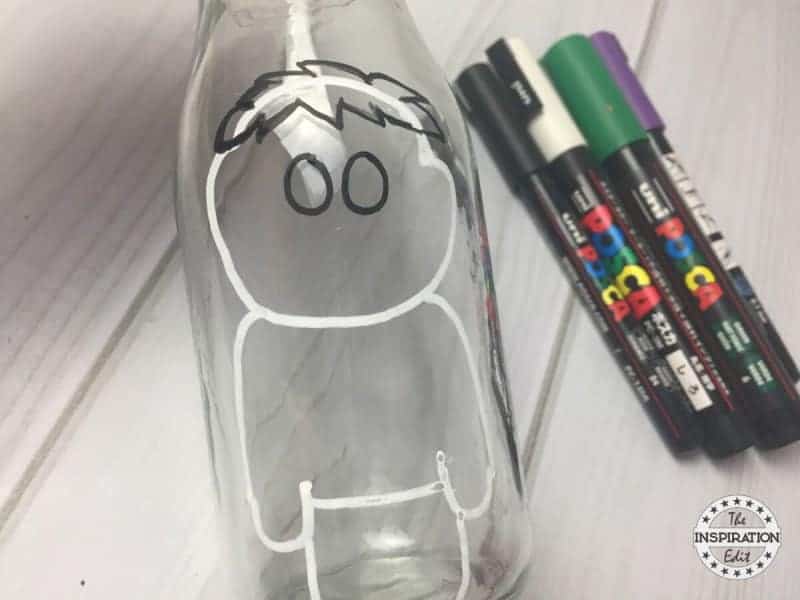 Uni-posca Paint Marker Pen – Medium Point – Set of 15 (PC-5M15C)

Mini Vintage Glass Milk Bottles with Cork 24 pieces for Favors, Parties

Let's Make This Fun Incredible Hulk Craft
Begin by drawing the outline of The Incredible hulk with a White Posca pen. Next add black hair onto your character and colour in the body of your Hulk with a green posca pen.
Next use a green posca pen to add eyes a mouth and eyebrows. Add a chest and abdominals to your Hulk to make him look strong.

Use the purple posca pen to add legs to your incredible Hulk milk bottle. Fill in any gaps or areas that need going over and outline the hulk with a black thin paint pen. Your Hulk is now ready to go. You can use him as a set and make all the avenger characters or make a set of Superhero bottles.

You might even want to add candy as a treat or birthday gift or you could use them like us to store pencils, art supplies or watercolour pencils. We are using ours for my daughter's watercolours. They look fab. Don't ya think? I love them! Enjoy.

-The Incredible Hulk Rice Crispy Treats
Related Hulk Products
Marvel Avengers Hulk Pillowtime Pal

The Incredible Hulk

Hulk Kids Cape and Mask Set

Marvel Little Boys' The Incredible Hulk T-Shirt, Red Heather, 5/6

World of Reading: Hulk This is Hulk

Please Pin Me this Incredible Hulk Craft Idea