Thanksgiving Dessert Turkey Treats
Today on the blog I am sharing some fantastic Thanksgiving Turkeys. Thanksgiving is a big thing in America and in the UK we also celebrate the Harvest. In fact, my daughter has been learning songs of gratitude and practicing songs about fruits and vegetables to sing at the school harvest festival. So today I am sharing these funky Thanksgiving Turkeys which are made from ghiradelli chocolate.
*I use affiliate links in this post. If you buy anything from my links I will earn a small commission*
Thanksgiving Dessert Ingredients
makes 8 cups
1 silicone shot glass mould (found at Michael's)
15 oz ghiradelli melting chocolate wafers
1 box ghiradelli white chocolate pudding
1 tsp pumpkin pie spice
1 package of small edible eyes
1 container of Christmas light sprinkles
1 package of chocolate fondant
1 disposable piping bag
1 mini Christmas light cookie cutter
Wilton Chocolate & Candy Melts Melting Pot, 2104-9006

Wilton Microwaveable Real Milk Chocolate Melting Chocolates 1 lb. Bag

How To Make Thanksgiving Turkey Treats
Using a double boiler, melt the chocolate
Once melted, pour chocolate into the silicon moulds and place into the freezer over night.
Once you place the mould into the freezer start cutting the feathers and moulding the legs.
Pour remaining chocolate into the piping bag and cut off a small part of the tip. This will act as the glue.
Work with the fondant to make it soft.
Sprinkle a little bit of powder sugar onto a cutting board and roll out using a rolling pin just like you would for cookie dough.
Use the cookie cutter and cut out 5 light shapes for each cup. A total 40 light shapes.
Using the remaining fondant, pinch off some fondant about the size of a skittle and roll into logs for the legs.
About 2 legs for each cup so you will need 16 logs.
Pinch off some more fondant about the size of a mini M&M for the feet and roll into logs.
3 mini logs for each leg so 24 mini logs.
Place the mini logs into a V shape with the 3rd toe going into the middle.
Using the melted chocolate, add a little bit in the middle of the feet to hold all three pieces together.
Repeat steps with remaining feet pieces.
Let those dry for 2 hours before moving.
Take 5 of the feather pieces and piece it together.
Add a little bit of chocolate behind a feather piece to glue them together.
Repeat steps with remaining feather pieces. Once done you should have 8 sets of feathers.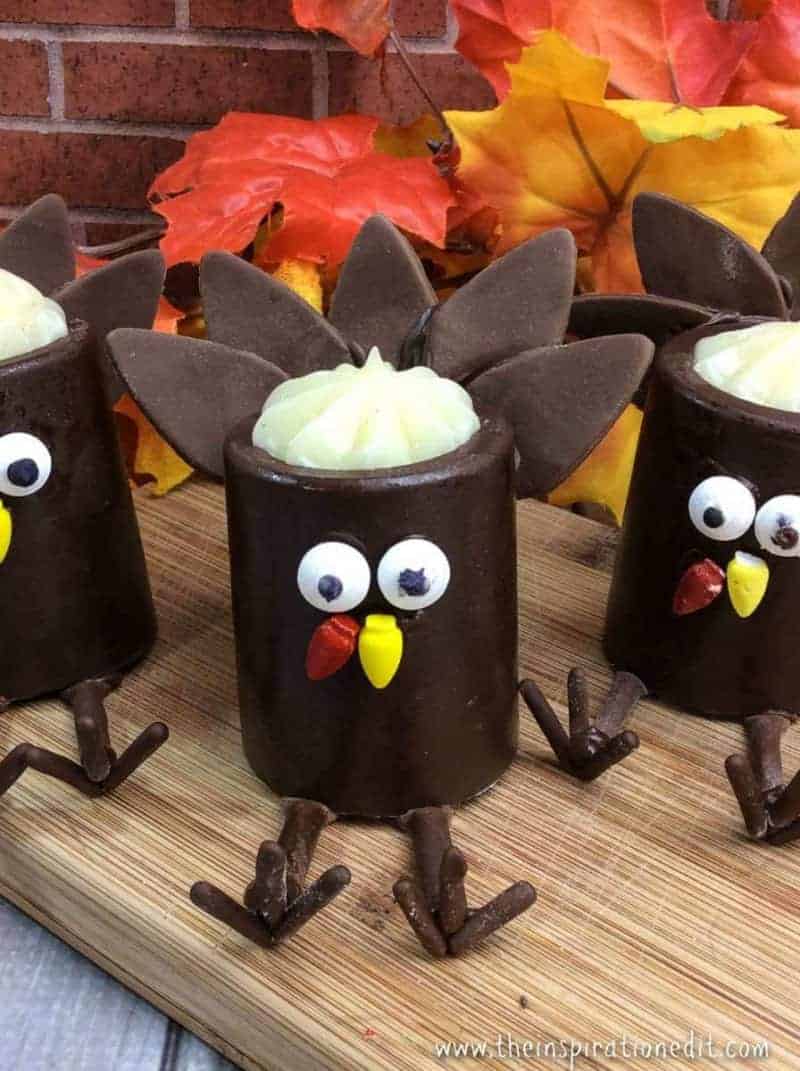 Decorating Your Turkey Moulds
Once you pull out the chocolate moulds out of the silicone mould place them onto a cutting board.
Melt the chocolate in the piping bag to act as a glue again.
Take 2 eyes for each cup.
add a small drop of melted chocolate onto the back of the eyes and place them onto the chocolate mould.
Place chocolate mould onto its back so that the eyes wont fall off while the chocolate is hardening.
Add a drop of chocolate under the eyes and place a yellow and red Christmas light sprinkle onto the melted chocolate for the beak and gobble.
Repeat steps with remaining cups and let dry for 20 minutes.
Pick the cups back up into a sitting position.
Add melted chocolate to the bottom part of the feather piece.
Place feather piece onto the back part of the chocolate cup and hold for 2-3 minutes.
With the cups still being cold from being in the freezer the melted chocolate should harden fast.
Using a cup or can, place the feet up against the cup or can.
Carefully place a leg close to the feet and add a little drop of melted chocolate where the leg and feet meet to connect them.
Repeat steps with remaining feet and legs.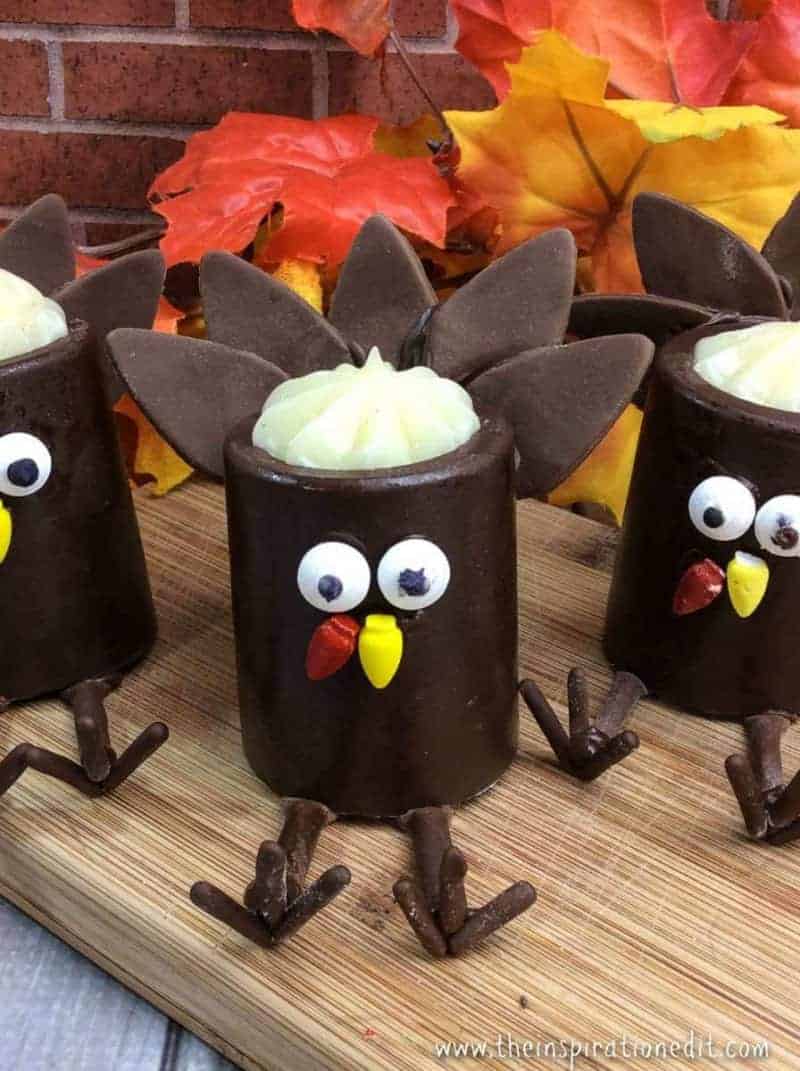 Let chocolate harden for 30 minutes before carefully moving them.
Once 30 minutes is up, lightly flatten the back of the leg and add a drop of melted chocolate.
Place the flatten part of the leg under the chocolate cup.
Repeat steps with remaining legs.
Let set for 30 minutes.
Using a large mixing bowl, combine the pudding mix, milk and pumpkin pie spice and mix for 5 minutes until combined.
Pipe the pudding into the chocolate cupsEnjoy!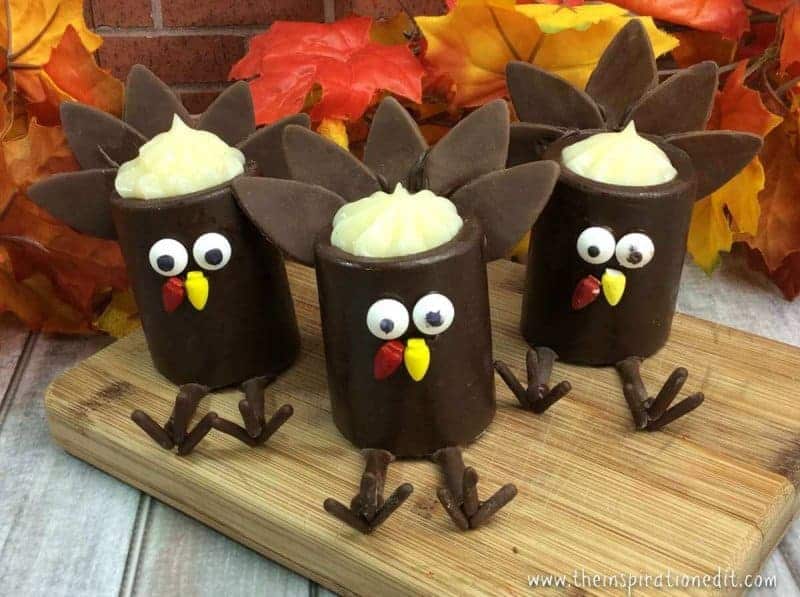 Related Products
Wilton Ready To Use Decorator Icing, Chocolate

3 Pack Flower Shape Silicone Cake Bread Pie Flan Tart Molds, SENHAI Large Round Sunflower Chrysanthemum Rose Shape Non-Stick Baking Trays for Birthday Party DIY – Yellow,Red,Purple

Non-stick Candy Jelly Molds, Chocolate Molds, Soap Molds, Silicone Baking Molds – Forest Theme Happy Bear, Lion, Hippo & Bee, Butterfly – More Fun, Toy Kids Set, Set of 2

Please pin this fun and fantastic thanksgiving dessert Turkey treats idea!