Low carb veggies are an important part of the Keto diet. In fact many veggies can be eaten quite freely when following a Keto diet plan but how do you know which vegetables to eat?
A simple and easy guide would be to focus on vegetables that grow above the ground! Above ground vegetables are usually lower in carbs than those that grow underground. This is the general rule.
*I use affiliate links in this post. If you buy anything from my links I will earn a small commission*
Best Keto Vegetables
Green leafy vegetables such as cabbage, kale, spinach and broccoli are fantastic for those on the Keto diet.
When following the Keto diet, vegetables with less than 5 net carbs can be eaten freely.
Covering your vegetables with oils, butter or other sauces can add flavour and taste to your meals but also helps you to get the macronutrients you need each day along with the fat's needed for your Keto friendly diet plan.
When following the ketogenic diet is it important that less than 5% of your daily calorie intake is from carbs. When your aiming to eat less than 20g of carbs a day, vegetables can be a great source of energy and nutrition.
Keto Diet Vegetable Carb Amounts
All foods are comprised of macronutrients – carbs, protein, and fat. While meat and most dairy are primarily made up of protein or fat, vegetables contain primarily carbs.
On a strict ketogenic diet, with fewer than 5% of calories from carbs, it's important to know which veggies are the lowest in carbs, particularly if your goal is to consume fewer than 20 grams of carbs per day.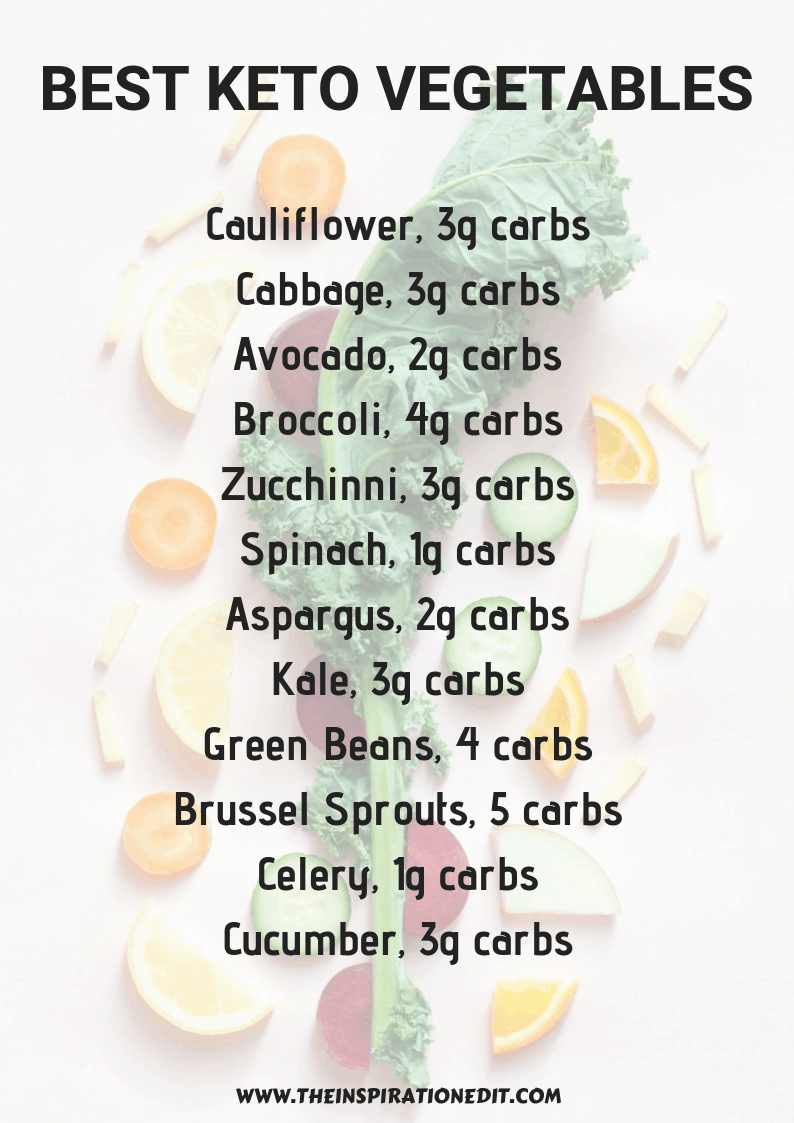 Keto Vegetable List
Here are some of the best Vegetables to eat when on the Keto diet. This is not an extensive Keto vegetable list but a great starting guide. The carb amounts are per 100g of vegetables.
Cauliflower, 3g carbs
Cabbage, 3g carbs
Avocado, 2g carbs
Broccoli, 4g carbs
Zucchinni, 3g carbs
Spinach, 1g carbs
Aspargus, 2g carbs
Kale, 3g carbs
Green Beans, 4 carbs
Brussel Sprouts, 5 carbs
Celery, 1g carbs
Cucumber, 3g carbs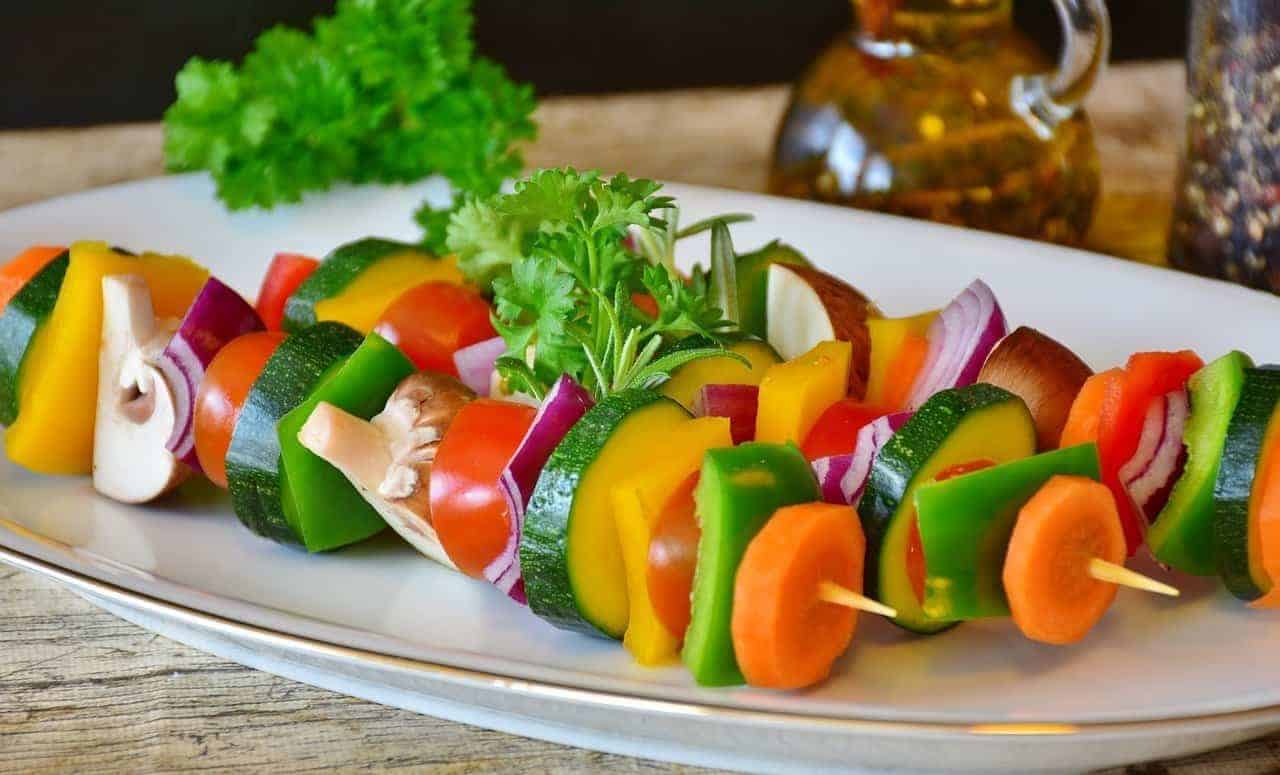 Keto Vegetable Snacks
One way to enjoy your Keto Vegetables is to dip low carb veggies into savoury dips, cream cheese or sour cream. This is a fantastic way to add fat to your diet and enjoy your vegetables at the same time.
You do need to be careful of carrots which are sometimes the go-to dipping veg. Carrots have 7 grams of carbs per 100g serving.
In comparison celery has 1 gram of carbs and cucumber only 3 grams per 100g serving.
On average green leafy veg is much lower in carbs than colourful vegetables. This does not mean to say you can't enjoy coloured veg. You simply have to factor it in when making your Keto food choices.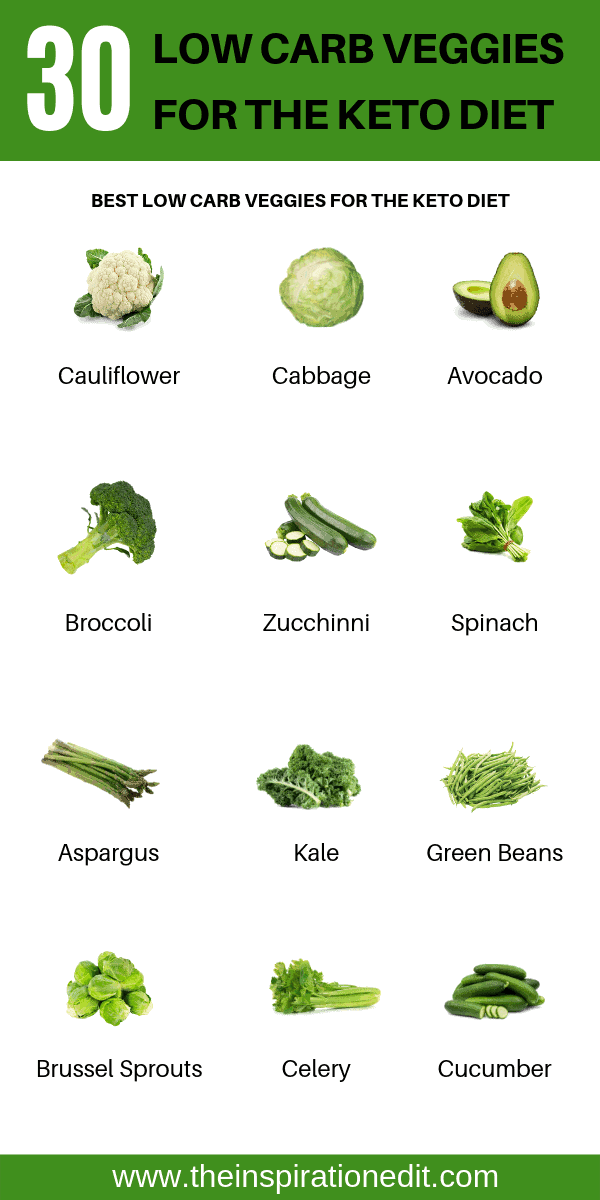 You May Enjoy The Following Keto Recipes:
Easy Keto Breakfast Egg Muffins Recipe
15 Easy Keto Meals For Beginners
41 Delicious Keto Breakfast Recipes
51 Keto Desserts You Will Love
About Angela Milnes
Angela Milnes is a Qualified Teacher who has specialised in Preschool and Kindergarten teaching. She has studied nutrition for children and has also taught cooking skills to adults. Angela loves to share family meals and easy instant pot recipes here on The Inspiration Edit. Follow her on Pinterest!