Today I wanted to share some fun ideas for a cactus themed bedroom. I like to follow the trends and recently Murals Wallpaper released some fantastic new Cactus themed papers which I think are just smashing.
The paper I love the most from the collection is the watercolour cactus paper which can inject some of that Southwest-chic right onto your walls.
A Cactus Bedroom For Kids
This would be perfect for a child's bedroom, playroom or nursery.
It would even come in handy as a quirky option for the fun living adult.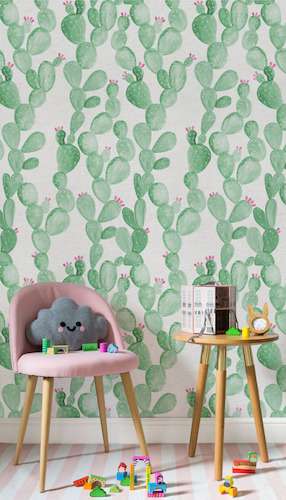 I really like the idea of watercolours on a wallpaper.
It can really add something special to a room and set the scene for an amazing interior design.
I could just picture this paper in a play area or as a backdrop for a quiet reading corner in a nursery or school.
The green and yellow would also match a nursery room setting with whites and yellow tones and I could imagine this giving some quirkiness and spark to a room.
I've also picked out a few Cactus themed cushions which would complement this wallpaper.
I think they are super cute. What do you think?