Peanut Butter And Bacon Homemade Dog Treats
Are you a dog owner looking for homemade dog treats? We have two fantastic, adorable and loveable dogs, Yoda and Casper and today on The Inspiration Edit I am sharing a fantastic recipe for Peanut Butter dog treats with bacon.
This is something I am sure your dogs will love as will mine. Using natural peanut butter this dog treats recipe is sure to go down well. Why not try them out and let me know how they go.

*I use affiliate links in this post. If you buy anything from my links I will earn a small commission*
Ingredients for your peanut butter homemade dog treats
Peanut Butter And Bacon Homemade Dog Treats
This is a tasty and easy to follow recipe for peanut butter and bacon dog treats. A sure winner for your pet dog.
Ingredients
Yields: 1 dozen (with 4 1/2" cookie cutter)
1 cup creamy natural peanut butter
3/4 cup milk
1 large egg
2 cups whole wheat flour plus 1 Tablespoon
1/2 Tablespoon baking powder
4 strips bacon - cooked and crumbled
1/2 cup oats, old fashioned
4 1/2" dog bone cookie cutter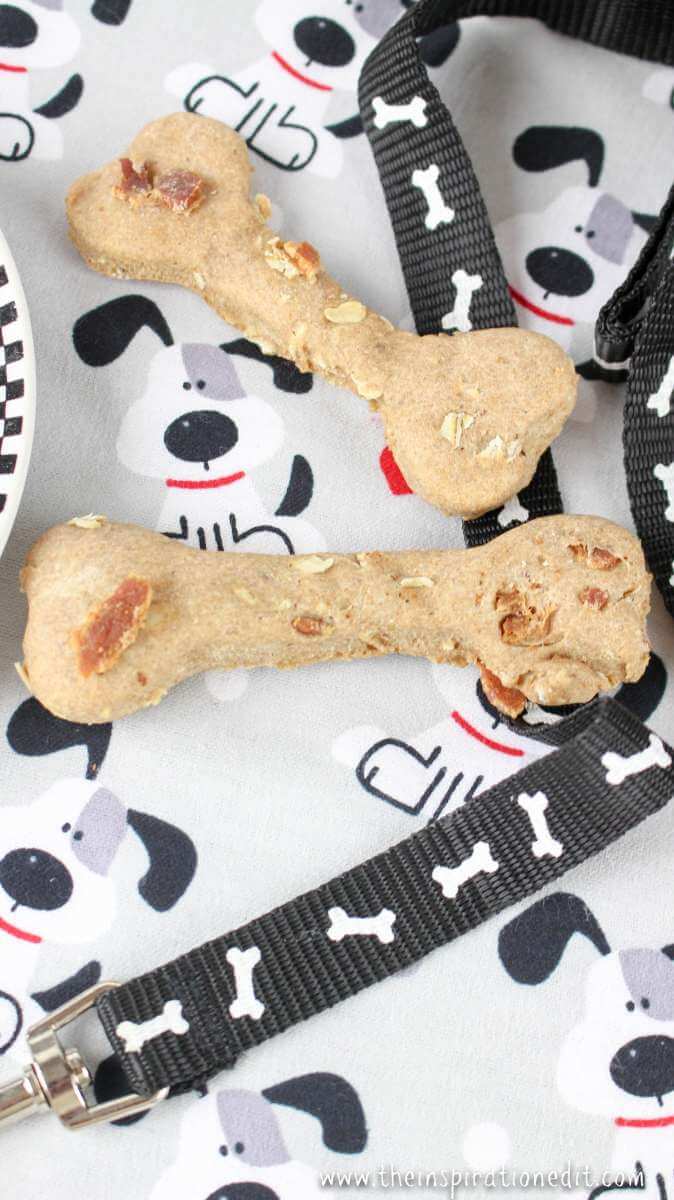 Let's Make these easy homemade dog treats
Preheat oven to 325°. Line a large baking sheet with parchment paper and set aside.
In a large bowl, add the peanut butter, milk and egg. Stir well until mixed.
Add the flour and baking powder. Mix well to incorporate all of the ingredients.
Knead the dough 8-10 times until it is firm and elastic.
You can knead directly in the bowl or if you prefer, on a level workspace.
Sprinkle 1 Tablespoon of flour onto your workspace and place the kneaded ball of dough on top.
Flatten the dough a bit and sprinkle the crumbled bacon and oats on top.
Knead the dough 4-5 more times to distribute the bacon and oats.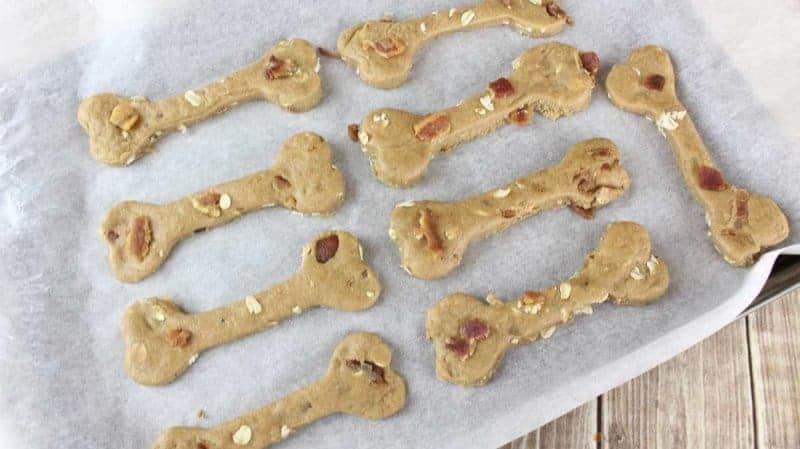 Using a rolling pin, roll the dough out to 1/4″ thickness.
Cut out 12 dog bone shapes with your cookie cutter and place on the lined baking sheet.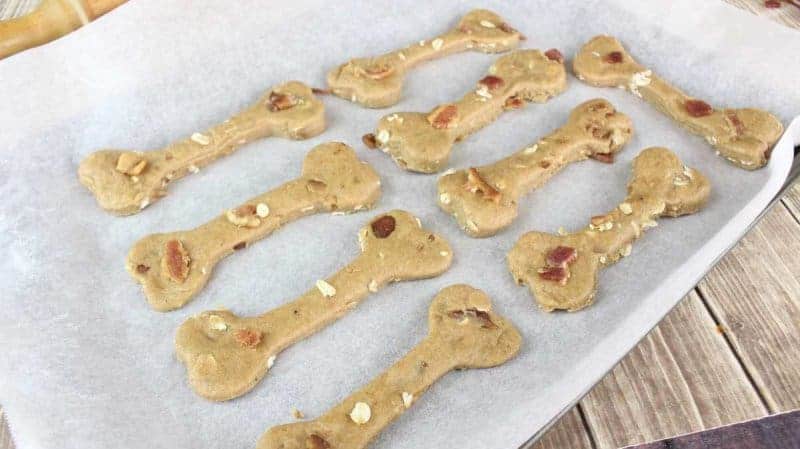 Bake for 20 minutes and cool on a wire rack.
Store in an airtight container in the refrigerator for up to 1 week. These also freeze great for up to 1 month.
Enjoy.
Please pin these super tasty homemade dog treats