Valentines heart cookies are such a fun treat to bake for your sweetheart or friends and today we have a fantastic take on love heart valentines shortbread.
These stacked Valentines heart cookies are sure to make someone's day really special. If your looking for a fun and cute decorated valentine cookies idea then your in the right place.
We do have lots of fun Valentines food and craft ideas here on The Inspiration Edit and I hope you find something amazing to make.
*I use affiliate links in this post. If you buy anything from my links I will earn a small commission*
Ingredients For Valentines Heart Cookies
How To Make These Valentines Heart Cookies
I'll share how to make this valentine cookies recipe in two steps. I hope you have fun making these! It's super easy!
Enjoy!
Step One: Making Shortbread
Preheat the oven to 350 degrees. Using a hand mixer or a stand mixer, combine the softened butter.
Whip until creamy, 2-3 minutes. Add in the vanilla extract and egg, continue to mix.
Sift in the 3 cups of flour and baking powder.
The mixture will be stiff so use your hands to finish mixing, if needed.
Divide the dough into 3-4 smaller batches. Use a rolling pin to roll the dough out onto a lightly floured surface to about 1/4″ thick.
Use the heart cookie cutters to cut the same number of hearts in each size.
Place the cookies on an ungreased cookie sheet about 2″ a part.
The cookies are now ready to go in the oven.
Set a timer for 3-4 minutes and remove the cookie sheet from the oven and remove the smallest stars from the cookie sheet. Place the cookie sheet back into the oven.
Set the timer for another 2 minutes and then remove the medium size stars.
Place the cookie sheet back into the oven for the large stars to finish baking another 2-3 minutes.
Let the cookies cool completely.
Step Two: Making The Decorated Valentines Cookies
Attach the frosting tip to the disposable piping bag and fill with strawberry frosting.
Gently frost the edges of the bottom of a medium heart-shaped cookie.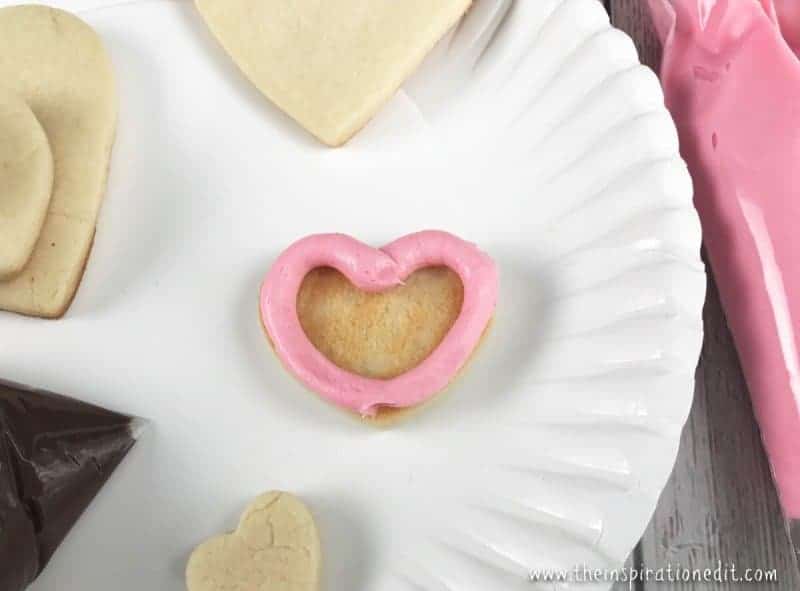 Now place the cookie on top of the large heart cookie.
Gently frost the bottom of the smallest heart and place on top of the stack.

Repeat with all the cookies.
Pour the chocolate candy melts into a microwave-safe dish.
Heat in 30-second increments, stirring occasionally until melted.
Let the melted chocolate cool a few minutes.
Scoop the chocolate into the small sandwich bag and snip the corner with a pair of scissors.
Gently squeeze the chocolate out of the bag and across the cookies.
Repeat with all cookies and let set. Enjoy.
Yield: 20
Stacked Heart Valentines Day Cookies
Delicious valentines shortbread recipe

Prep Time 10 minutes

Cook Time 8 minutes

Additional Time 5 minutes

Total Time 23 minutes
Ingredients
1 C. butter, softened to room temperature
1 C. granulated sugar
1 tsp. vanilla extract
1 egg
3 tsp. baking powder
3 C. flour
Strawberry Frosting (I used strawberry)
heart cookie cutter
round frosting tip
disposable piping bag
Pink frosting (I used Pillsbury strawberry flavour)
12 oz Wilton chocolate candy melts
small sandwich bag
3 heart cookie cutters in varying sizes
Instructions
Preheat the oven to 350 degrees. Using a hand mixer or a stand mixer, combine the softened butter.

Whip until creamy, 2-3 minutes. Add in the vanilla extract and egg, continue to mix.

Sift in the 3 cups of flour and baking powder.

The mixture will be stiff so use your hands to finish mixing, if needed.

Divide the dough into 3-4 smaller batches. Use a rolling pin to roll the dough out onto a lightly floured surface to about 1/4" thick.

Use the heart cookie cutters to cut the same number of hearts in each size.

Place the cookies on an ungreased cookie sheet about 2" a part.

The cookies are now ready to go in the oven.

Set a timer for 3-4 minutes and remove the cookie sheet from the oven and remove the smallest stars from the cookie sheet. Place the cookie sheet back into the oven.

Set the timer for another 2 minutes and then remove the medium size stars.

Place the cookie sheet back into the oven for the large stars to finish baking another 2-3 minutes.

Let the cookies cool completely.

Next

Attach the frosting tip to the disposable piping bag and fill with strawberry frosting.

Gently frost the edges of the bottom of a medium heart-shaped cookie.

Now place the cookie on top of the large heart cookie.

Gently frost the bottom of the smallest heart and place on top of the stack.

Repeat with all the cookies.

Pour the chocolate candy melts into a microwave-safe dish.

Heat in 30-second increments, stirring occasionally until melted.

Let the melted chocolate cool a few minutes.

You May Also Enjoy:
Tic Tac Toe Treat Valentines Treat
Wilton Chocolate & Candy Melts Melting Pot, 2104-9006

Wilton Light Candy Cocoa Melts, 12-Ounce

Ann Clark Heart Cookie Cutter – 4 Inches – Tin Plated Steel

Please pin these valentines cookie recipes

You may also like:
20 Valentines Cupcakes You Must Try
Valentines Love Stones A Painted Rock Idea
Valentines Heart Air Balloon Idea
Valentines Day Heart Planter Craft
Valentines Love Bugs A Fun Food Idea
Valentines Number Heart Activity
Valentines Milk Bottle Painting