How To Make Painted Rocks Pepper Pig Style
Would you like to learn how to make painted rocks Pepper Pig style? Here's a great rock painting activity for kids and if your child is anything like mine they may love Peppa Pig.
My daughter Sylvia fell in love with Peppa pig as a preschooler and to be honest, I still catch her watching it from time to time now she is ten.
Today we have a fantastic rock  painting of Peppa pig. It's really fun to paint rocks and is something you can do as an adult or with kids. Rock painting can be therapeutic and calming an the end product can give you a great sense of accomplishment. Enjoy.

*I use affiliate links in this post. If you buy anything from my links I will earn a small commission*
Do You How to Make Painted Rocks with Posca pens?
Posca pens are fantastic tools to use for painting rock stones. You can paint using a pencil or you can paint directly onto the stone using a paint pen. Posca pens comes in different sizes. I like to use a small pen for fine detail and larger posca paint pens for colouring in and filling in big spaces.
Here are the supplies you will need for this pepper pig rock stone
Assorted Colored Posca Pens/Markers
Eraser
Sharpener
Uni-posca Paint Marker Pen – Extra Fine Point – Set of 12 (PC-1M12C)

FloraCraft, Rocks with 5-Pound Square Reuseable Jar, Multiple Sizes, Black

Bic Mechanical Pencils, 40 count, Black barrel with multi color clips

How To Paint Pepper Pig
To start you will need to draw the outline of Peppa pig onto your Rock stone using a pencil.
Using the pink posca paint pen, colour in your peppa pig face.
Use a red posca pen to colour Peppa's body and fill in.
Once your main colours are filled in you are ready to begin outlining Peppa pig.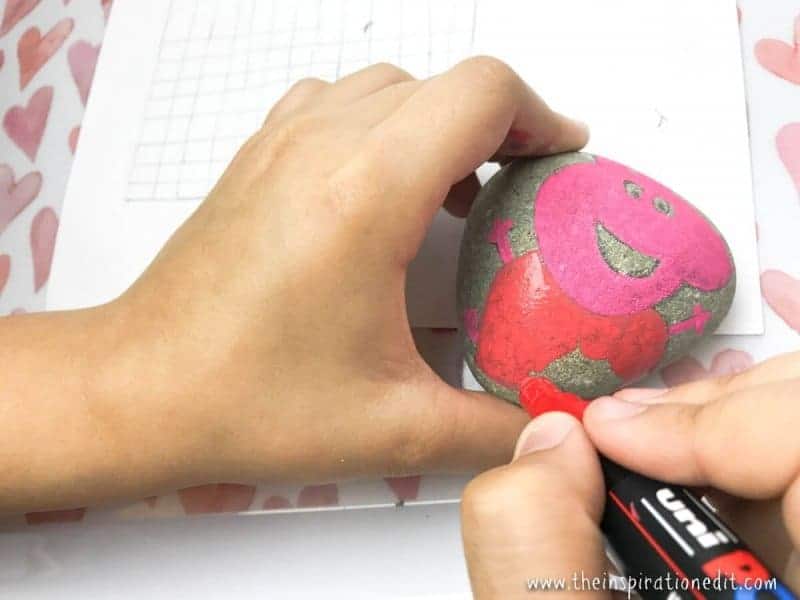 Be sure to use a thin black posca for detailing as this looks much better than a thick pen.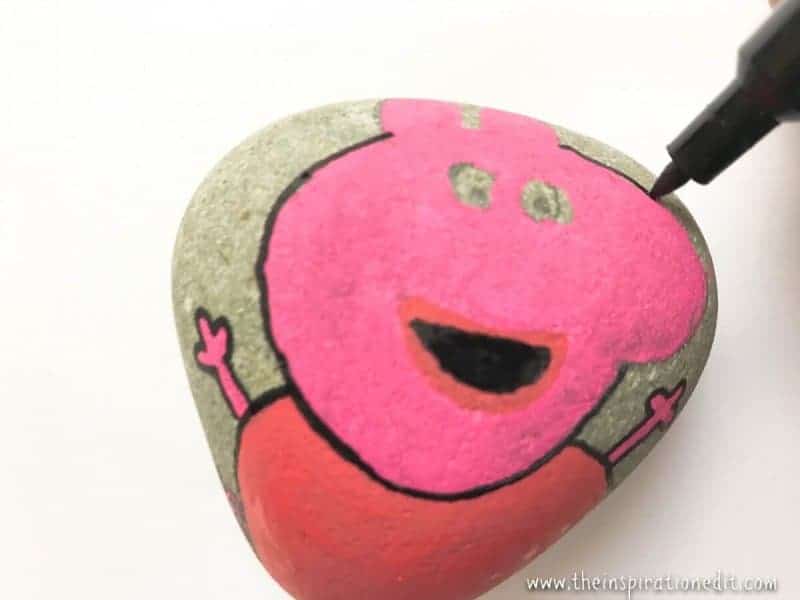 Add details and don't forget to colour in Peppa's eyes with a white posca pen.
How To Seal Painted Rocks
Now your rock stone is complete you will want to seal it to protect it and help it last longer.
You could seal with Modge Podge and you might even like to make a whole collection of all the Peppa Pig Characters.
This would be fun. Enjoy.
More Painted Rock Ideas You May Love
Please Pin This Painted Rock Idea To Pinterest