My Weight Loss And Rock Painting Challenge
Recently I have come to accept that due to my health conditions namely my Adrenal Insufficiency, ongoing nutritional and Iron deficiencies, I do not have the energy or time to be a professional blogger earning a full time income.
I've been chasing this dream for some time but the reality is whilst I love to write and it comes naturally, the stress of pitching to companies, trying to grow my followings and do what full time money earning bloggers do, well it's just too stressful for me.
Since becoming unwell several years ago I find I can really only focus on one thing at a time. Multitasking can at times be really difficult and so for the next six months or so, I am going to have one focus and that will be my health and wellbeing.
I will continue to write my blog and share ideas and I will take on opportunities that arrive in my inbox when it is relevant to my blog and audience but I am going to take a break from pitching, from focussing on social media growth and from trying to make a living from blogging.
I won't be taking any courses and have left a few professional blogging groups. I am not going to chase a book deal or try and sell products, just write about my life and the things we do, review and experience.
I'm going to put my efforts into losing weight and getting more healthy. Rather than spend hours engaging on social media, I will join some support groups to help me stay on track and put my time and energy into getting support.
When paid opportunities land on my door step I will be grateful but my focus is going to change so I can be a better Mum and healthier me and have more balance in my life.
As a result of my new focus I will be writing more personal blog posts more about my journey. I am writing a series called The Adrenal Diaries about my weekly health and life with chronic illness and I am enjoying this.
I will start writing a weekly update on my weight loss journey and continue to share the fun things I do with Sylvia as well as the things I do to make my home beautiful.
I do love Rock painting and have struggled to find the time to do this in the past few weeks so I have set a rock painting challenge. For every pound of weight I lose I will paint a rock stone.
I will display my stones somewhere visible in the home and collect them for me. I will share blog tutorials on making my stones in my crafty ideas section of the blog.
*I use affiliate links in this post. If you buy anything from my links I will earn a small commission*
Uni Posca Paint Marker Pen, Fine Point, Set of 7 Natural Color (PC-3M 7C)

Margo 30 Lb. Large Mexican Beach Pebble 3 in. to 5 in.

Uni Posca Extra Fine Marker, Black (PC1M.24)

I am super excited about this new approach. I am hoping it will give me more time to rest and more time to plan and focus on healthy eating and balanced living.
I will embrace any dip in my traffic and social following knowing that those who really are interested in my journey will continue to read.
This is an exciting new stage in my journey as a blogger.
I will still work with brands but am not going to stress over earning an income but rather focus on being well and healthy knowing that sometimes slow and steady can win the race and you never know, I may still do well or even better with this new approach. We shall have to wait and see.
Angela
Check out more Rock Painting Posts Here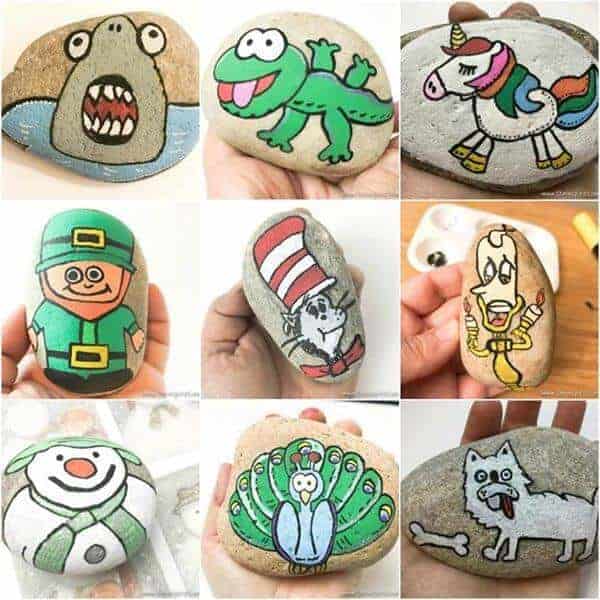 Related Products
Rock Art!: Painting and Crafting with the Humble Pebble

Uni Posca Paint Marker Pen, Fine Point, Set of 7 Natural Color (PC-3M 7C)

Mandala Stones: 50 Inspirational Designs to Paint

Read About My Gastric Bypass Journey