Thanksgiving Clay Pot Turkeys
Who says Thanksgiving is just about the yummy food? There are so many fun and creative crafts out there to celebrate this special season with your family and these Thanksgiving Clay Pot Turkeys are no exception!
Using Clay pots that you may already have lying in storage to make these Thanksgiving Clay Pot Turkeys is a great way to get your kids involved in decorating the house and to keep them busy and stimulated this Autumn.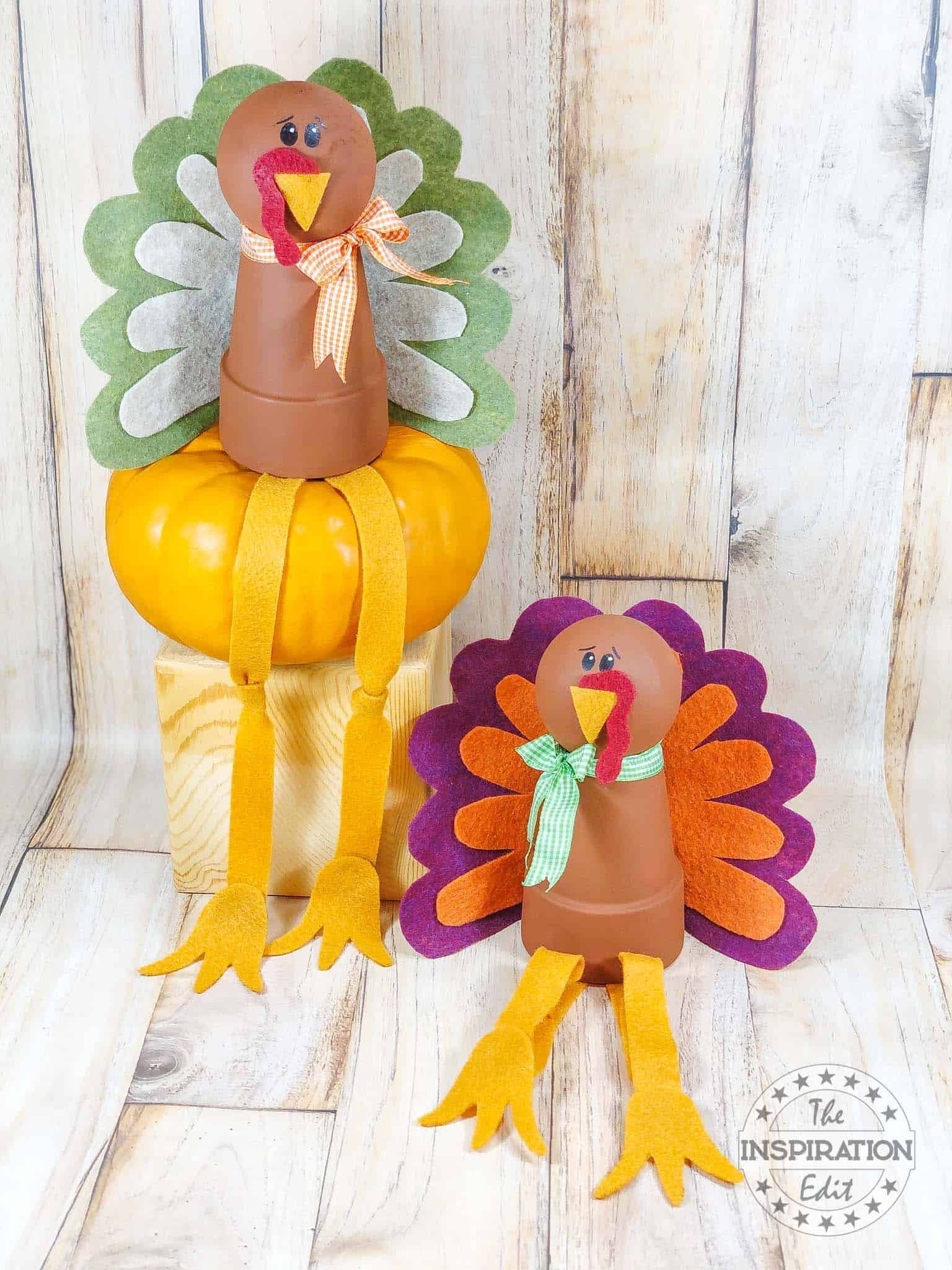 *I use affiliate links in this post. If you buy anything from my links I will earn a small commission*
Level of Difficulty: Requires parental oversight
Total Time: Approx. 30 minutes
Type: Craft for all ages
Makes: 4 Fun Thanksgiving Clay Pot Turkeys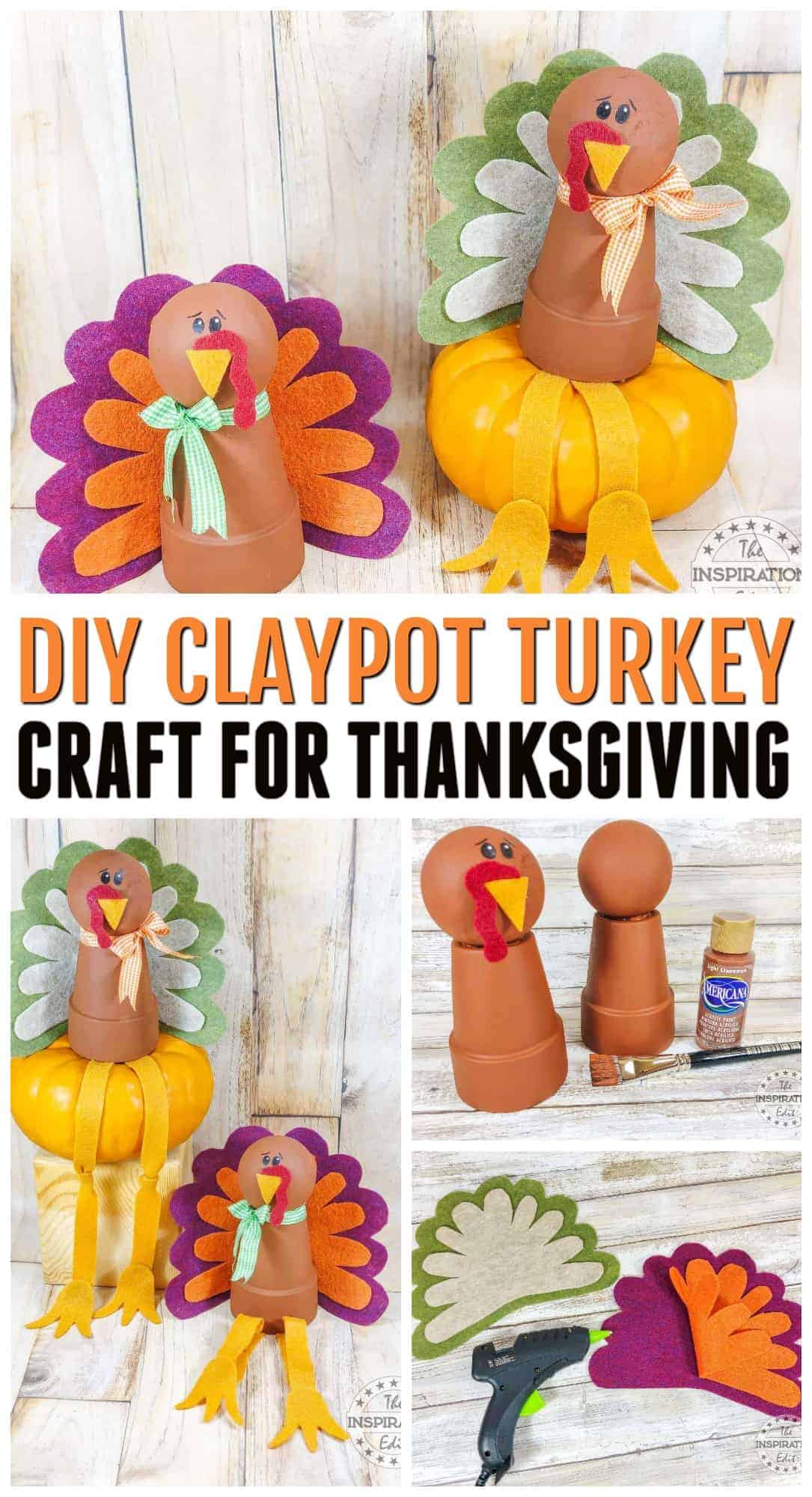 Here's what you are going to need to make these adorable clay pot turkeys:
Supplies For Thanksgiving Clay Pot Turkey
Patterns provided in my download
4" Clay PotsAcrylic Craft Paint – Milk Chocolate
Craft Felt –
Gold, Burgundy, Prickly Purple, Sandstone, Olive, Pumpkin
2 ½" Wooden Ball Knobs
Ribbon – Gingham Green and Orange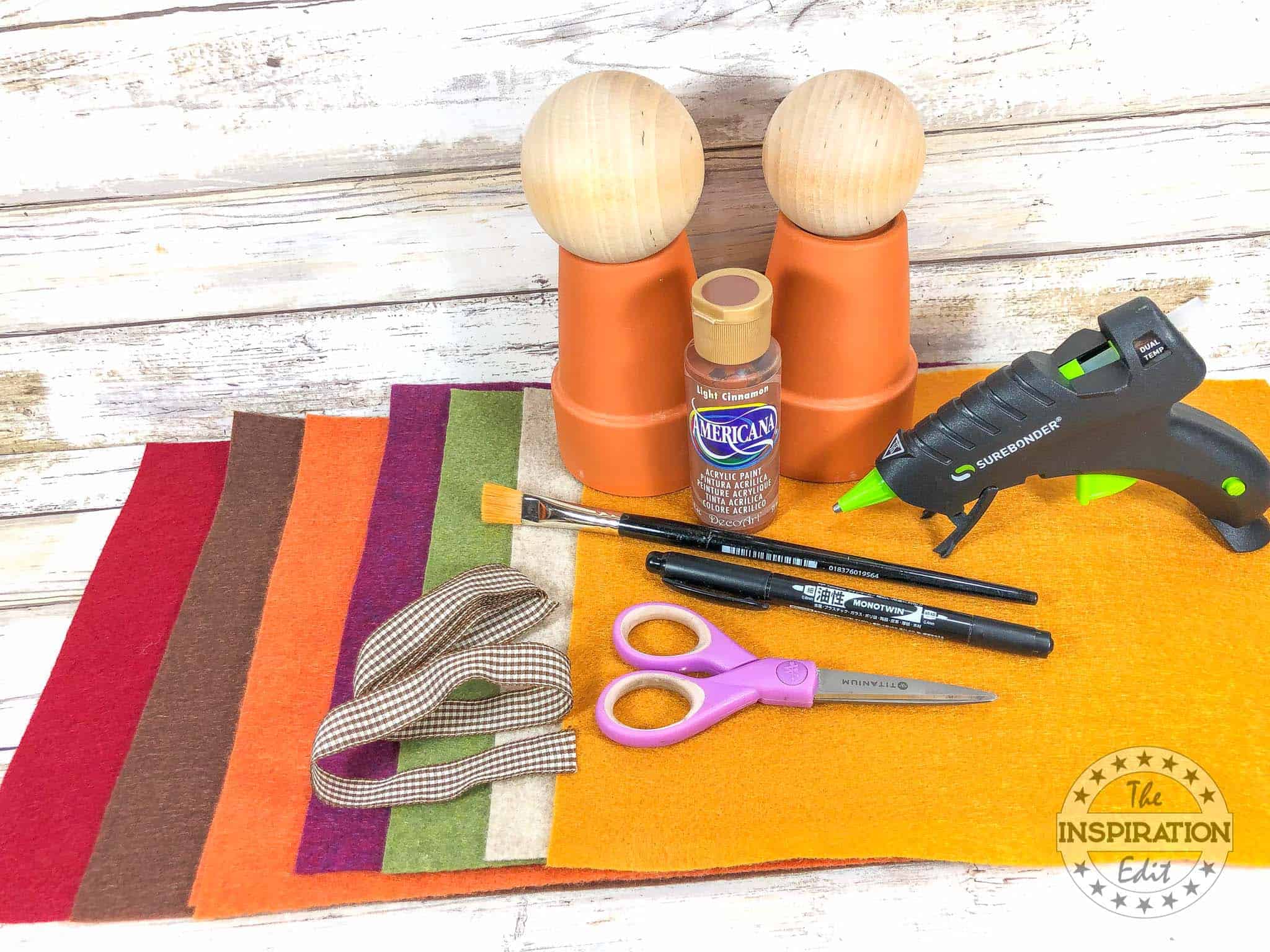 Tools Needed For This Turkey Craft
Paint Brush
Scissors
Ruler
Glue Gun & Glue Sticks
Pencil
Permanent Marker
White Gel Pen
Straight Pins
How To Make A Clay Pot Turkey
Gather all the supplies needed. Start by removing the stickers from the bottom of the clay pots.
Download, print and cut out all patterns I have provided here.
Basecoat the clay pots and wooden ball knobs with acrylic craft paint and allow to dry.
You can always apply a second coat of paint if you feel that it is necessary.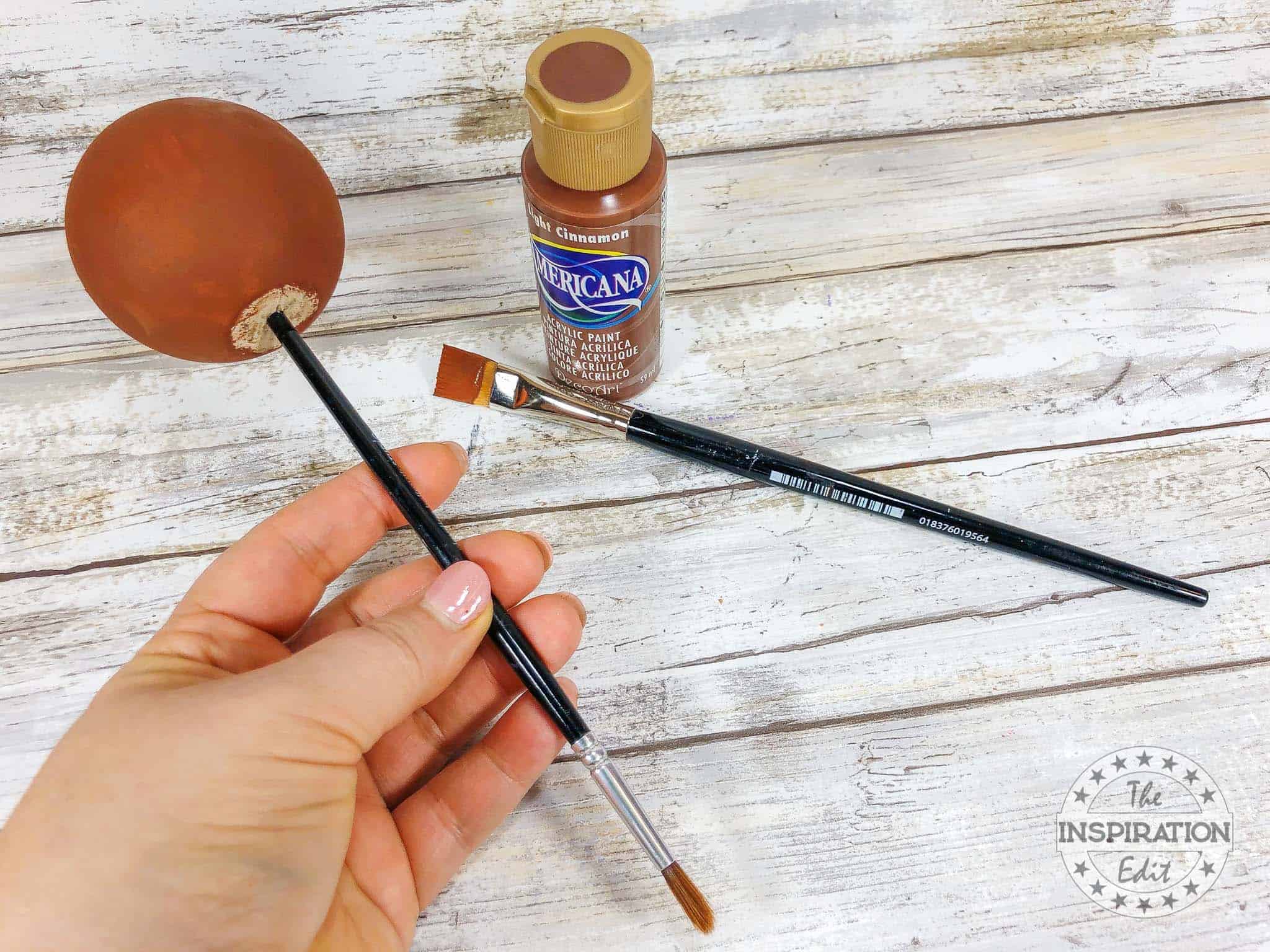 PRO TIP: To speed up the painting and drying process, place the ball knobs on a paintbrush handle so the entire surface can be painted at once.
Once your pots are dry, attach the head to the body with your hot glue gun.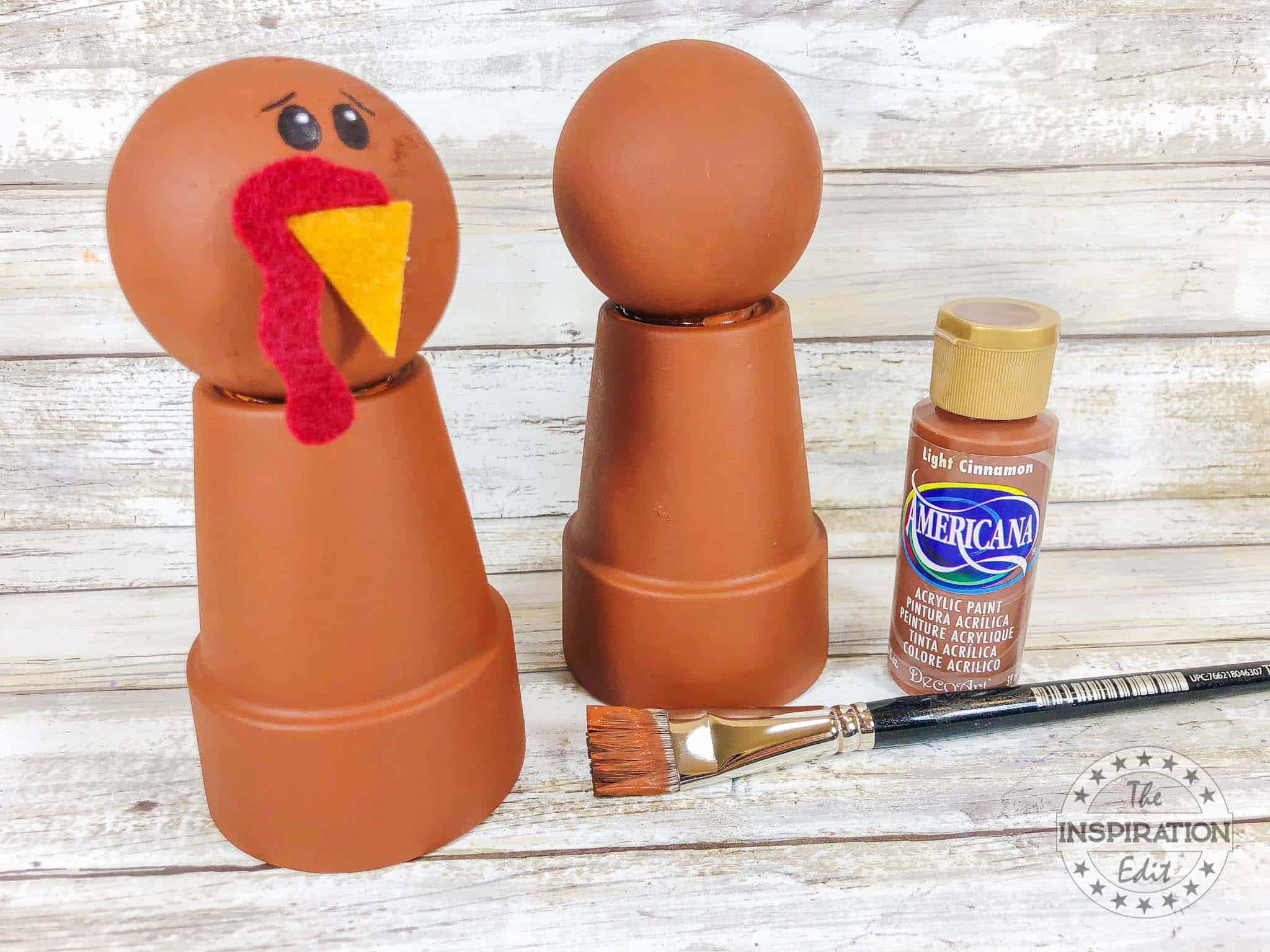 Trace the beak patterns on gold felt and the waddle patterns on burgundy felt and then cut them out.
Attach these cut-outs to the turkey head with your hot glue gun.
Draw on the eyes and eyebrows with a black permanent marker and then add highlights with the white gel pen.
Pin the large and small turkey feather patterns onto the craft felt (Prickly Purple, Sandstone, Olive, Pumpkin) with the straight pins and then cut these out.
Tracing and cutting will also work for this step.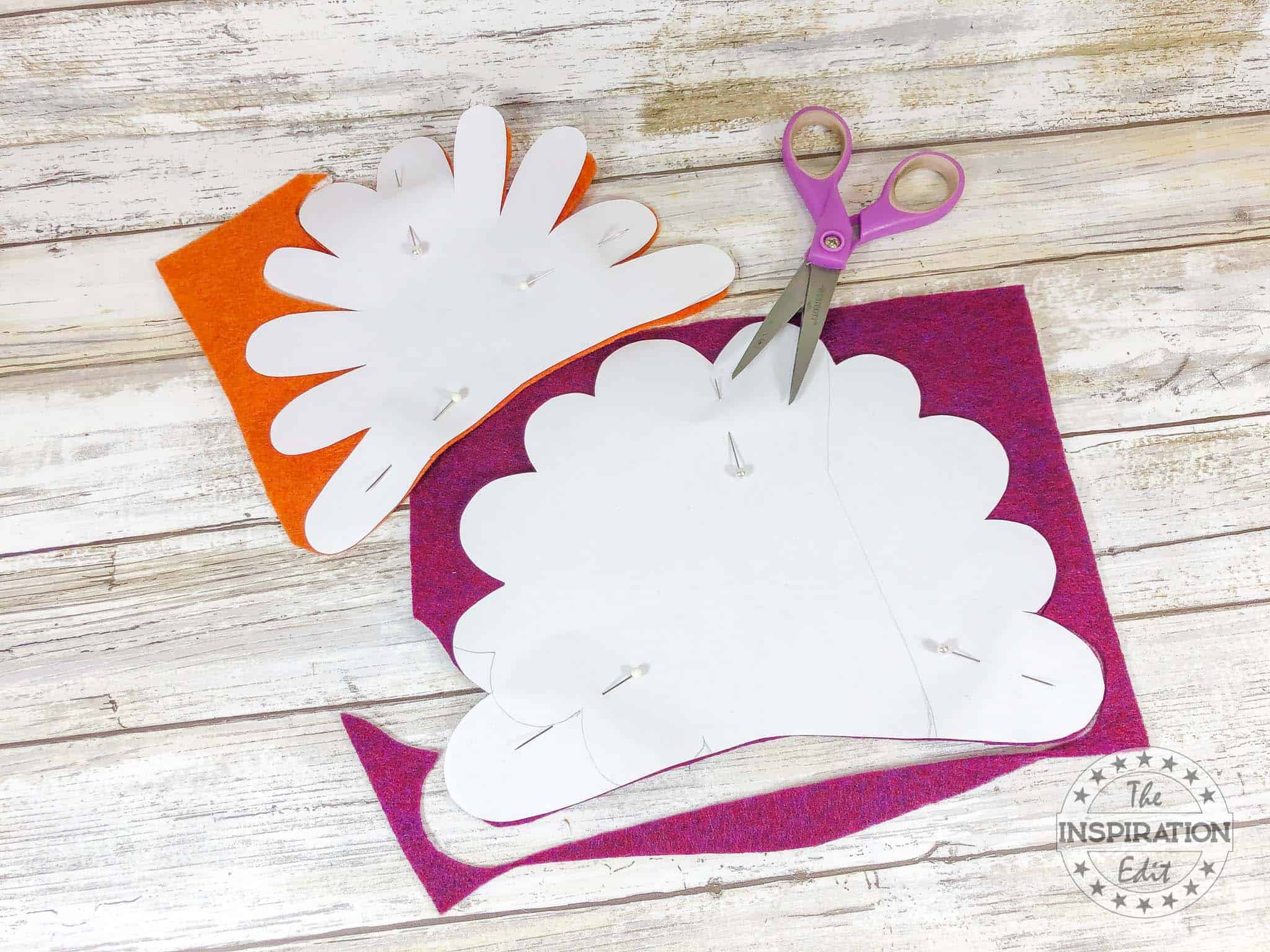 Layer the small turkey feathers on top of the large turkey feathers and attach them with the hot glue gun.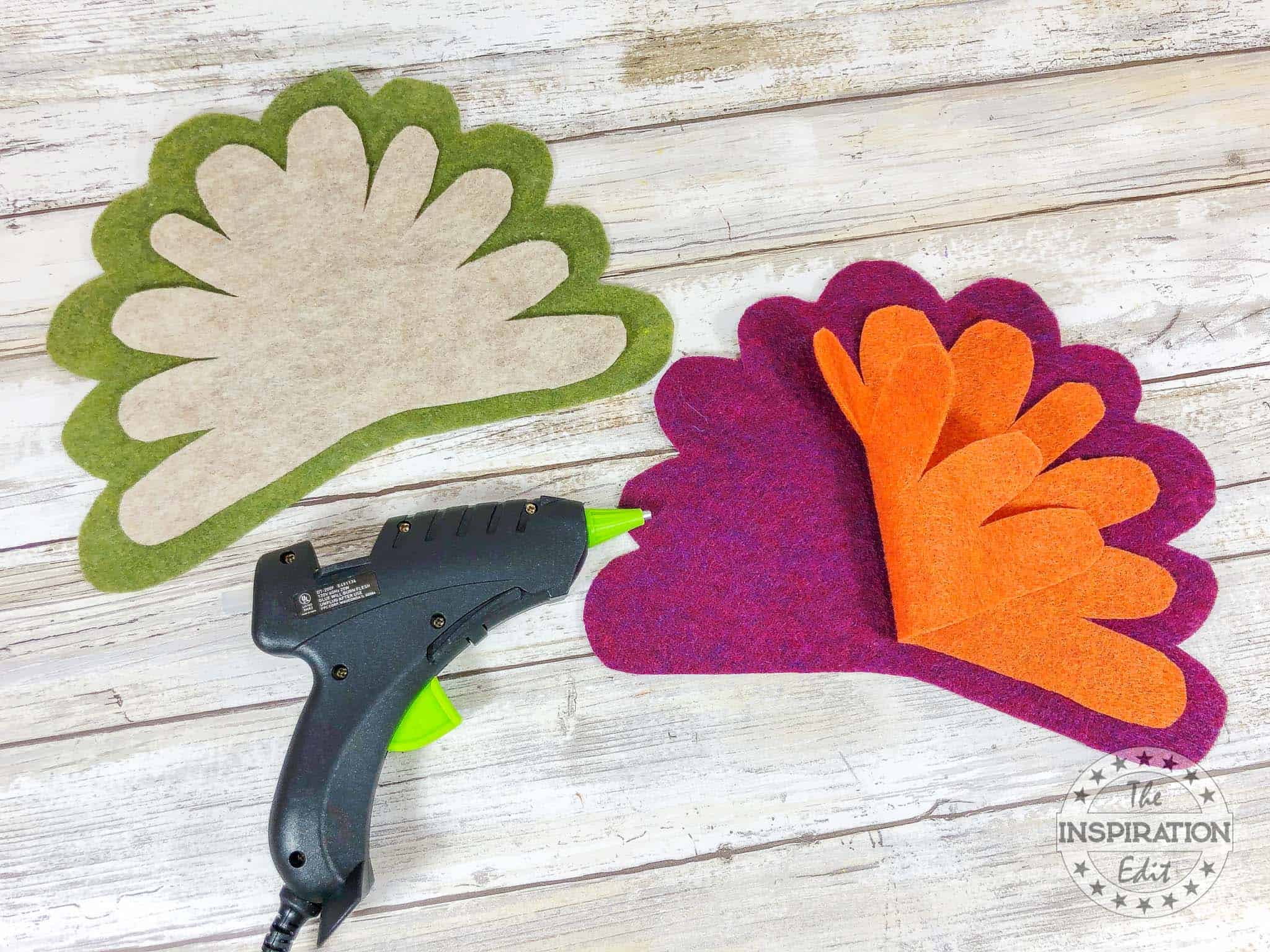 Measure and cut four turkey legs 12" long by 1" wide using your gold felt and then knot each leg loosely in the centre.
Trace and cut out four turkey feet and attach to the bottom of each leg with the hot glue gun.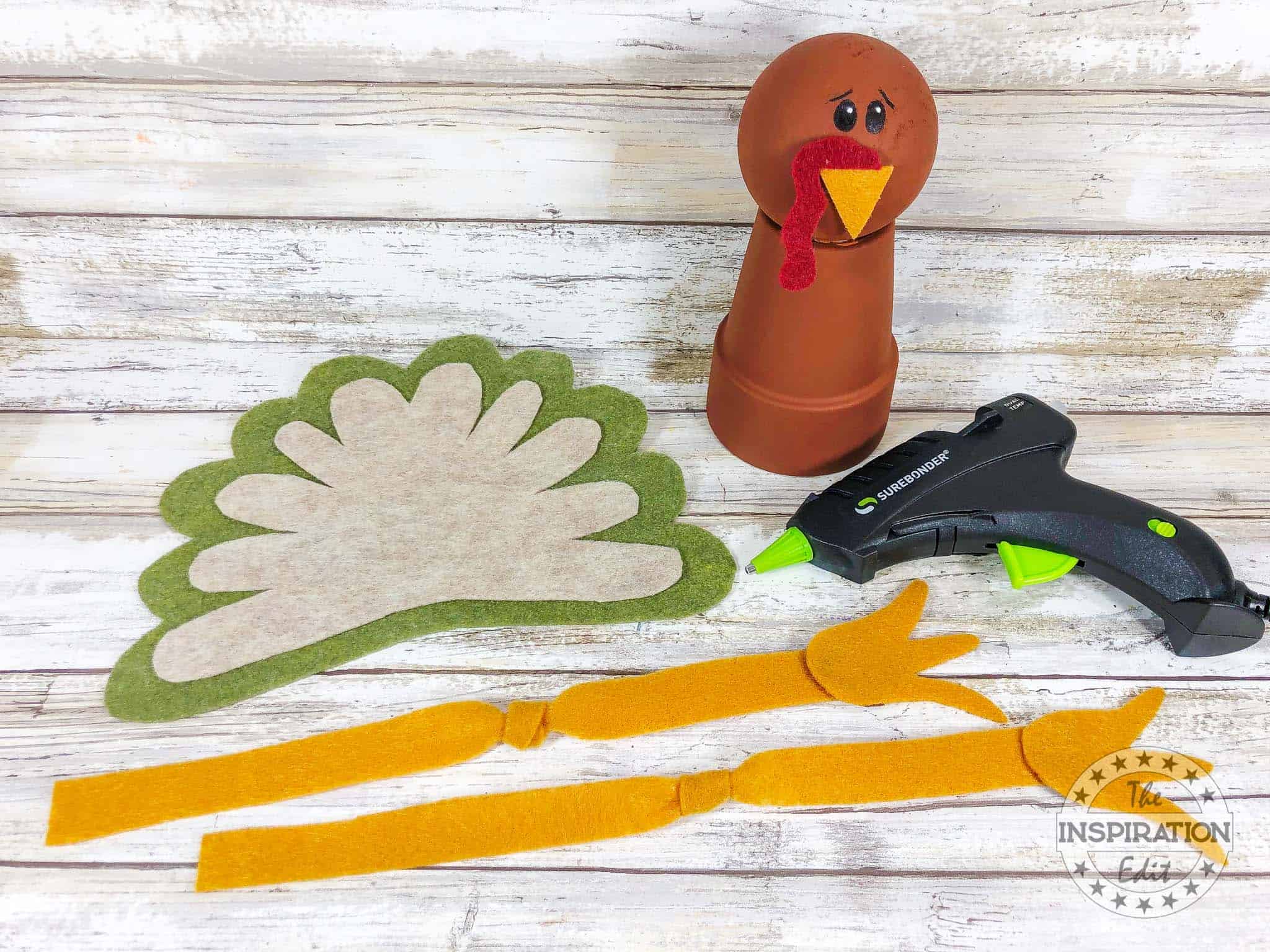 Adhere the layered feathers to the back of the turkey body with hot glue at the base.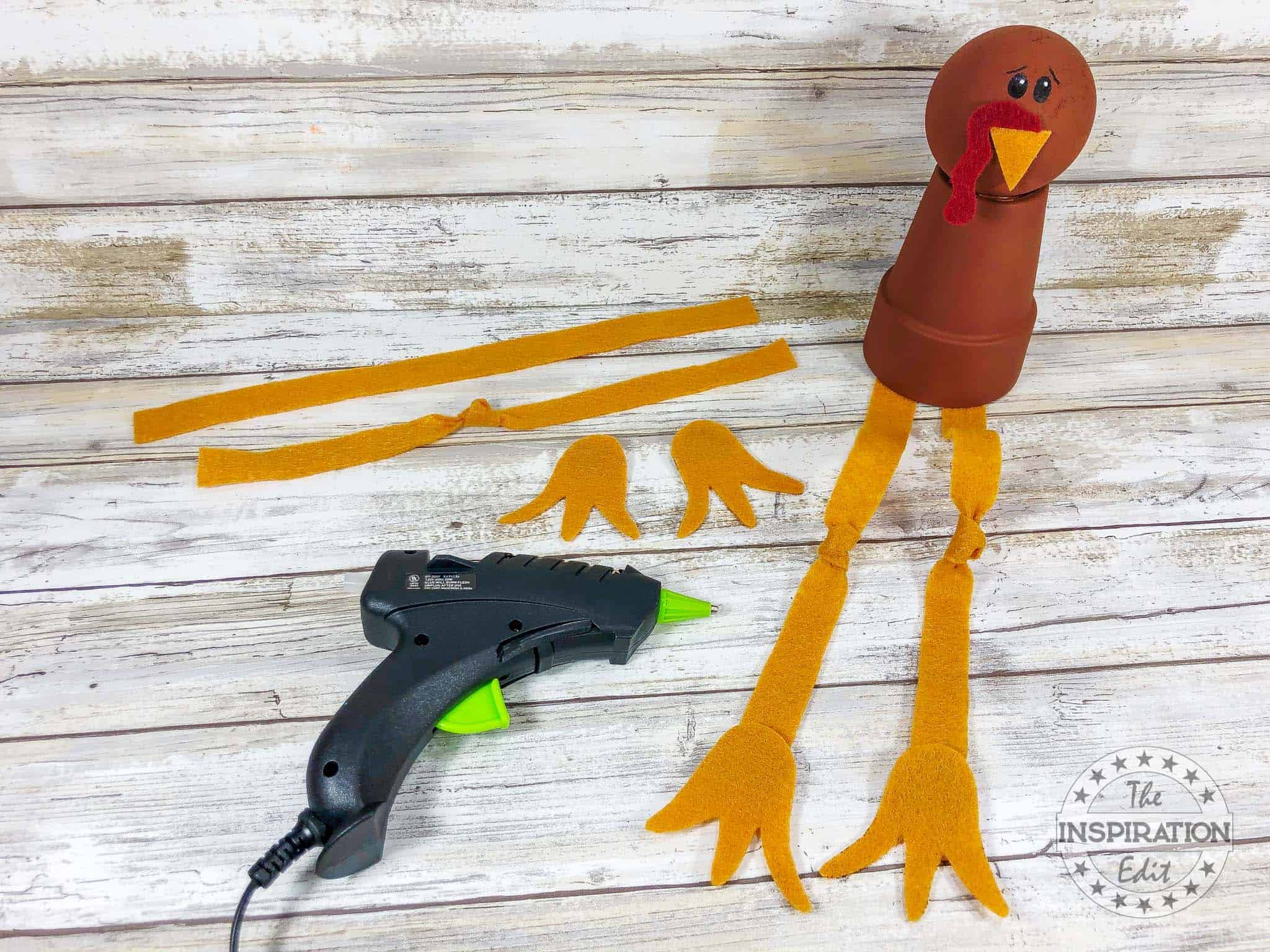 Attach the felt legs to the inside bottom center of the turkey body with hot glue.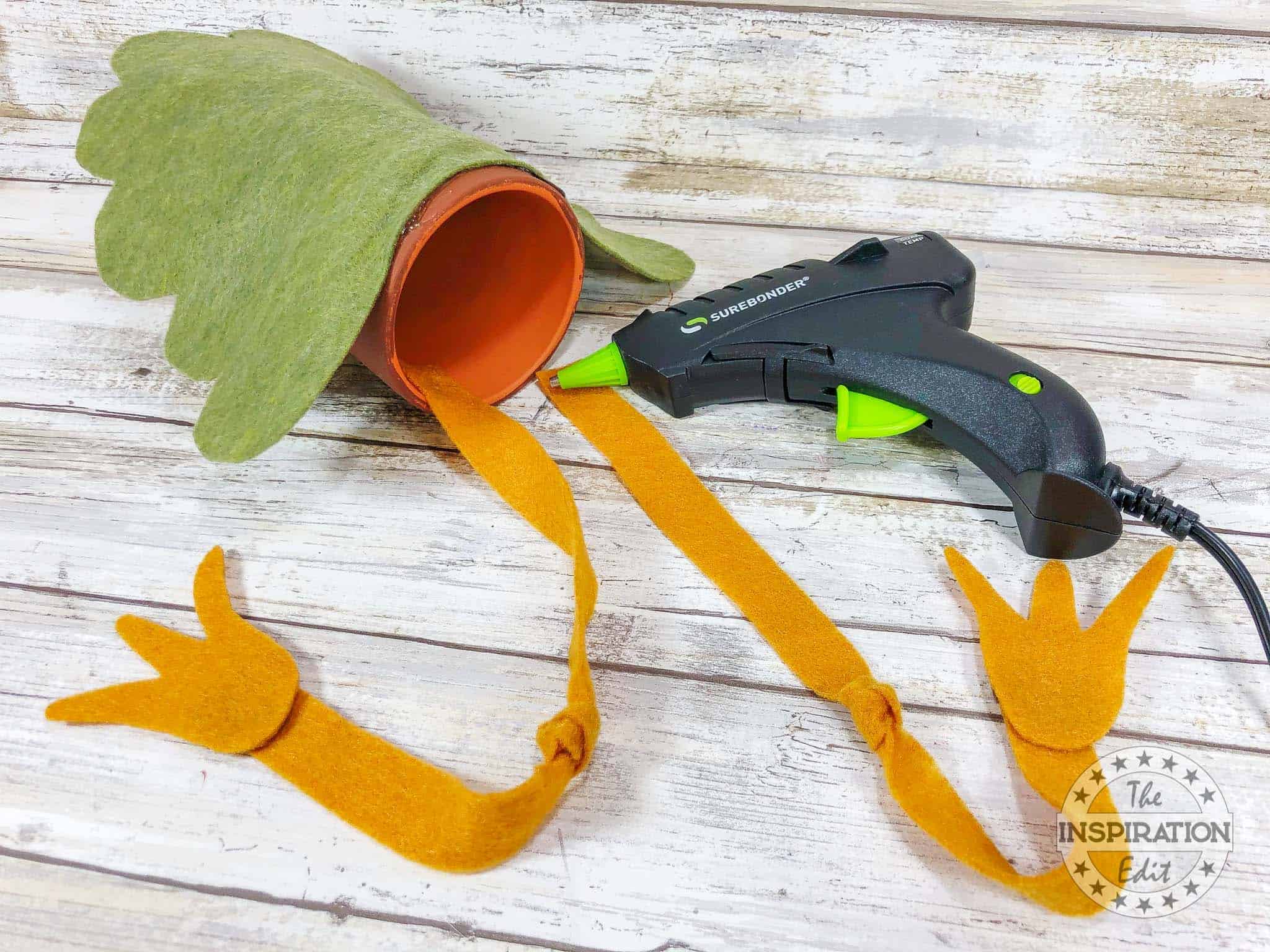 Measure a 12" length of gingham ribbon and tie in a bow around the turkey's neck. Trim ends into a fishtail by cutting a small triangle out of each end.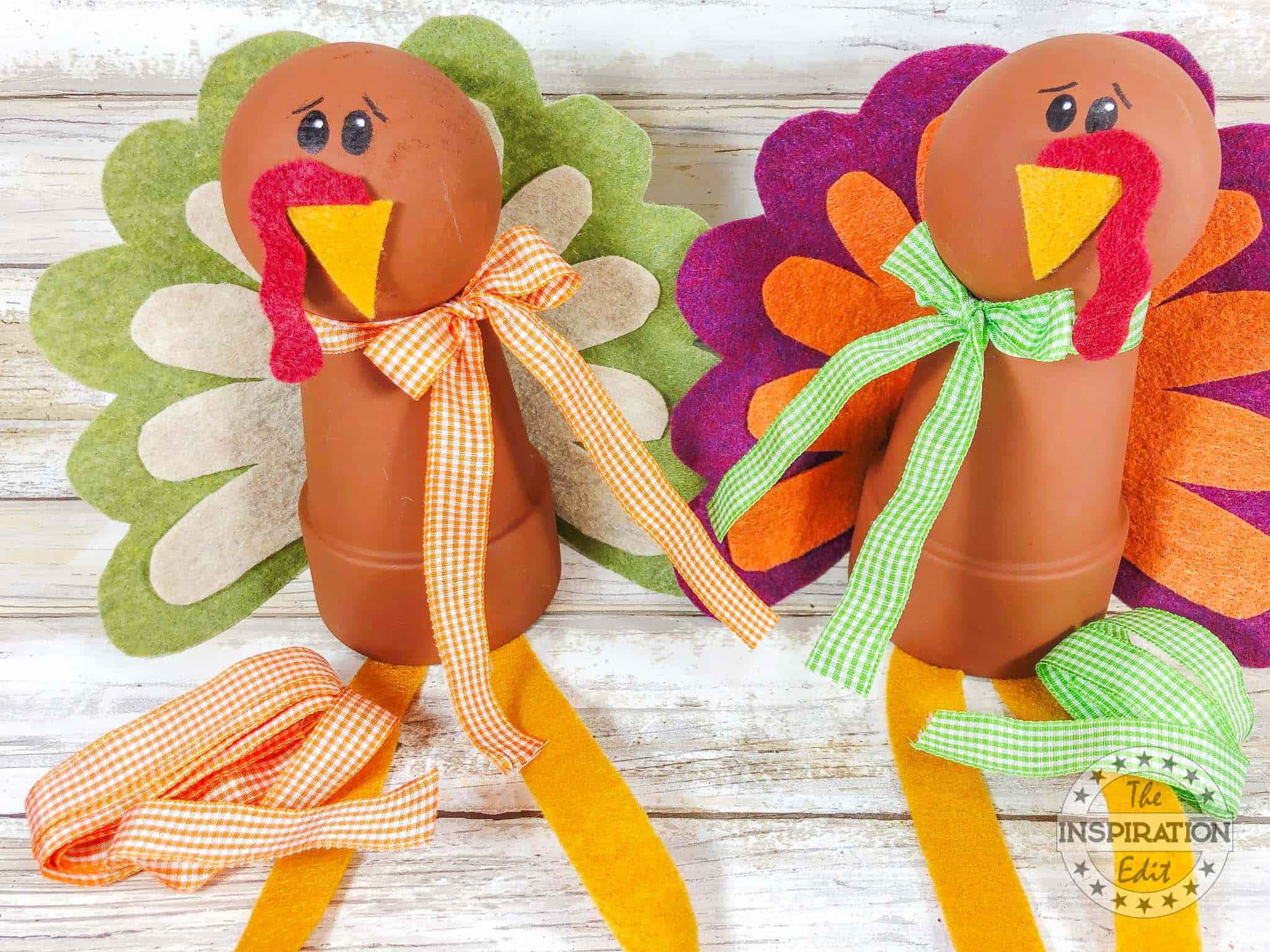 These Thanksgiving Clay Pot Turkeys only take 30 minutes to make including the added assistance you can get with the measuring, tracing and cutting from the kiddos!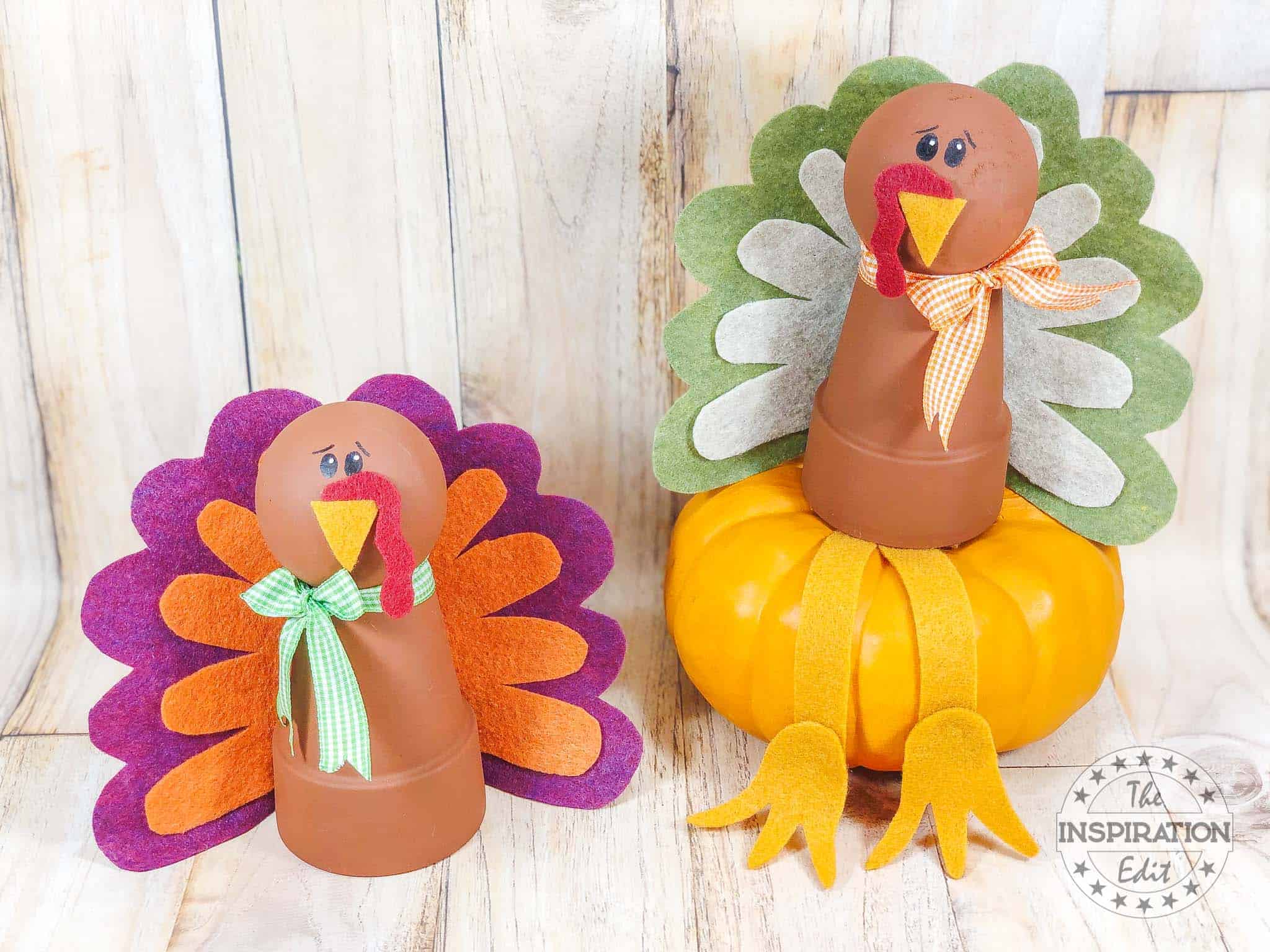 These lively clay pot turkeys will make an excellent decorative addition to any shelf or mantlepiece in the house. And if you are feeling extra giving this season, why not make a few extra and gift them to those special in your life.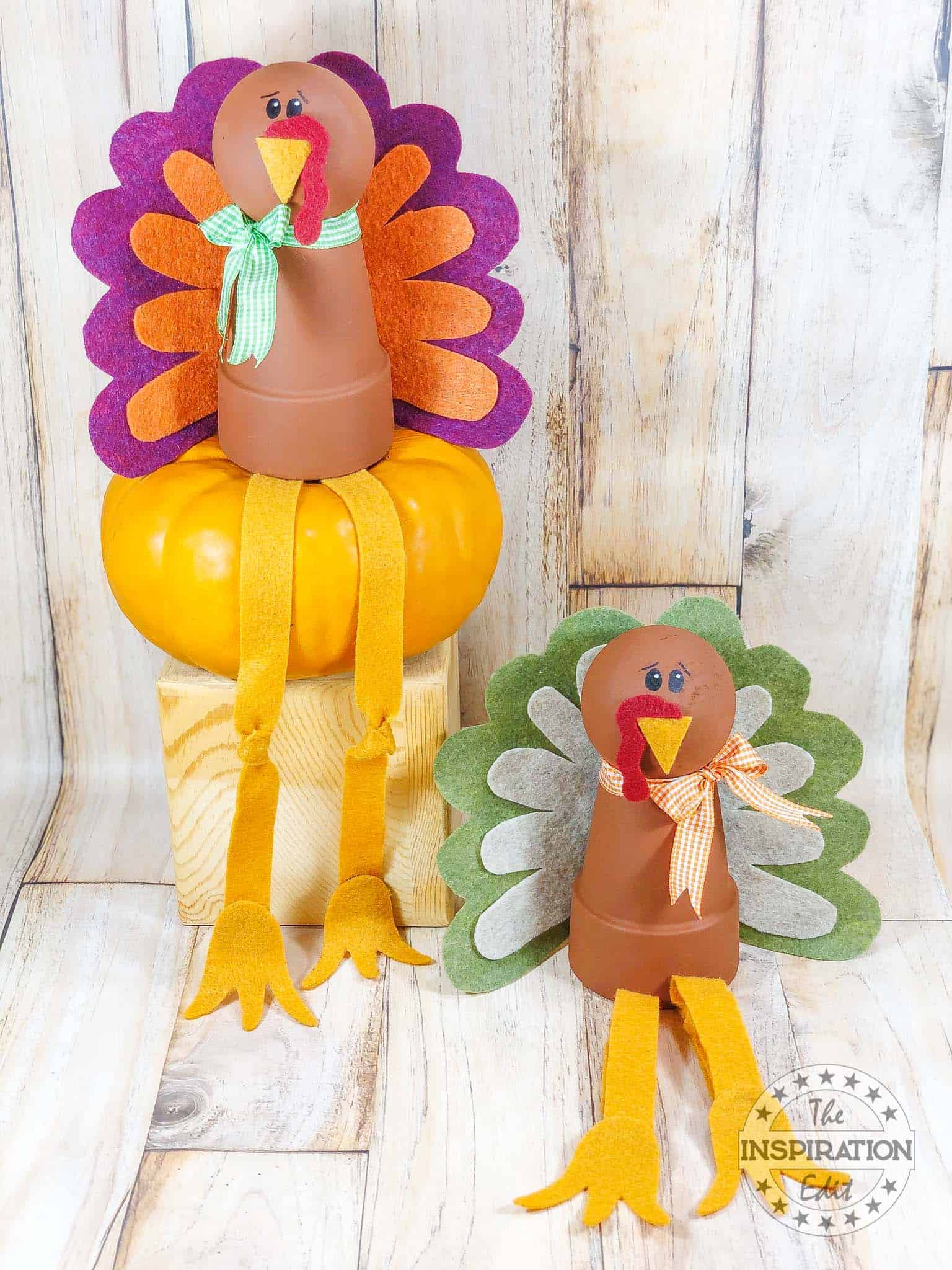 Looking for other Autumn-inspired crafts to do with the kids? I've got loads of exciting crafts to try that will make you want to run out to your local craft store immediately. Have a look here for some fun ideas!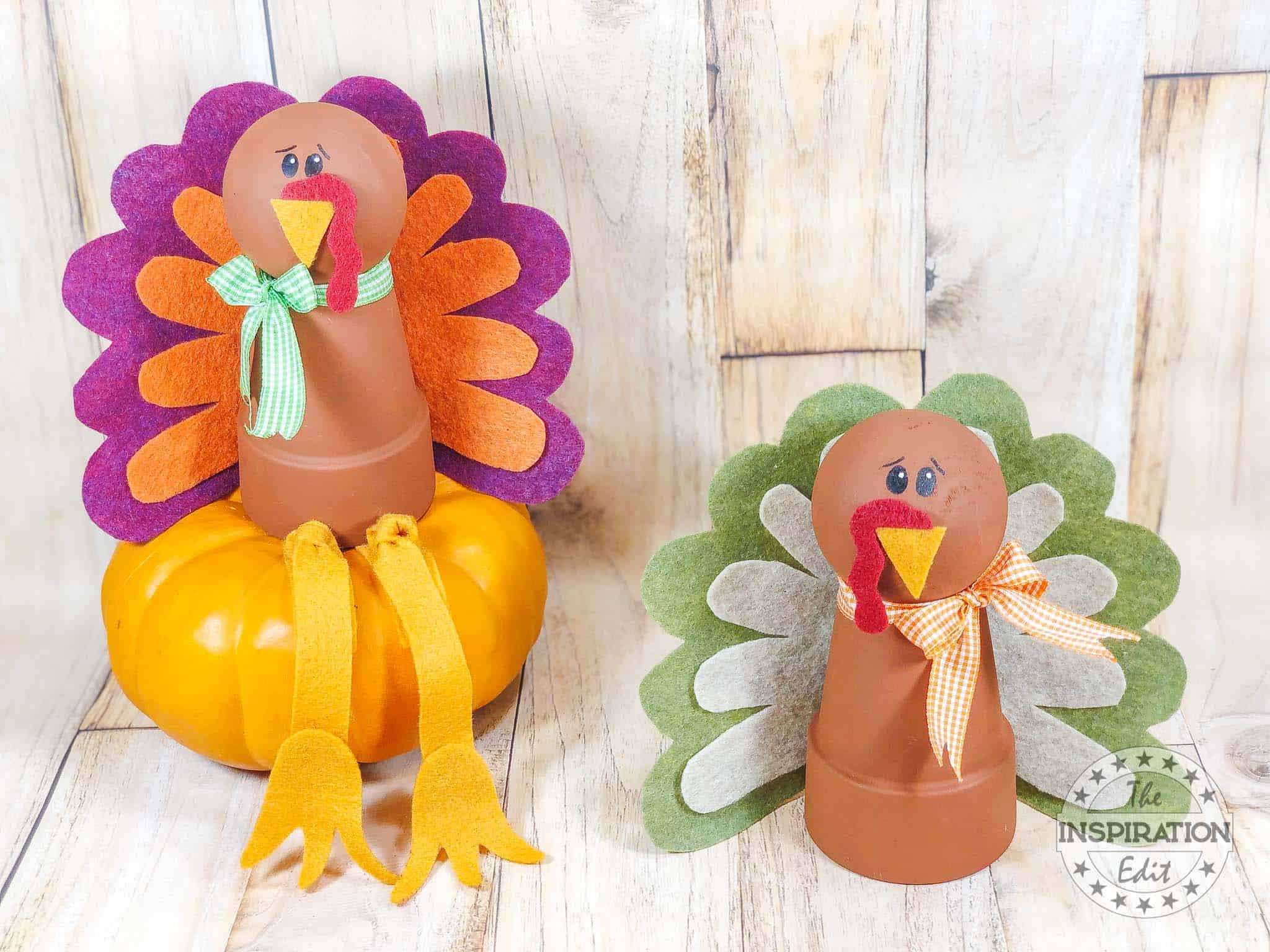 Download Your Free Thanksgiving Turkey Template Here!
You may also want to check out some more thanksgiving crafts here on The Inspiration Edit. We have A Rainbow Thanksgiving Turkey Craft as well as An Easy Quilled Thanksgiving Turkey Craft Project. Why not check them out!
Please pin this fabulous thanksgiving craft for later! – Pinning supports my blog and allows me to share more fantastic ideas.