Spotty Dogs Orchard Toys Review
My daughter Sylvia is a huge Dog lover as am I. We own two Bichon Dogs Yoda and Casper and when the opportunity came up to review the Educational game Spotty Dogs from Orchard Toys, we were really excited.
I really love Orchard Toys. When I was an early years teacher back in New Zealand I would purchase Orchard Toys games and take them to Kindergarten to play with the kids. They were always popular.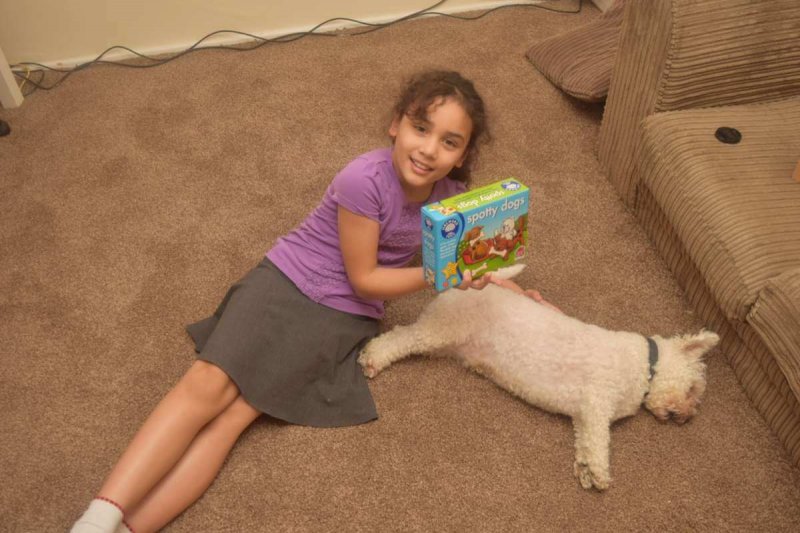 Spotty Dogs is a fun counting game and very simple and basic to play. The game has a spinner and depending on where the spindle lands and the number of spots, you then have to find a card with a Dog with a corresponding number of spots.
This game is perfect for promoting basic math and numeracy skills and Sylvia really loved it as did I. On the back of each card is a Dog basket with Bones. There are different bones in each basket and so as you collect cards, the player with the most bones at the end of the game wins.
We had a lot of fun playing Spotty Dogs. I think it's great that I was able to use one of my daughter's interests which is "dogs" to extend her learning in other areas. These games are fabulous and not only promote numeracy skills, they promote social skills and literacy as you interact and talk while you play the game.
We played the game quite a few times and Sylvia's dad joined in. Even our Bichon's wanted to know what was going on. It was a great opportunity for family bonding and learning all at the same time.
The Spotty Dogs game is created for 2-4 players and aimed at children aged 3-6. This game is linked with the national curriculum maths for Key stage one and certainly has a lot of educational value.
This is a brilliant game and we are hoping to test out more games from Orchard Toys over the coming months. They are really a fantastic brand and one I have loved for many years.
Do you have any games from Orchard Toys? If so which are they? Which is your favourite and which would you recommend?
We were sent this game for the purpose of review.
Related Products
Orchard Toys Spotty Dog Game
HedBanz Game – Edition may vary
Yeti in My Spaghetti