Mike Wazowski Rock Stone And Milk Bottle Art
If you follow my blog you will be aware that last year I began painting milk bottles and stones as a new hobby. It's really therapeutic and something I enjoy doing especially when I am unwell. I'm slowly improving and today I'm sharing my Mike Wazowski Milk bottle and rock stone. I really hope you like it.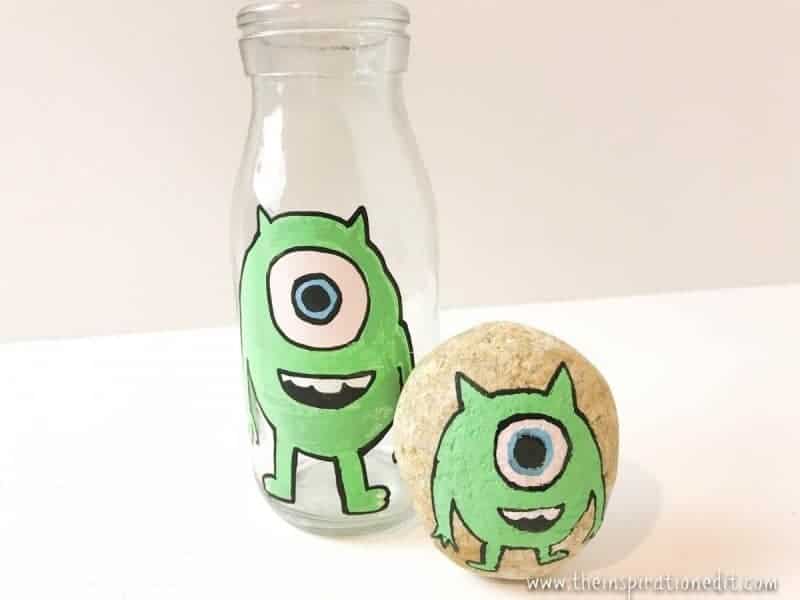 *I use affiliate links in this post. If you buy anything from my links I will earn a small commission*
Supplies For This Monster Craft
Uni Posca Paint Marker Pen, Fine Point, Set of 7 Natural Color (PC-3M 7C)

The Dairy Shoppe 1 Qt Glass Milk Bottle Vintage Style with Cap (2 Pack)

Uni Posca Extra Fine Marker, Black (PC1M.24)

How To Paint Mike Wazowski
I began by drawing the outline of Mike Wazowski's body onto the milk bottle with the green Posca paint pen.
Next I used the white Posca paint pen to draw Mike's eye and mouth.
Next I coloured in Mike Wazowski's body using the green posca pen.
I then outlined Mike's body using a thin black posca pen.
The milk bottle turned out really cute. I will be filling it up with MnM's and giving it as a gift.
Next I repeated the process by painting on a rock stone.
I drew and coloured the outline of Mike onto a small stone with the green posca pen.
I then filled in the eye and mouth with the white posca pen.
I then outlined the painting with the black posca pen.
I hope you like my mike Wazowski milk bottle and stone.
I am going to be painting more Disney themed stones in future and am really looking forward to it.
Related Products
Disney / Pixar Monsters Inc Mike Wazowski Exclusive 10.5

Kids Disney Monsters Inc. Mike Wazowski Eye Graphic T-Shirt 10 Grass

DISNEY INFINITY Figure Mike Wazowski

Ty Beanie Ballz Mike Green Eyeball Plush

More Painted Rock Ideas You May Love
PLEASE PIN ME