The Matilda Tudor Doll From A Girl For All Time
Today on the blog I am sharing one of Sylvia's favourite birthday presents, she is called Matilda and is a Tudor doll from the Award Winning British Doll company A Girl For All Time.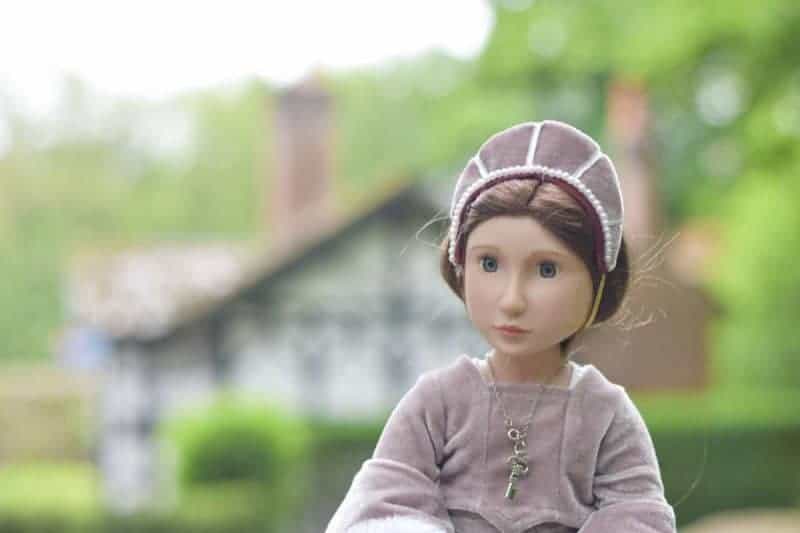 I must admit I was so excited to be contacted about the fabulous historical and contemporary doll collection. Each play doll is stunning and unique and a treasure for any little girl.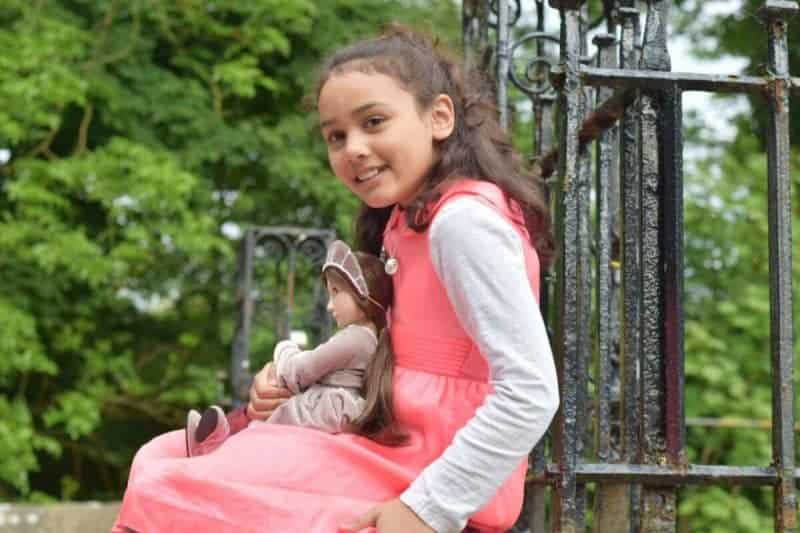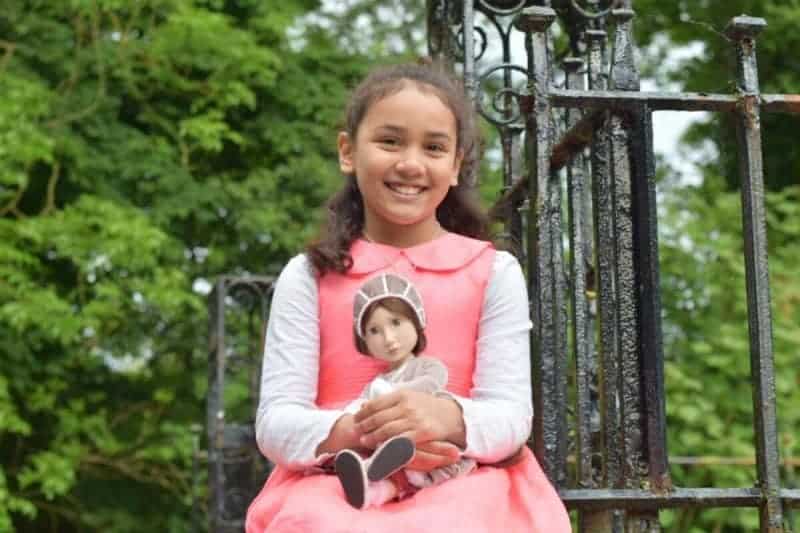 Being fans of history I knew Sylvia would love her Your Matilda Tudor Doll and boy was I right. She was squeaking with excitement when she opened the present and had a biggest smile on her face.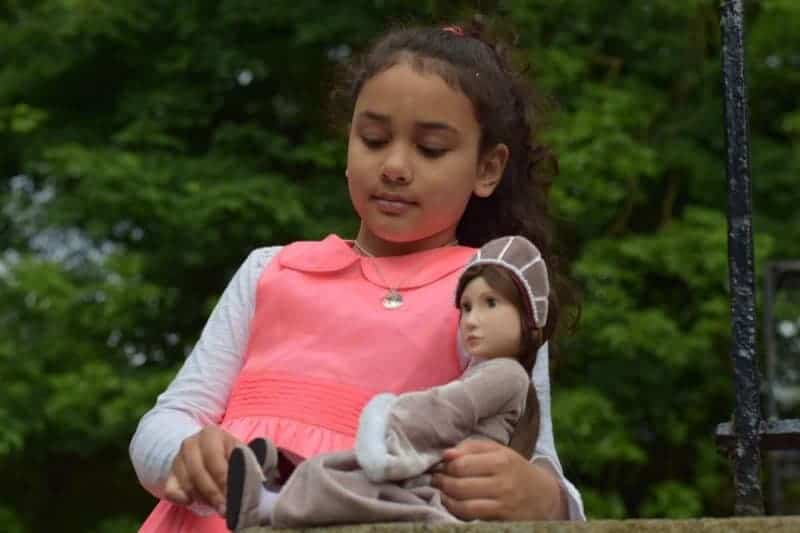 The Matilda Tudor Doll is a decent size. She is 16 inches in height and has articulated elbows and knees. The doll is very easy to play with and has a great range of movement.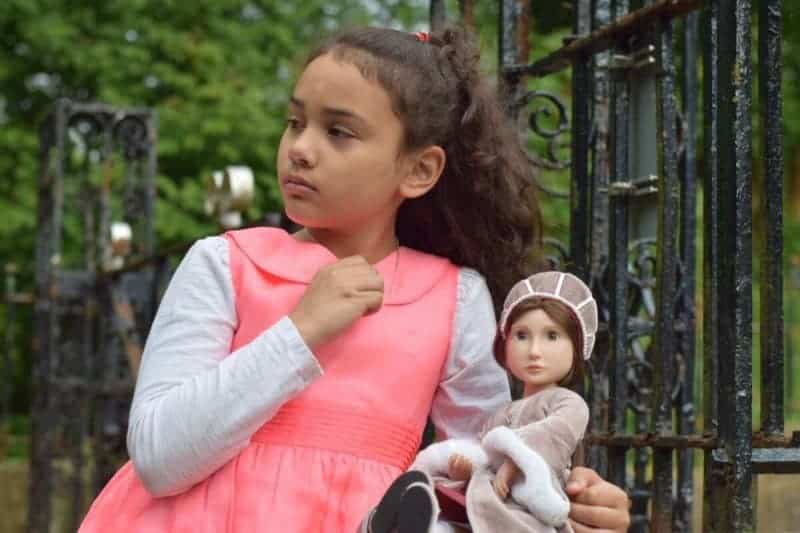 The Matilda doll is made from high quality, durable vinyl. In the packaging you could be mistaken thinking the doll is made from pot or something breakable but this doll is one to be played with.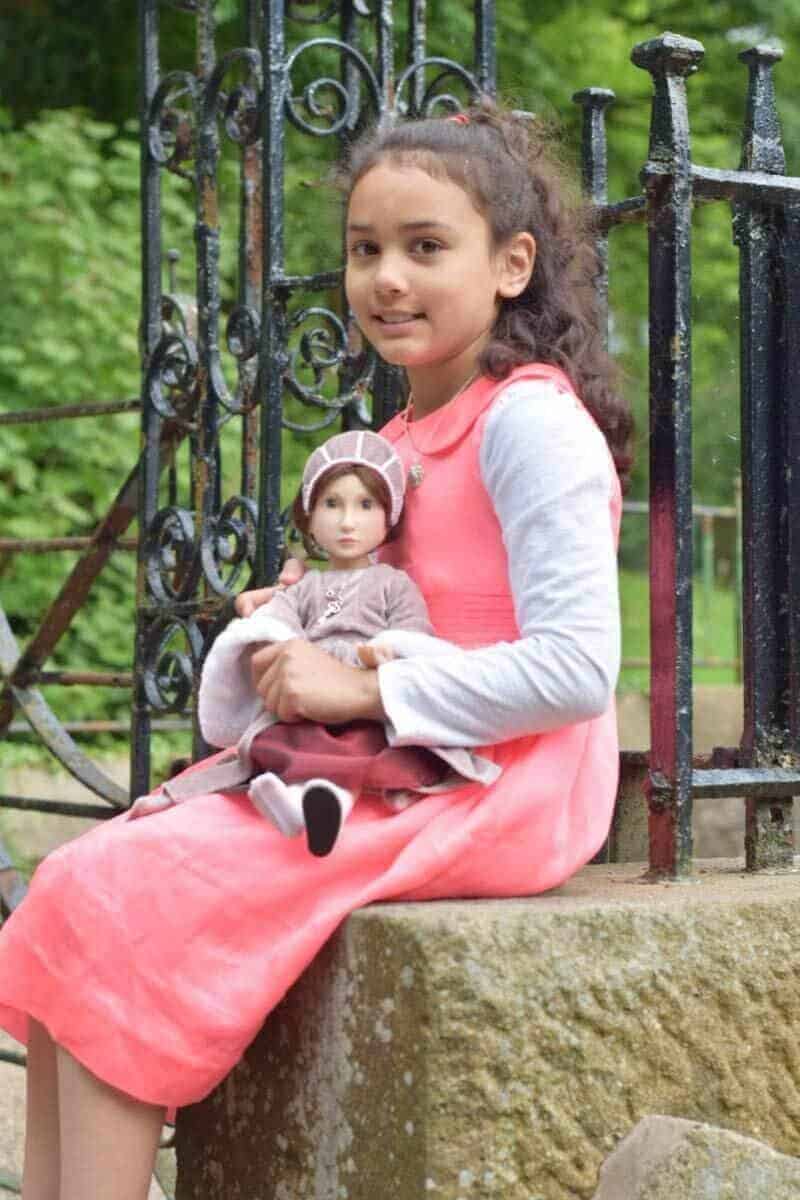 The doll comes dressed in a gorgeous velvet 2-piece dress with a burgundy coloured kirtle. I really love the Tudor outfit. It is gorgeous and made from quality materials. The touch is soft and velvety and Sylvia loves the dress.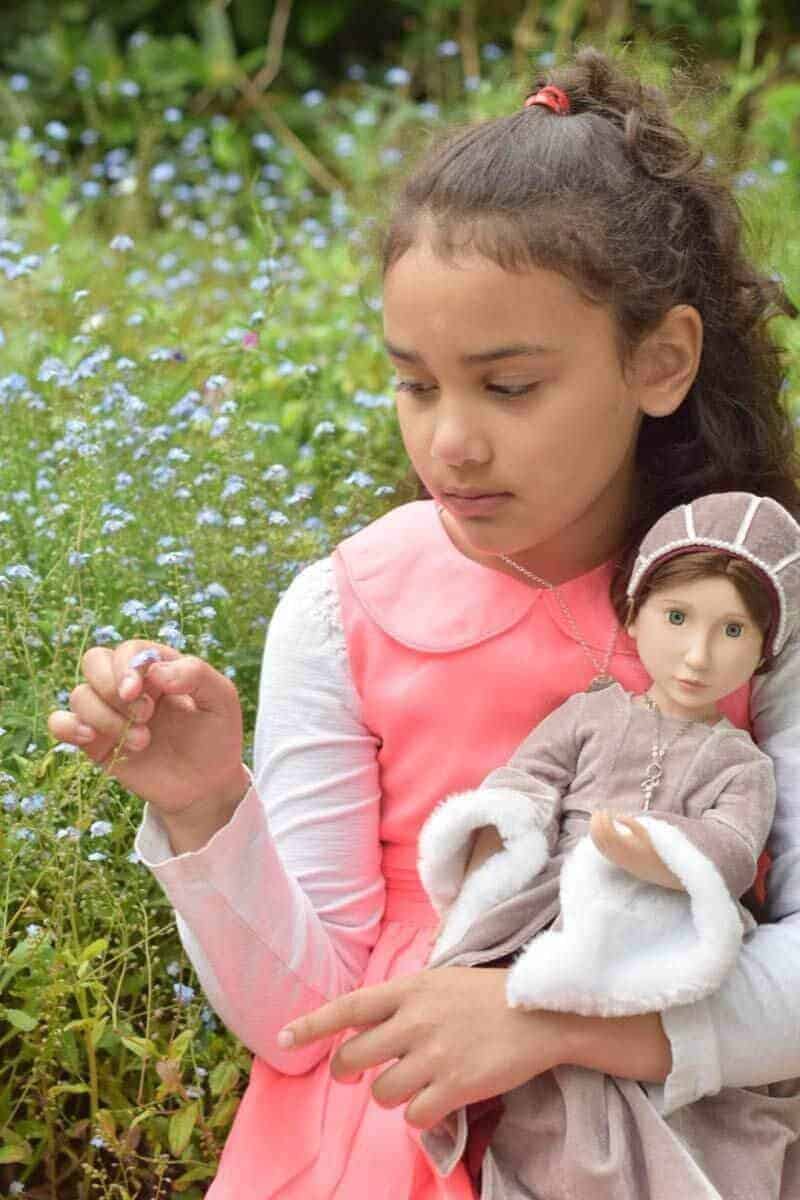 The Tudor costume comes with fur trims on the sleeves which are adorable and really add to the time and era.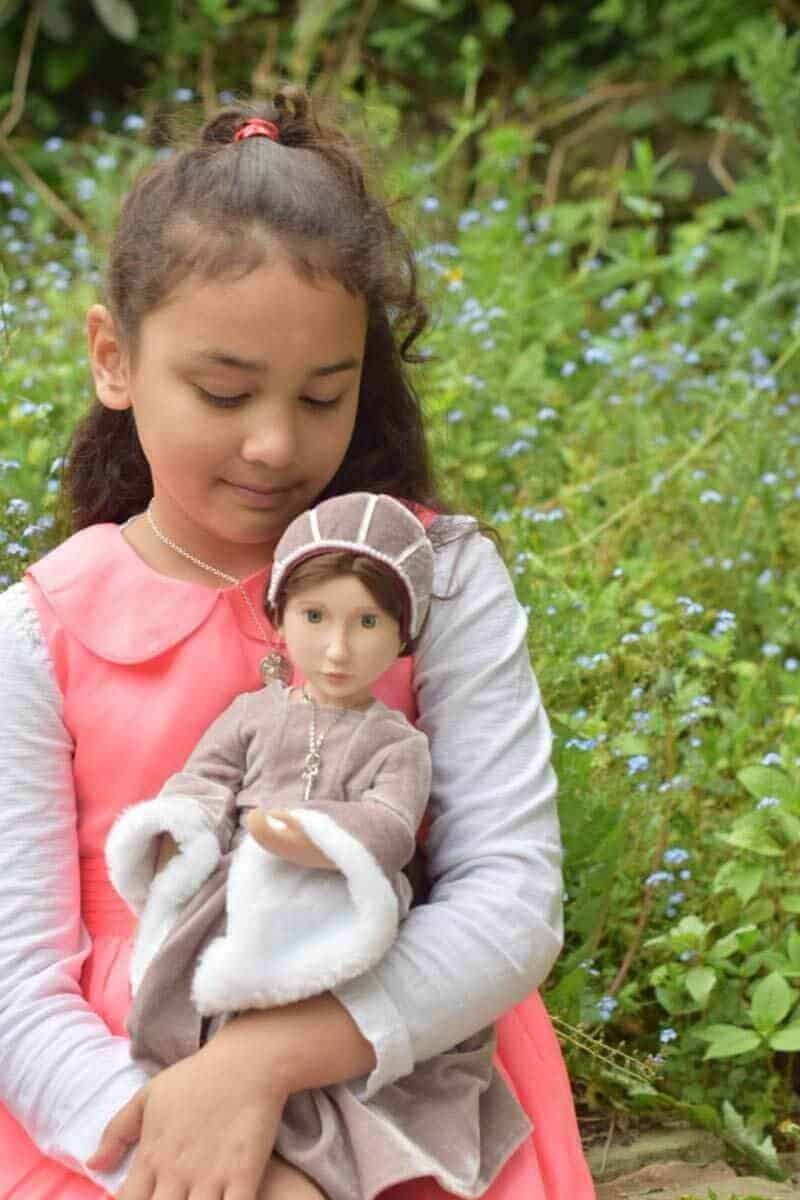 The Matilda Doll has the cutest head-dress which is delicately covered in white beads and easy to put on and take off.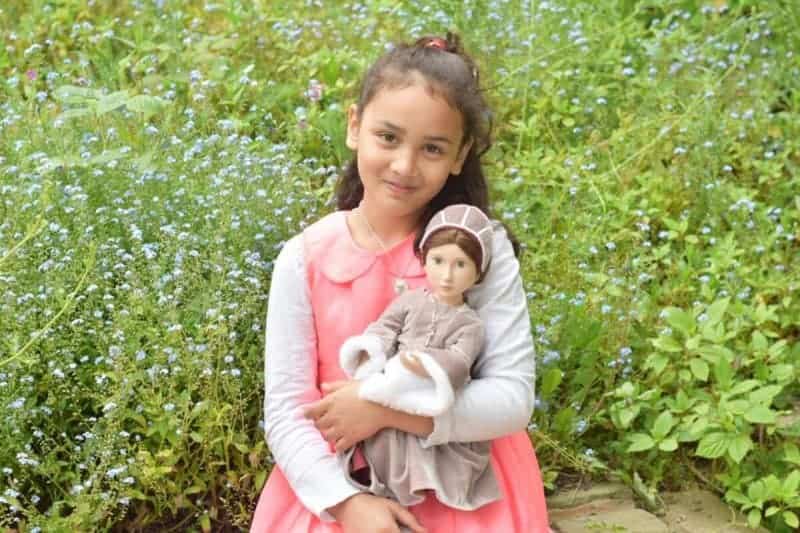 The doll comes complete with shoes, underwear, and a Tudor themed key necklace to complete her outfit.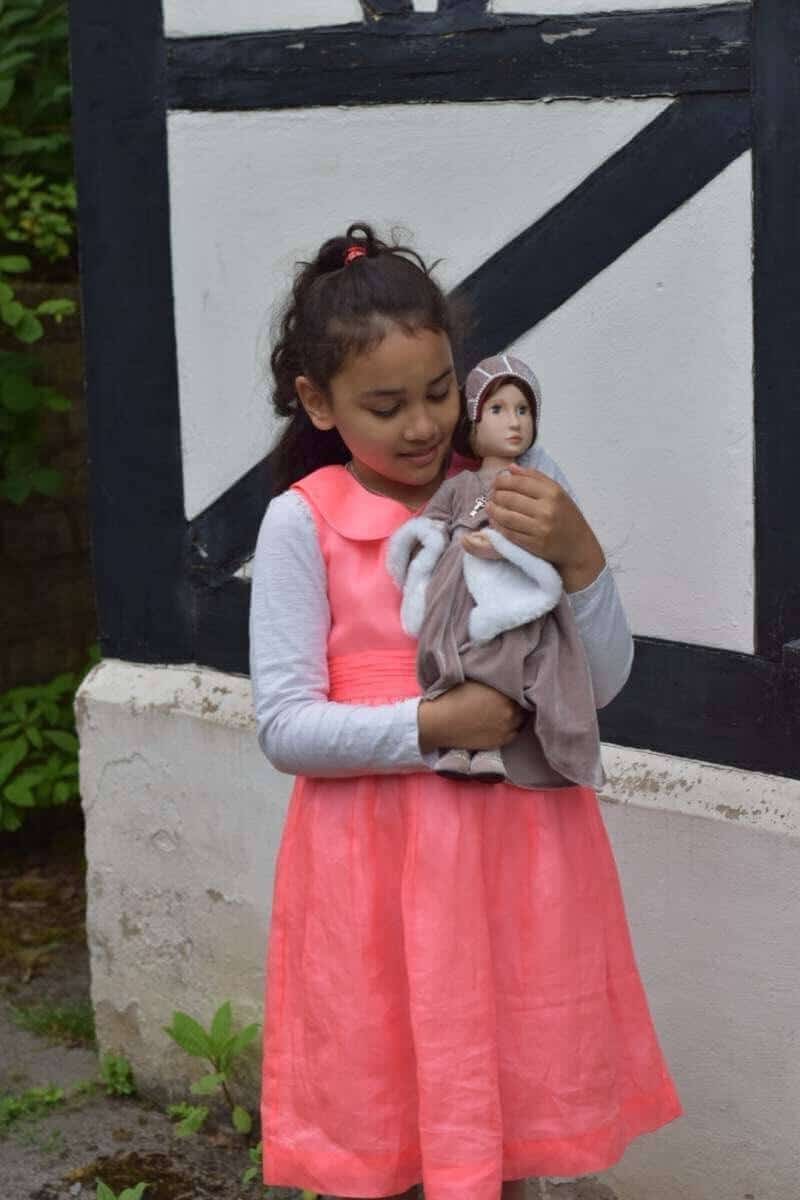 I love Matilda's court shoes which are really easy to take on and off. Her whole costume can easily be removed and the fact she has articulated limbs is brilliant.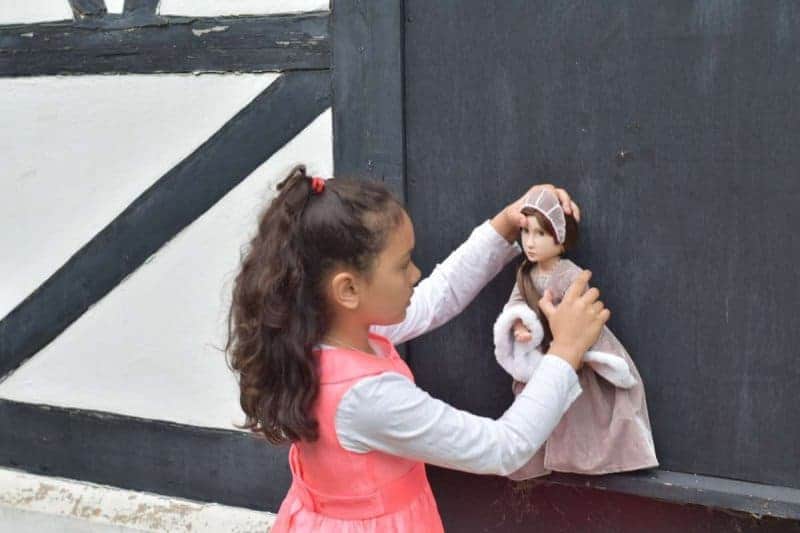 Given the Tudor Doll is a historical doll I thought it would be great to extend my daughter's learning and so we took her and her Matilda doll to visit a local Tudor House.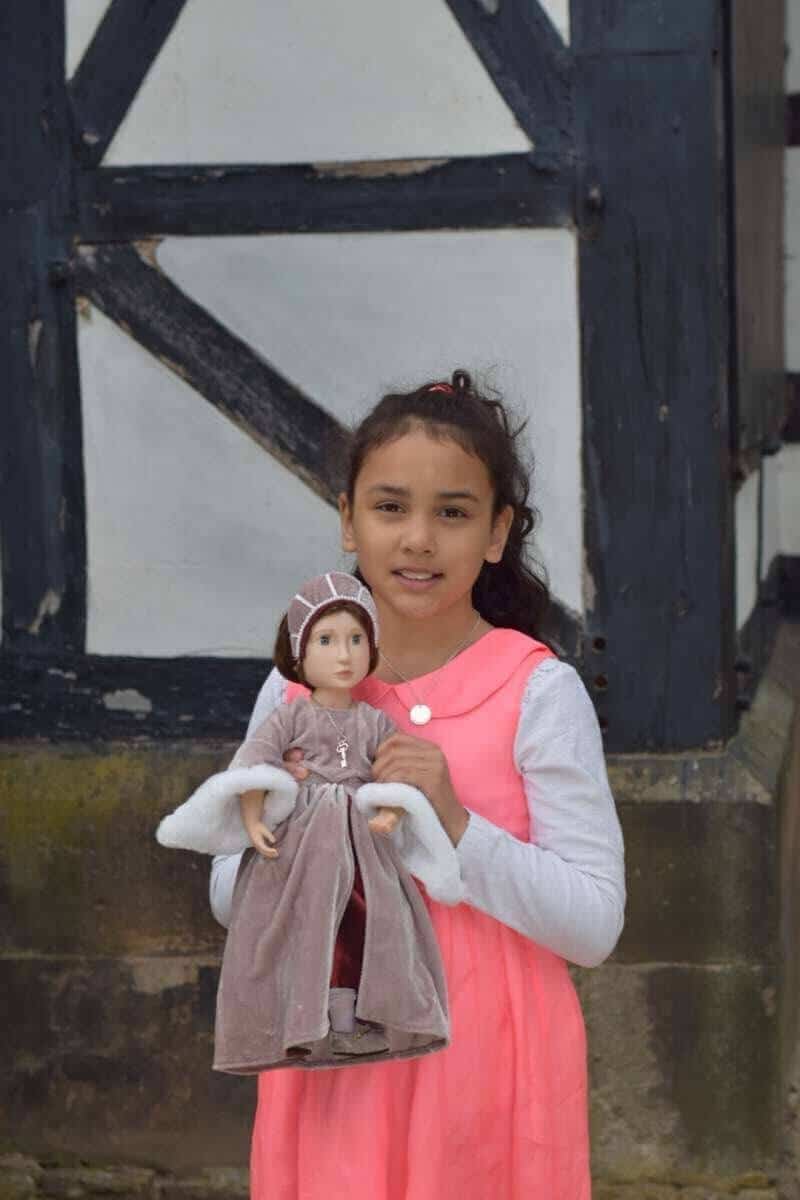 Sylvia dressed up in her Rachel Riley dress and wore white sleeves to match those of her Matilda doll.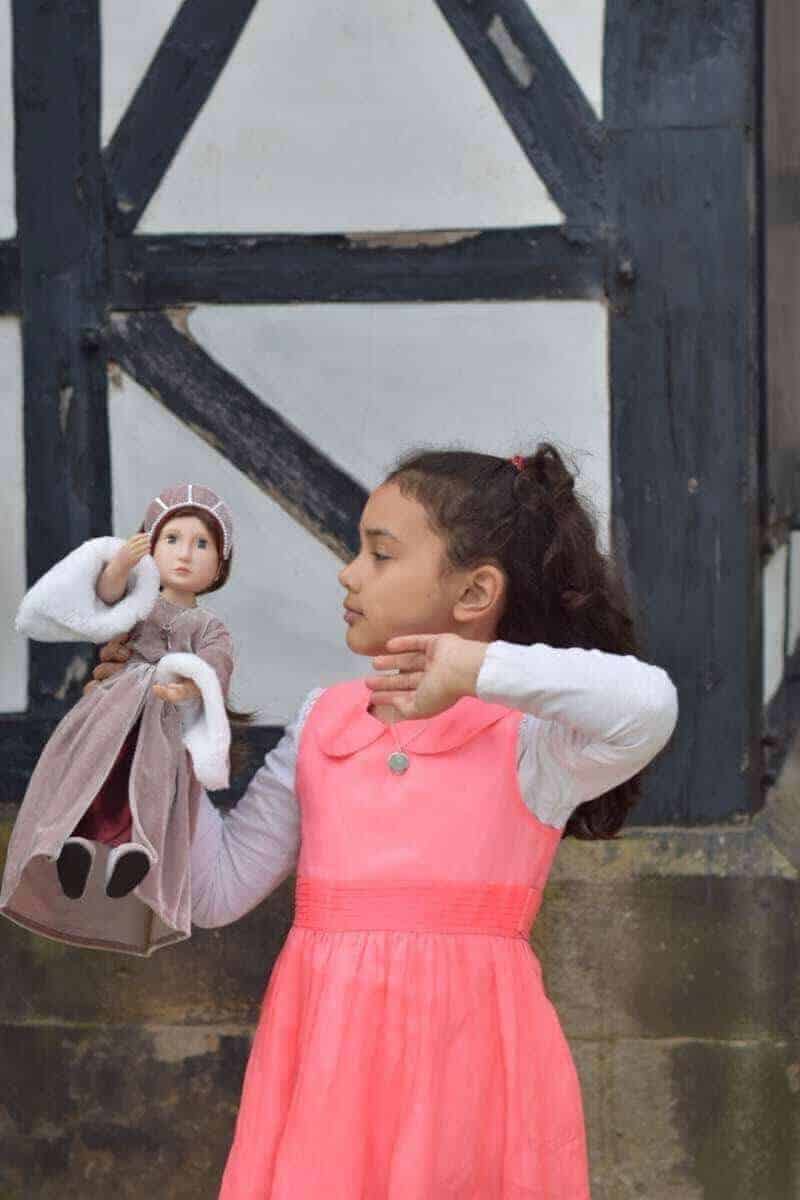 Sylvia also picked out a necklace to wear to match Matilda who has a necklace of her own.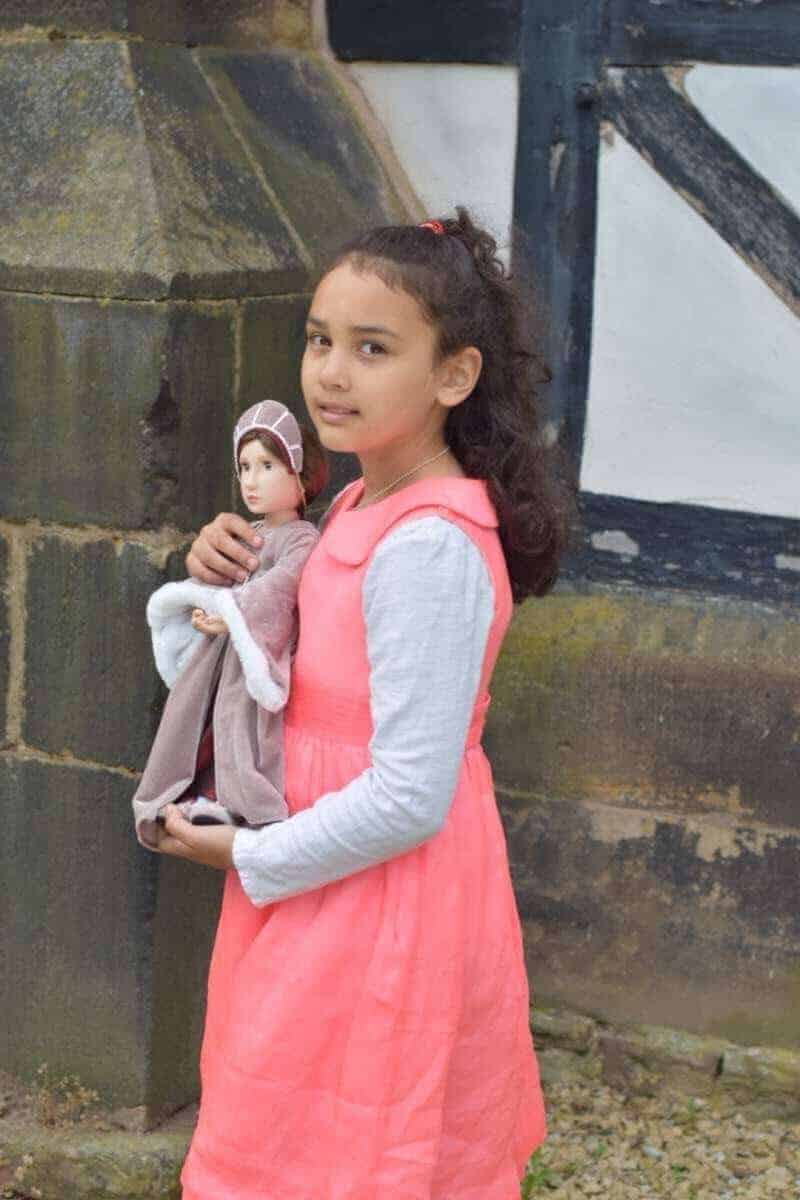 We had so much fun doing a photo shoot down at the old Tudor house. Sylvia enjoyed herself and had fun playing with her new doll.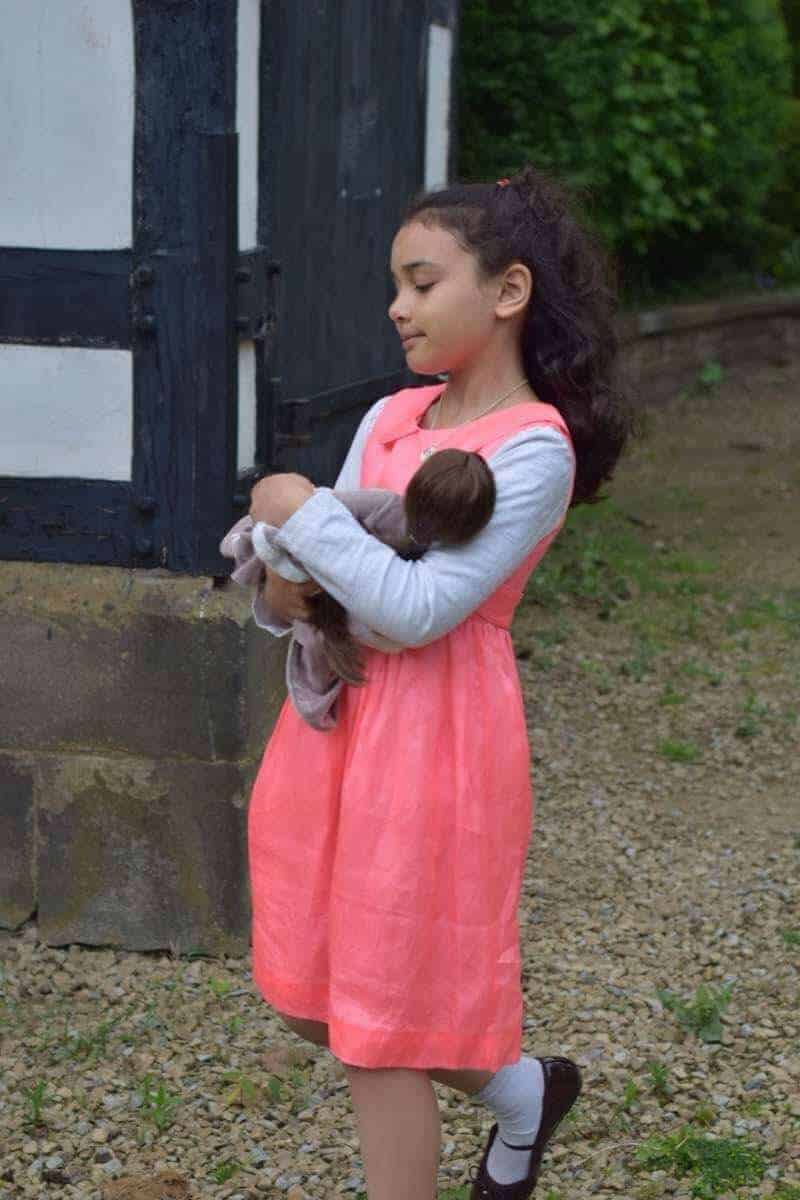 She even picked out burgundy shoes to match the inner dress of the doll. I really love the Matilda Doll and so does my daughter. There is a whole collection of special dolls both contemporary and historical available from A Girl for all time and we would love one day to purchase a second.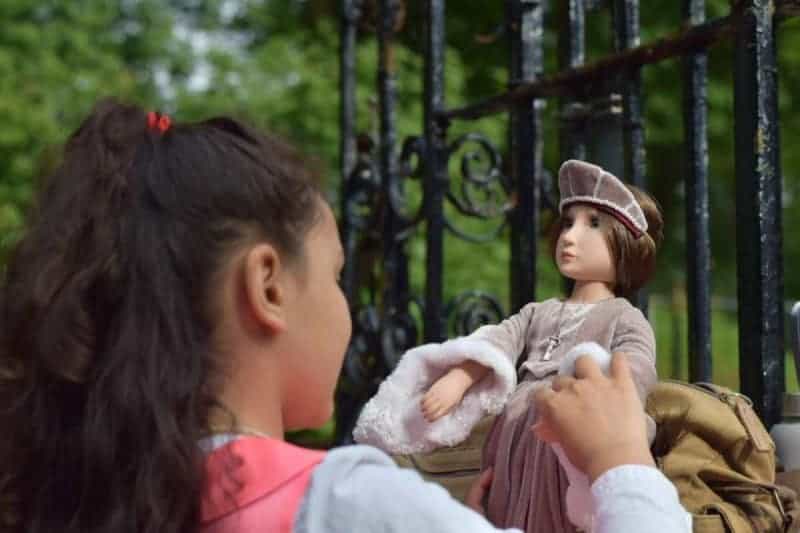 Sylvia's doll came in a beautiful box, her hair is gorgeous and we also received a second outfit, the Matilda Ball gown which is stunning. Lastly we received a fantastic book which we have just completed reading all about Matildas adventure and it really gave some background to the doll and made her that much more special.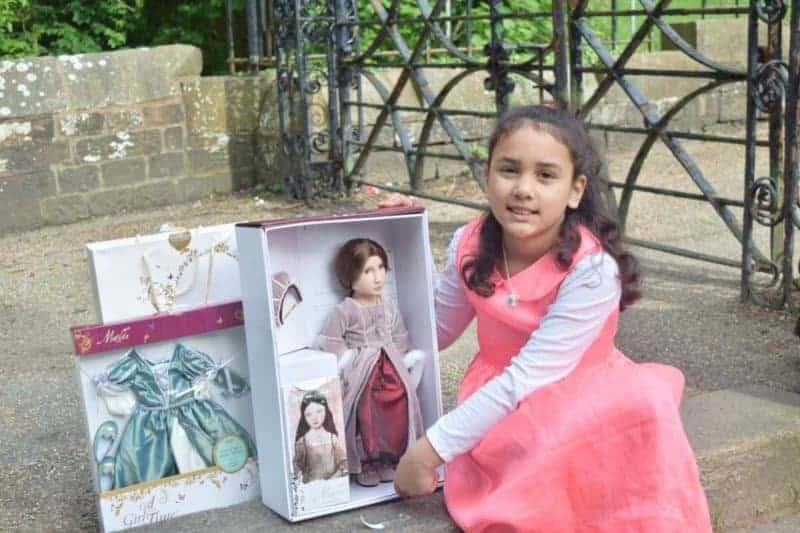 Thankyou for this beautiful Birthday present. It was gifted to my daughter for the purpose of review and is the most amazing item. The Matilda Doll is currently on sale over at A Girl for all time and I'd highly recommend this doll for anyone wanting to start or build a collection of classy and quality dolls.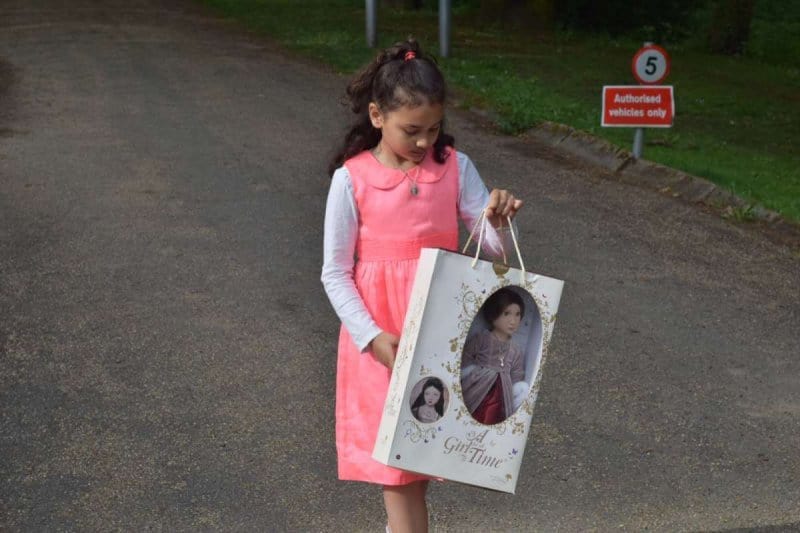 *I use affiliate links in this post. If you buy anything from my links I will earn a small commission*
Related Products
Medieval / Tudor Princess (11-13) Girls Fancy Dress Historical Costume

Forum Novelties Kids Regal Shimmer Princess Costume, Gold, Medium

Tudor Girl Costume Girl Fancy Dress

Girls Fancy Dress Party Medieval Anglo Saxon Tudor Juliet Costume X-large