Keeping Our Dogs Healthy During BBQ Season
My family love being Dog Owners. Our two pet Bichon Dogs are very unique and different. Yoda came to our family as a puppy and is all about comfort. He loves to chill on a soft blanket and relax with his legs in the air. Casper on the other hand is quite clingy.
Casper is adopted and came from an abusive home environment. He has been with us 3 years now and adapted to his new environment. Casper likes to follow me around everywhere I go and will sleep in the most uncomfortable of positions so long as he can be close to me.
The one thing both our Dogs have in common is food. They love to eat! Yoda and Casper love the smell of food and always hover around when we cook in the kitchen. They are even worse when it comes to family BBQ's and I can clearly remember our first BBQ with Yoda as a puppy. He could not stop licking his lips at the smell of the sausages and chicken and he just sat staring with his big puppy eyes hoping to get a taste of our delicious human food.
We do love to have family BBQ's in Summer, with our Dogs, however my husband is super strict and from day one we have never given Yoda or Casper any of our BBQ food. Instead we take their water bowls outside and give them a lovely helping of dog biscuits to nibble on while we all eat.
Of course Yoda, aka Mr Piggy Wiggy will whine and look at us as if we are super mean and Casper aka Mr Sneaky will try to find a way to sneak something but we do our best to make sure this does not happen.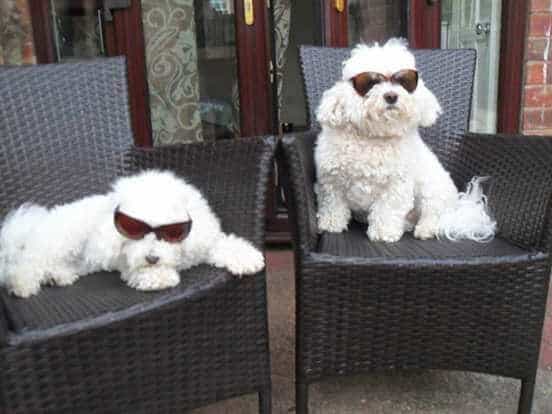 According to IAMS, one in five bank holiday BBQ's are expected to have Pets as guests and the top BBQ foods Brits are guilty of feeding their pets are chicken and hot dogs. Although your pet will love you for feeding them tasty smelling bbq food, it really is not good for their health and could have damaging health implications.
Feeding your pets unhealthy human food can result in an increased risk of heart problems, obesity and joint issues especially in older dogs who may be less active. IAMS Nutrition Expert and Veterinary Training Manager. Kellie Ceccarelli states that it's much better to feed your pet a diet that is rich in animal proteins which can help maintain the optimal health of your pet, supporting a strong immune system, healthy skin and shiny coat.
Certain BBQ foods can make our Pets really unwell. For example, Chicken wings and drumsticks have the potential to splinter the insides of your pet, should they unknowingly swallow pieces of bone. Hot dogs are high in salt and could cause stomach upsets, diarrhoea and digestive problems. A corn on the cob could cause choking and BBQ Onions are toxic with the potential to seriously harm your pets red blood cells.
Although Yoda and Casper our Dogs love to eat whatever they can get their paws on, my family really want them to be healthy and live long and happy lives. Our Bichon Dogs play a huge role in our lives. They are family and we need to do our best to help them stay healthy and happy.
One way to look after our beloved dogs is provide them with a diet rich in high quality animal proteins. In fact we are going to be having a BBQ next weekend and our Dogs Yoda and Casper will be dining on IAMS Proactive Health Adult dog food. I'm looking forward to feeding our Dog's a high quality food and seeing how it benefits our pets. I'm told IAMS is great for your dogs skin and coat and am looking forward to seeing how this dog food helps Yoda and Casper.
So whether your visiting friends with your pets or having a BBQ feast in your own garden, please do remember to look after your pets and not give in by feeding them human food. Enjoy your summer! We sure will!
*This is a collaborative Post*