If your looking for ocean crafts for preschoolers then look no further! Today we have a fantastic Hammer head shark craft with a free printable shark template.
I first discovered the HammerHead shark as an early years teacher. Before teaching pre-K I didn't really know much about Sharks, let alone the HammerHead. However, with the keen interest young children had for Sharks and the many ocean-themed songs we sung at mat time, I soon learned all about the different types of sharks in the ocean. 
Today I am sharing one of my favourite shark craft ideas. It's a Hammer Head Shark craft and activity or CRAFTIVITY. This preschool shark craft can be really fun for kids. There are opportunities to cut, draw, color, and paint and I know the kids will have fun creating these fantastic and fun Hammer Head Sharks.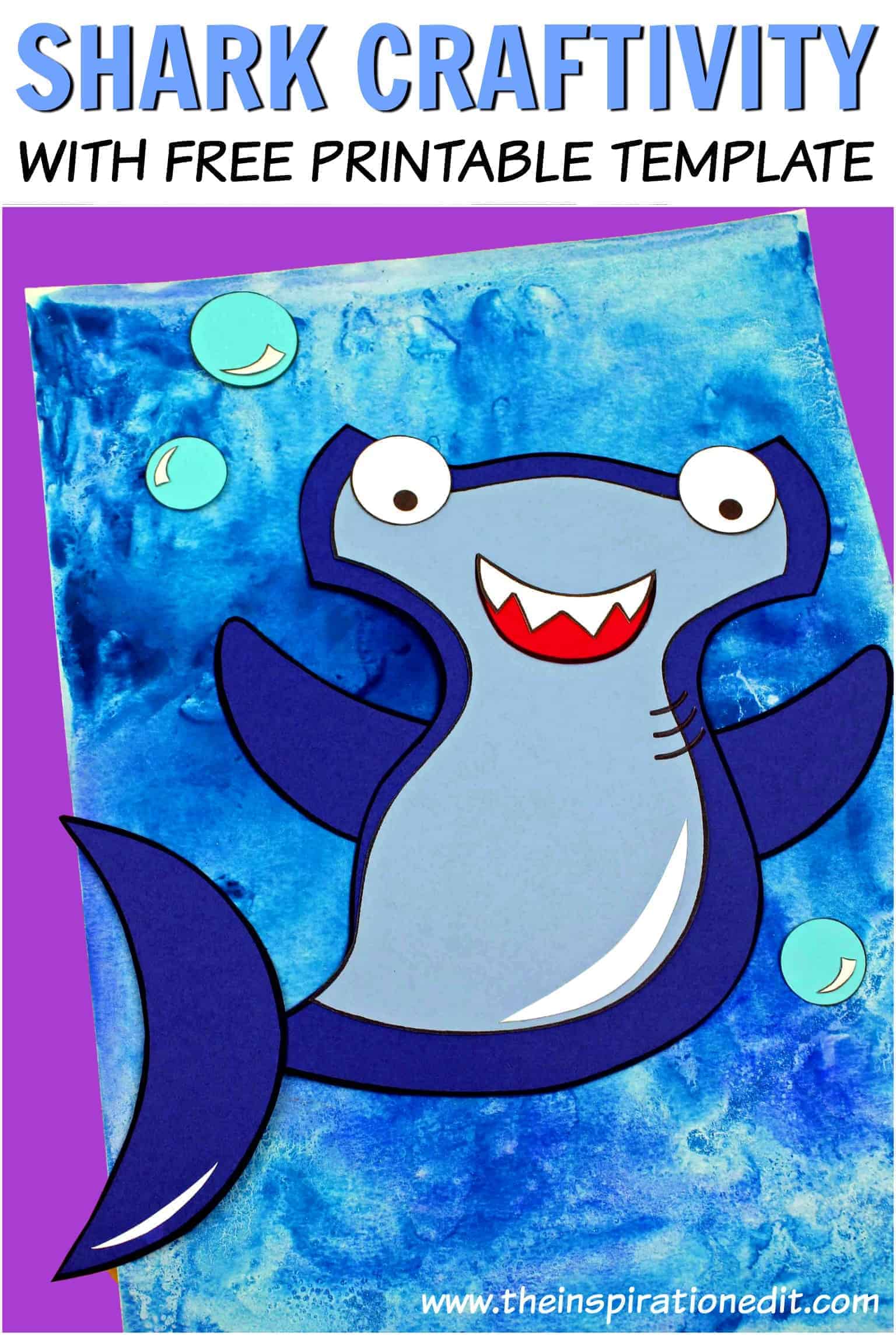 *I use affiliate links in this post. If you buy anything from my links I will earn a small commission*
When Does Shark Week Start?
Shark week 2019 begins on the July the 28th and ends on August 4th 2019. Shark week is a fun week where we can celebrate and learn about Sharks with the little ones.
Shark week originally began in 1988. The Discovery channel decided to devote one week each year to featuring content which helps correct misconceptions about sharks along with helping with conservation efforts.
Shark week is now hugely popular every year and is a great time to teach young kids all about Sharks.
Today I am sharing this fantastic Hammer Head Shark Craft which is perfect for shark week.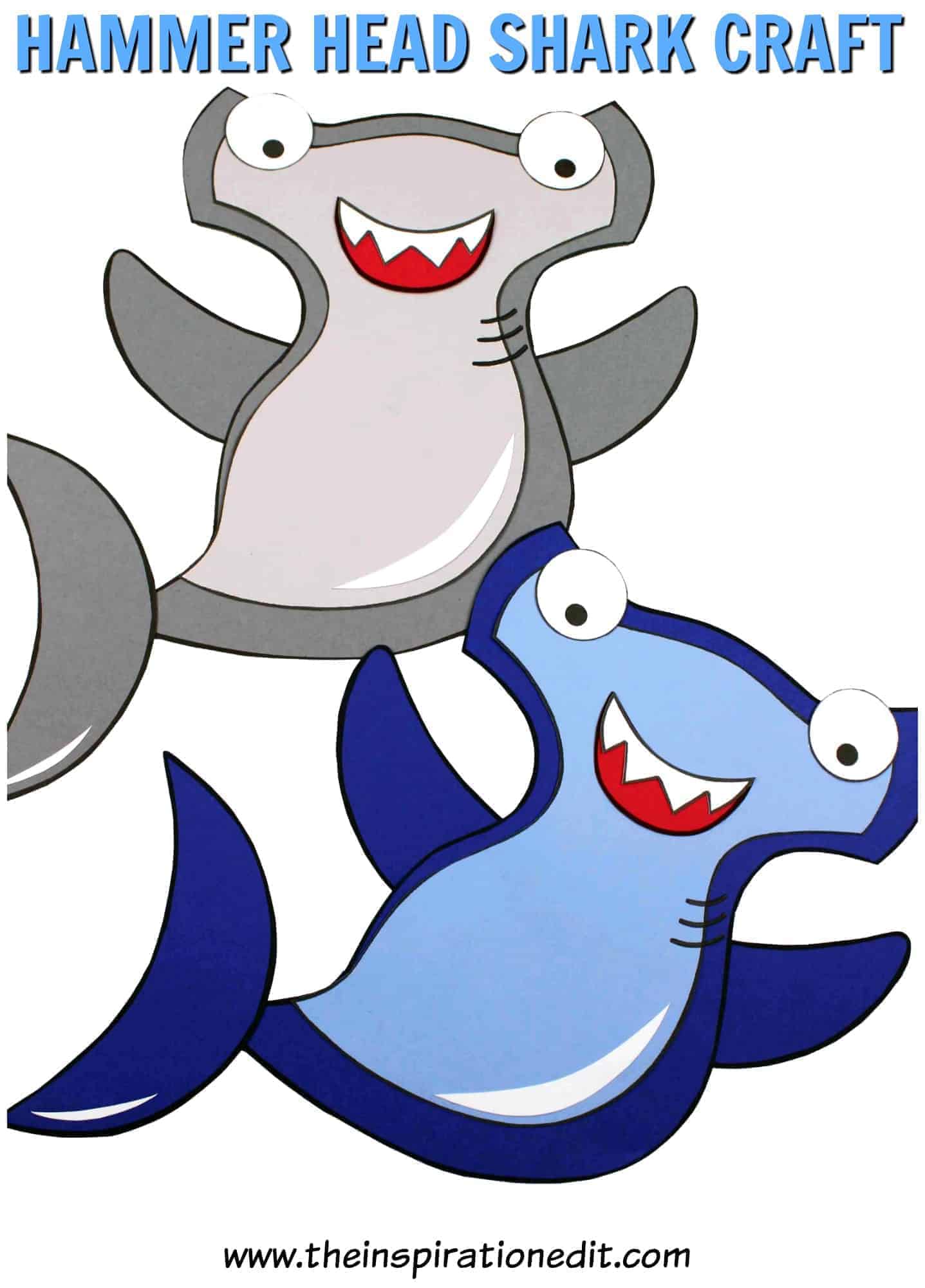 Supplies Needed For This Shark Craft
How To Make This Hammer Head Shark Craft
Download and print out the hammerhead shark template. Cut out the different pieces and set aside.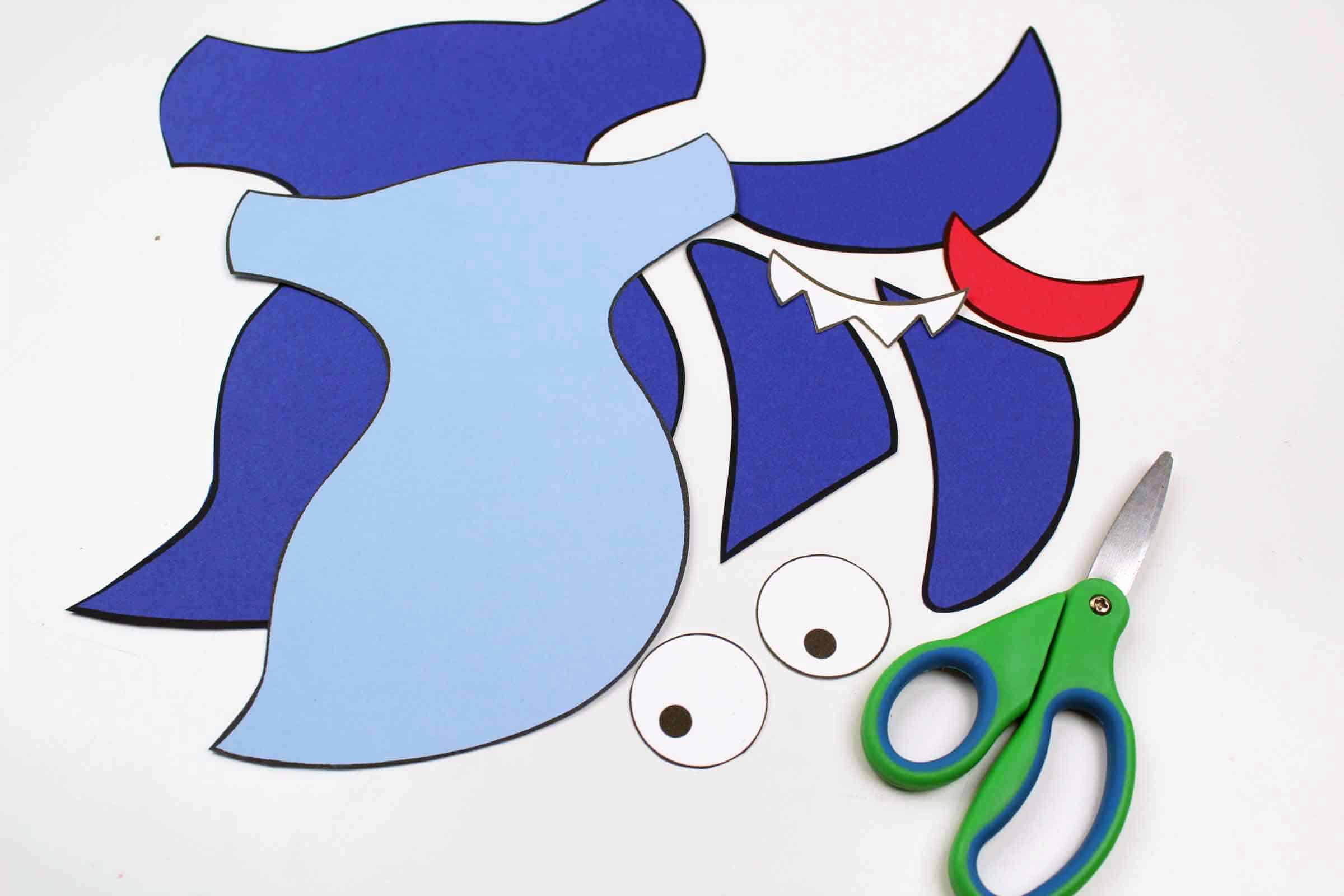 Now it's time to glue the pieces of your Hammer Head shark together. Use your glue stick or white school glue.
Cut out small pieced of white paper and add to the edges of your paper shark to create "shine" and give it more life.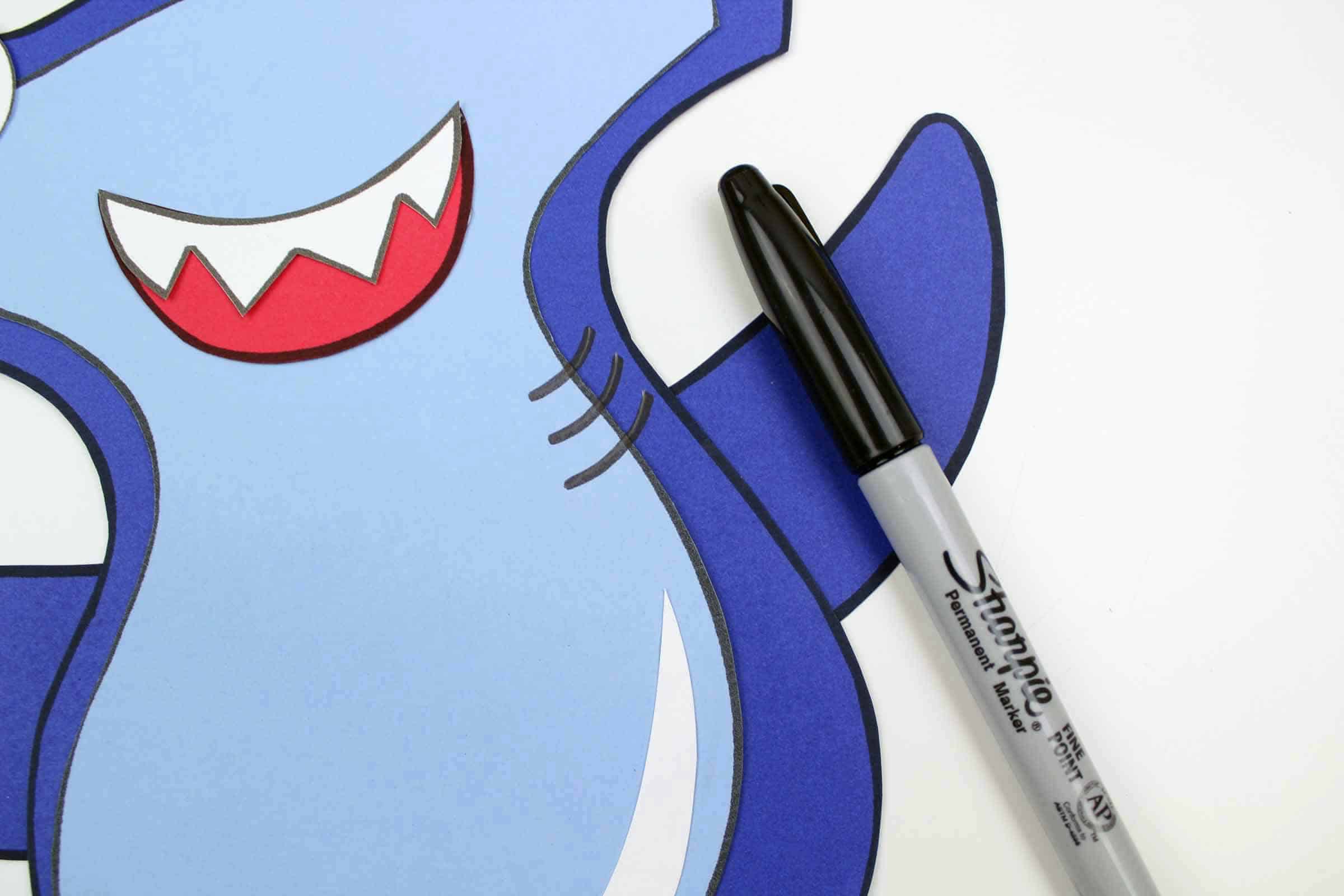 Outline your shark craft using your black sharpie pen! You can make more than one shark and choose whatever colors you prefer.
These are so super cute! You could use these for a Ocean unit study or put them on a ocean display board in the classroom!
Now your hammerhead shark is complete, you can use your paper shark to create a fantastic and easy watercolor painting.
All you need to do is create a fun watercolor background. Alternatively you could glue your shark craft to construction paper.
Easy Watercolor Painting For Kids
To create a watercolor background prepare a surface with newspaper or a wipeable oil tablecloth for easy cleanup. We got our oil cloth from Messy Me, it's fantastic and works like magic!
Set up your watercolor paints using different shades of blue. Mix in some green and yellow for even more color.
Coat your paper in water until it's damp but not soaked. Use a paintbrush for this step. Add your watercolor paints and cover the paper.
Mix in some various shades of blue until you're happy with how your watercolor artwork looks.
Sprinkle a few pinches of salt across the wet paint. It's important that you do this while the paint is wet, otherwise it will not work.
The salt will create the paint to separate and cause an explosive looking effect.
Allow the paper to dry completely. This will take awhile since it was so wet.
Once dry, glue the hammerhead shark onto your watercolor background. You can also download our starfish printables and add these to the picture.
These would make wonderful bulletin board crafts. Print the hammerhead shark out in various colors for a really fun look! Enjoy!
Don't forget to print out your shark craft printables here! You can also print out the bubble template.
For More Fantastic Shark Week Ideas why not check out the following:
You may like our list of fantastic shark themed books for children. Check out this post!
The Best Preschool Shark Books For Kids
Please pin these free shark printables and craft idea. Pinning supports my blog and allows me to share more fantastic content.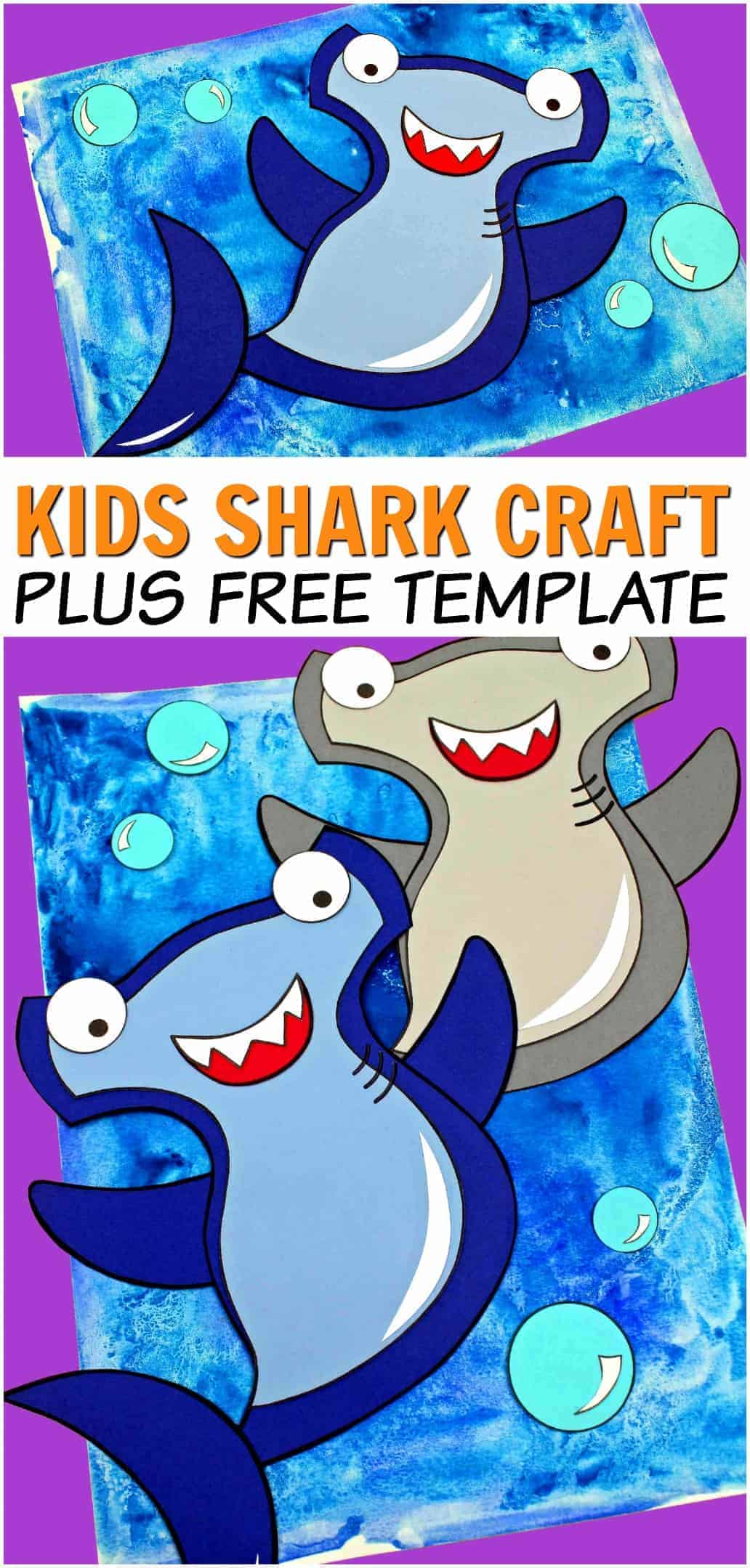 About Angela Milnes
Angela Milnes is a Qualified Early Years Teacher who has specialised in Preschool and Kindergarten teaching. She has a wealth of experience teaching young children and is passionate about kids crafts and having fun as a family. Angela has also taught cooking skills and loves to share both family recipes and easy instant pot recipes here on The Inspiration Edit. Follow her on Pinterest!