Halloween Snacks For Kids
Halloween snacks are always so popular Llast year I shared some fantastic fun halloween food ideas her on the blog. Today I have put all the snacks together into one post. I do hope you enjoy this and find something you like and can try out with the kids during the Halloween season.
*I use affiliate links in this post. If you buy anything from my links I will earn a small commission*
What You Will Need To Make These Halloween Snacks
Packaged cheese and cracker sticks

Packaged chocolate pudding

Packaged peaches or oranges

Oranges

Bananas

Scissors

Low-temperature hot glue gun

Gauze roll

Sharpie

Craft pom poms

Googly eyes

Black and green craft foam
Let's Make These Amazingly Simple Halloween Snacks
Starting at the bottom of the banana, begin randomly wrapping the gauze roll around the length of the banana.
You can criss cross the gauze or leave gaps to give it more of a mummy feel.
Be sure to leave a small gap near the top of the banana where you would like the eyes to be.
Secure the gauze at the back of your banana with tape or hot glue.
Using a low temperature hot glue gun, attach the googly eyes to the front of your banana where you have created a gap in the gauze.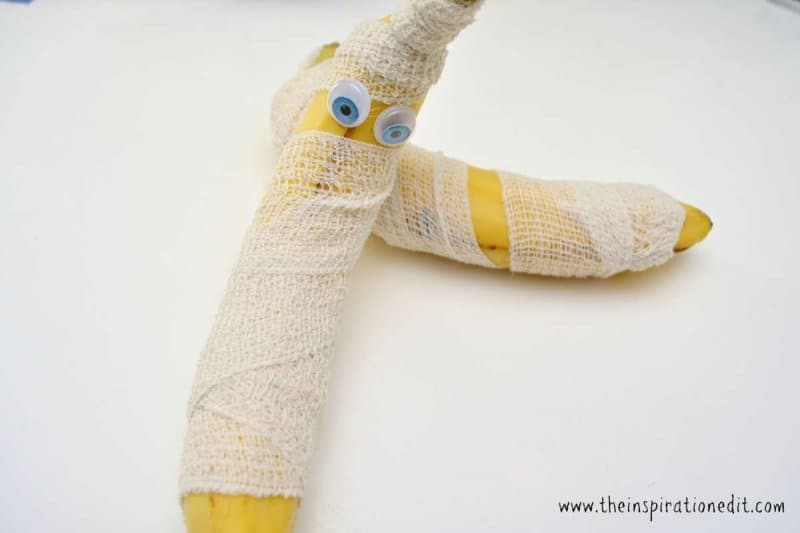 Cut out two bat wing shapes from the black craft foam.
Be sure to leave a small bit of extra foam space on the inside of the wing to attach it to the back of the pudding cup.
Attach the wings to the back of the pudding cup with hot glue.
Let the glue partially dry and cool down a second before attaching the wings to help eliminate the chance of the glue melting the plastic container.
Using the glue gun again, attach two googly eyes to the front of the pudding container.
Begin by gluing a craft pom pom to the top of the backside of your cheese and crackers package, above the cheese compartment.
Glue two googly eyes on the cheese compartment of the package below the craft pom pom that you just applied.
Use scissors to cut two arm and hand shapes out of the green craft foam.
Hot glue the arms to the sides of the cracker compartment of your snack.
Jack-o-Lantern Orange or Peach Slices Halloween Food Idea
For this snack, you can use either an actual orange, or a package of orange or peach slices.
Begin by drawing the face of a Jack-o-Lantern onto the front of the orange itself, or on the front of the peach or orange slices container.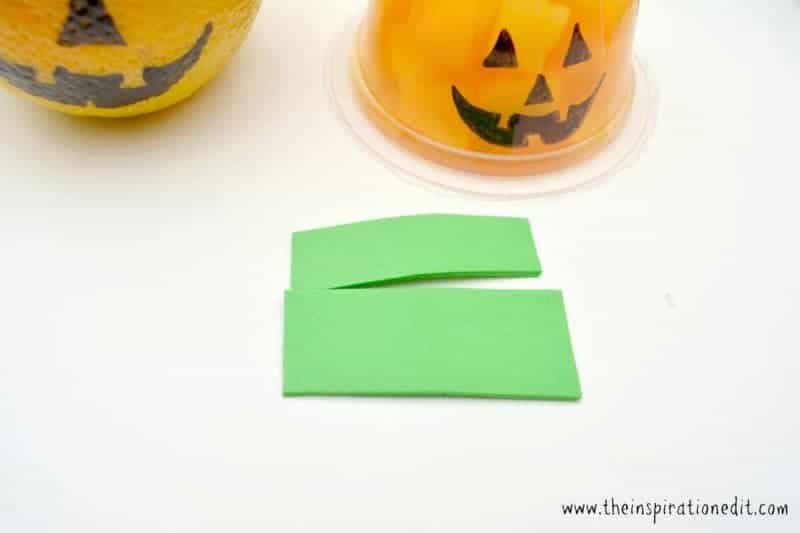 Cut out a long rectangular piece of the green craft foam.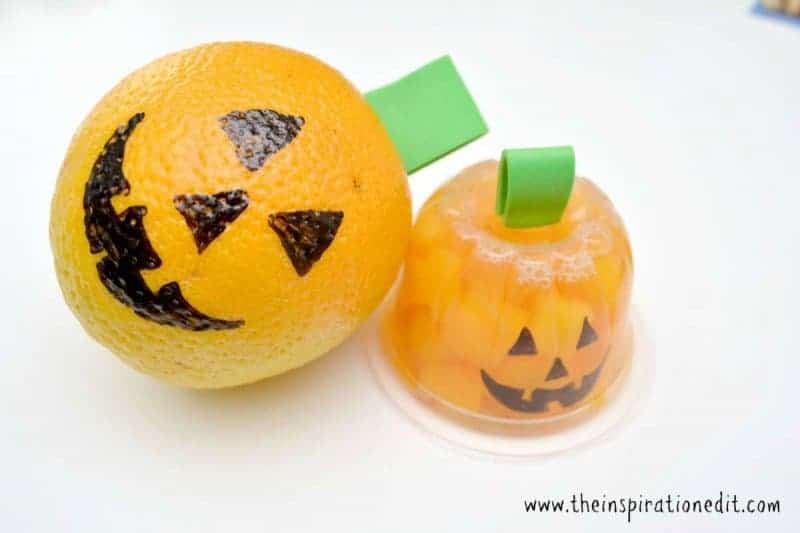 Fold the rectangle in half forming a loop, and hot glue the loop to the top of the orange or orange/peach slice container to form the stem of your Jack-o-Lantern.
Items you may need to make your Halloween snacks.