Halloween Banana Mummy Snack Idea
Today on the blog I am sharing a fun tutorial how to make a Halloween Banana Mummy Snack. It can be tricky to get my daughter to eat fruit at times and making fruit more fun is always a great way to encourage her to eat more fruit.
Did you know that Bananas are super healthy. In fact, Bananas are one of the most widely consumed fruits in the world. Bananas can help lower blood pressure and reduce the risks of cancer and asthma.
Bananas are rich in the mineral potassium. In fact potassium is super important for helping regulate fluid levels in the body and allowing minerals and waste products to enter in and out of cells.
For me, someone with Adrenal Insufficiency, I have spent time in hospital requiring IV potassium. I know what it feels like to be low in this mineral and it's not a good feeling.
Bananas also have Vitamin B6, Maganese, Vitamin C, Dietary Fiber, Protein, Magnesium, Folate, Roboflavin, Niacin, Vitamin A and Iron.
So, the simple but great idea I am sharing today is the Halloween Banana Mummy Snack idea. All you need to do is get one Banana or two.
Starting from the bottom you wrap a piece of gauze around the length of the banana. you can criss cross the guaze or leave gaps to give it more of a mummy feel.
Ingredients For Halloween Banana Treat
Gauze
Hot Glue Gun
Googly Eyes
*I use affiliate links in this post. If you buy anything from my links I will earn a small commission*
Next, you need to make sure you leave a small gap near the top of the banana so you can add eyes. Simply stick the gauze at the back of your banana using the hot gun and then add the googly eyes to the front of your banana.
Be sure to use a low temperature so not to damage the banana skin. It's a simple but effective way to decorate fruit for the kids and could be a hit this Halloween.
Angela x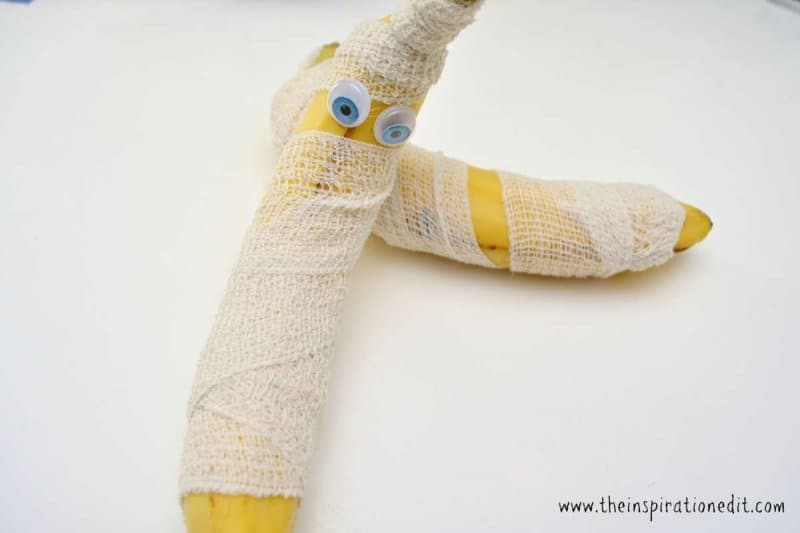 Related Products
Please Pin Me