The Family Pet Show A Fantastic Dog Day Out
On Saturday after a week unwell in bed, I managed to muster up the strength to visit The Family Pet Show in Manchester with my daughter Sylvia, my brother James, My Parents from New Zealand and our beloved Bichon dogs Yoda and Casper.
Boy were we in for a treat. We had never been to a Pet show before and this was one wonderful experience which both Sylvia and I loved.
We had an amazing time and I am so excited to share our adventures with you. Sylvia wore her favourite Dog Dress from House of Fraser and we were all ready to have a fantastic day.
We were invited to attend the Family Pet Show by Frontline Plus who have been on their #FleaTickTour around the country promoting a Flea and Tick Treatment to help Dogs and pets stay safe.
My daughter Sylvia loves Dogs as do I and it was wonderful to see many Dogs and their owners filling the car park as we arrived at the Expo.
We took Yoda and Casper our dogs to visit a Vet. They had 5 minute check ups and we were assured their teeth, gums and ears are healthy. The Vet listened to our dogs heart rates and gave them both a quick once over. It was great to hear our dogs are doing well especially after poor Yoda was attacked last year and injured.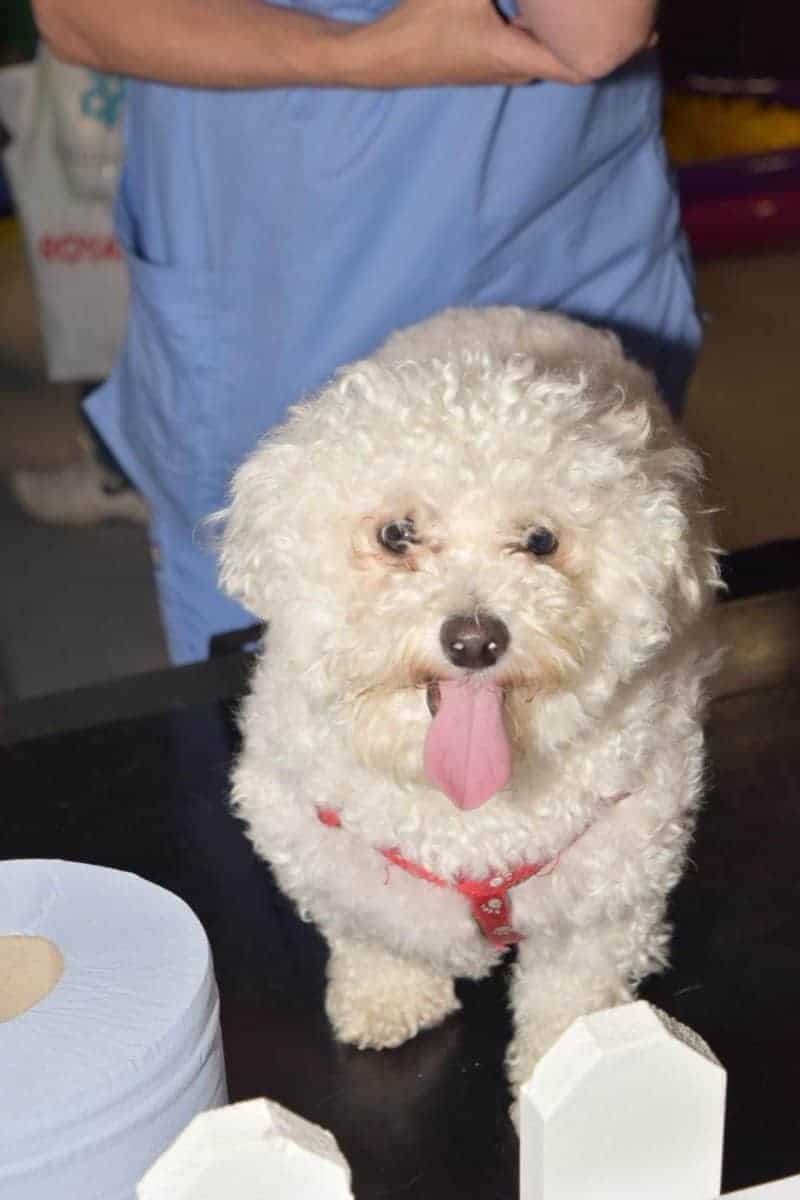 One of the highlights of the day for Sylvia was to watch the North West Scruffs Heat and see all the lovely talented and gorgeous dogs that had entered the show.
We also loved meeting a gorgeous Pug named Sylvia. Sylvia's owner has a brilliant website called Doggie Places where you can search for beaches, accommodation, cafes and places throughout the country which are dog friendly. That's a fantastic idea for dog loving families like us who enjoy travelling and going places with Yoda and Casper.
My daughter Sylvia loves Pugs, her ultimate number one celebrity is Doug The Pug from the USA and we are really hoping to be able to meet "the infamous Doug" in the near future when he visits Manchester for his book signing. Fingers crossed.
I have to be honest, I really was not very well and did a lot of sitting down during our visit but I made the most of the time and enjoyed checking out some of the stalls. I especially loved the fashion accessories stall and seeing the baked goods and treats for dogs.
We bought a treat for Yoda and Casper and received some lovely goodie bags full of tasty treats to try out. Casper and Yoda had a fantastic time. They loved meeting all the other dogs and sniffing and smelling each other.
One of the funniest moments was when Casper saw an owner feeding her dogs and he ran up and joined in. It was quite hilarious and he managed to sneak in some more dog treats.
We did have a wonderful visit to the Family pet show. It was great to meet so many beautiful and wonderful dogs especially Sylvia the Pug. We love pugs, we love dogs and we loved the Family Pet Show. We will certainly be going to more fun dog loving events in the future.
Large Size Bichon Frise Resin Dog Sculpture Car Ornament

Joy to the World Collectibles European Blown Glass Pet Ornament, Bichon Frise

Bichon Dog Recycled Wool Ornament

Douglas Cuddle Toys 4078 Dandelion Puff Bichon, 8-Inches(20cm)

Sandicast Mid Size Bichon Frise Sculpture – Sitting

Bichon Frise Dog – Collectible Figurine Statue Figure Sculpture Puppy

To read more stories about our Bichon Dogs and Dog themed posts please visit A Dogs Life