You may not realise this, but the bedroom is one of the most used areas of the house. Unfortunately, a lot of people disregard the importance of designing and decorating the bedroom properly. In this article, we will look at some tips to choose the right kind of headboard for your bedroom.
People spend a significant chunk of their lives sleeping, and so it's important to make the bedroom as pleasant as possible.
Sure, it's good to choose a good mattress and bed, as well as the perfect set of decorations and curtains for your sleeping quarters. But have you stopped and thought about picking a headboard that's right for your bedroom?
Here are some decoration tips to make your bed headboard complementary to the overall theme of your bedroom:
Put pillows that match the room's theme
When styling the bedroom, you don't need to do a major overhaul. You can start by adorning the bed headboard with throws or small pillows that accentuate the design of the bedroom.
For instance, you may put pillows of your child's favourite cartoon characters on top of their bed's headboard.
You can also do the same with your own bed – say, a throw with your favourite slogan printed on it, or any pillow that follows the colour or pattern of the entire room.
I love matching cushions and pillows and we currently have a lovely orange fox and green cushions which look lovely.
Install lighting fixtures on the headboard
A little mood lighting can enhance the visual spectacle in your room, and you can do this by putting some lighting options on the headboard.
A good kind of lighting fixture is something that is affixed to the headboard itself, instead of one that's merely placed on top of it. This is for safety reasons – you don't want a huge lamp to fall on your head while you're sleeping!
Redesign the headboard
If you think that your bed headboard looks boring, you can replace it with something that's right up your design alley. There are a lot of options for bed headboards in the market, and all you need to do is choose which one catches your fancy.
Some beautiful options for headboards include the following:
Tufted headboard: This modern headboard looks amazing, and is also cushioned or padded for extra comfort and support.
Fabric headboard: This kind of material looks soft and comforting, which works well in most bedrooms.
Leather headboard: For a stronger feel, a leather-covered headboard can give the room a contemporary vibe.
Wood headboard: People who prefer a more classic bedroom theme will find a wooden headboard visually striking. You may choose from beautiful wood colours such as walnut, oak, or coffee. We have a wooden headboard which I really love.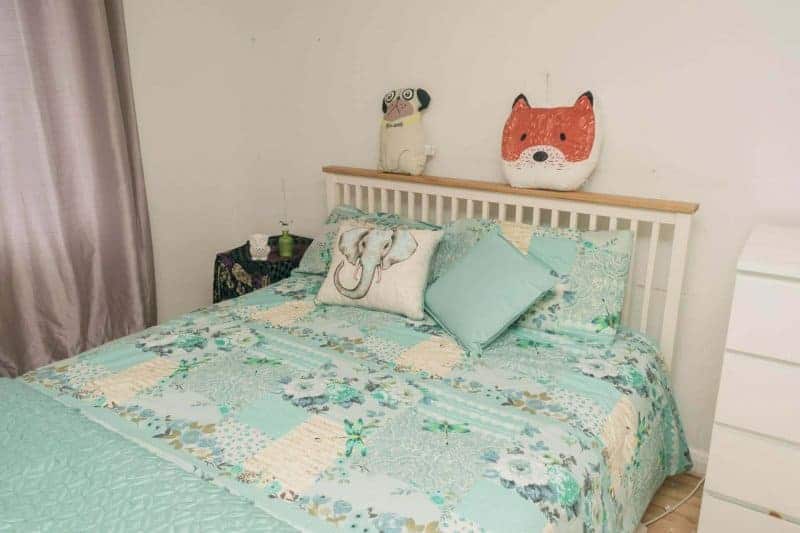 Detach the headboard from the bed frame
Want to put a modern touch to your bedroom? You may opt to use a hanging headboard that attaches to the wall behind the bed. Because the headboard is detached from the actual bed, you can use just about any kind of material as a headboard, preferably one that matches the style of the entire room.
Use the headboard as storage space
If your bedroom has a lot of loose clutter – such as books, magazines, or unused beddings and sheets – you can install a storage headboard where you can put items inside.
Remember that organising your bedroom and storing home items properly are also part of decorating and styling techniques for the room.
These little details may look insignificant, but following these headboard tips can make your sleeping sessions a lot more comfortable and relaxing.
Make sure to pamper your bedroom by putting the right decors and style elements. After all, you're spending much of your life inside that room.
*This is a collaborative post.