I Am A 2017 BritMums BIBS Finalist
On Monday I spent the day at the hospital having treatment for my health. It was a hot and sticky day. I waited two hours for medication because the pharmacy at the hospital had a mix up and I was unable to access the internet whilst being treated. My day was no fun at all. Due to delays at hospital my hubby had to leave to pick up our daughter and then bring her back to hospital to collect me. I was having the worst day.
When I got home, I checked my emails. I was a little shocked, well really shocked to read I am a finalist in the INSPIRE category of the BritMums Brilliance in Blogging Awards. I still can't quite believe it. Last year I was shortlisted in the Inspire category but this year I am an actual finalist and have a chance of maybe possibly getting my dream blogging award.
I'll begin by saying I am grateful for what I have and having a lovely shiny badge that say's finalist has made my day. There are so many wonderful Inspiring and fantastic blogs in the UK and to be chosen from so many is a true honour. The reason I began blogging in January 2016 is because I wanted to reach out to others and share my experience and journey as a mother with chronic illness. I have done this to my best ability and learnt so much along the way.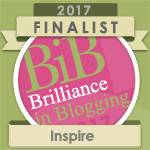 Blogging has not only helped me therapeutically to speak about my experiences with Adrenal Insufficiency, it has given me a new purpose. I was a sick mother laying in bed a lot, going in and out of hospital and feeling worthless. I lost dreams, goals, my career and have missed out on some key moments in my daughter's life however since I became a blogger I have found a new path. I found a way to give my child opportunities, to be happy despite my circumstances and to make the most of life as a chronically unwell mother. I found a new purpose and I know it has helped others along the way.
I do just want to Inspire others, to share how you can overcome huge difficulties in life and still come out of the other side shining bright. I really want to share my life story one day.People tell me they are amazed at all I have been through and how I have coped and managed. I guess the silver lining is that I can share my experiences and maybe, just maybe it can help someone else who is struggling.
Blogging is a journey and although I have come a long way in 2.5 years, I do have a long way to go. I have found my purpose in life. I am a mother, a wife, a blogger, a friend, an educator and now I am an Inspiration.
Angela x
I'd love you to vote for me as a finalist in the BritMums BIBS AWARDS Inspire Category. It takes a few seconds. I'd appreciate it!