Are you looking for some Brio Train accessories or a great review of a basic Brio train set? Look no further! Today on the Inspiration Edit we are sharing a fantastic Brio Railway Train Set. The Brio trains are battery operated and it's been fun to write this Brio Train review.
As a child we had a huge Brio train track set and I always recall playing with the train tracks a lot whenever we went into town. Our Brio train tracks were passed down to my little brother and are still in the family 30 years later.
Brio Train Accessories My First Railway Battery Train Set
What Brio Train Accessories Do You Get In The My First Railway Set?
The Brio My First Railway Battery Train Set comes with 25 brio train accessories. This is a perfect starter kit for little ones aged 18 months and over. It's also a great train track set to add to n already exisiting brio train
This train set comes with some regular curved tracks, two mountain tracks and 5 Mountain blocks. The train can go up and down the mountain blocks and through the small tunnel.
The Brio train in this Brio set is a battery operated train and can be played with both manually and has the ability to move on it's own.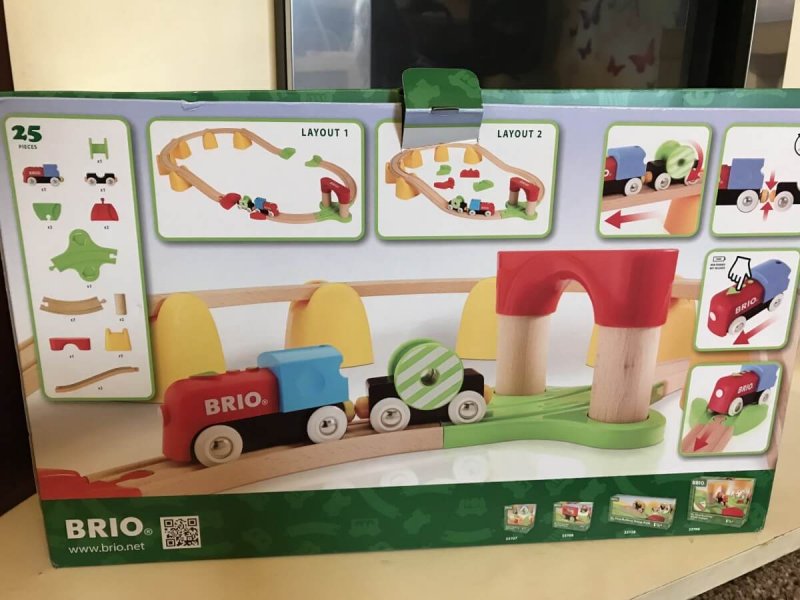 To get the train moving on it's own simply press the green arrow on the top of the engine and the train will begin it's journey. The wagon with the spinning wheel makes it extra fun to watch the train passing by.
Although I do love this as a starter set, I do think it would be more fun with an extra train and more track. This is a great set to begin with and you can then slowly buy extra track pieces and trains.
The Brio Trains Are Battery Operated
You can purchase the My First Brio Railway Battery Operated Train Set online from Brio and in a number of stores. The set retails for £44.95 and I know it is great quality product and brand and one I will certainly endorse from my experience with Brio over the years.
More Children's Toy reviews you may enjoy
*We were sent this product for the purpose of review*