Today I am writing a blog post at 3am. Why would I do that? Well I simply can't sleep. I have the weirdest sleeping patterns at times. It has a lot to do with my Adrenal Insufficiency Medication.
You see I don't produce the stress hormone cortisol and as a result I need to replace this into my body 24 hours a day. Sometimes I can be under replaced and sometimes I will be over replaced.
It's funny how it happens but when I need to stress dose for illness I can end up feeling wired and that might keep me awake all night and then I'll fall asleep in the day and end up in a screwed up pattern.
It used to drive me crazy but I am learning to live with a weird sleeping regime.
I figured so long as I am there at the times my daughter needs me it does not matter if I take a nap in the day and work in the night.
Heck I am the crazy blogging lady who emails Pr's at 2am or 3am in the morning.
They have never complained so far! ha ha!
I'm blessed to have a great husband who can hold the fort while I am asleep taking a nap and am grateful to have loyal dogs who follow me around like everywhere I go.
Casper especially keeps me company at night and sleeps by my side in the day.
The poor dog! He has a bad sleeping pattern too he he he!
However luckily for Casper he can sleep whenever he feels like it and he has no responsibility except from guarding the house from the postman – which he does very well I might add!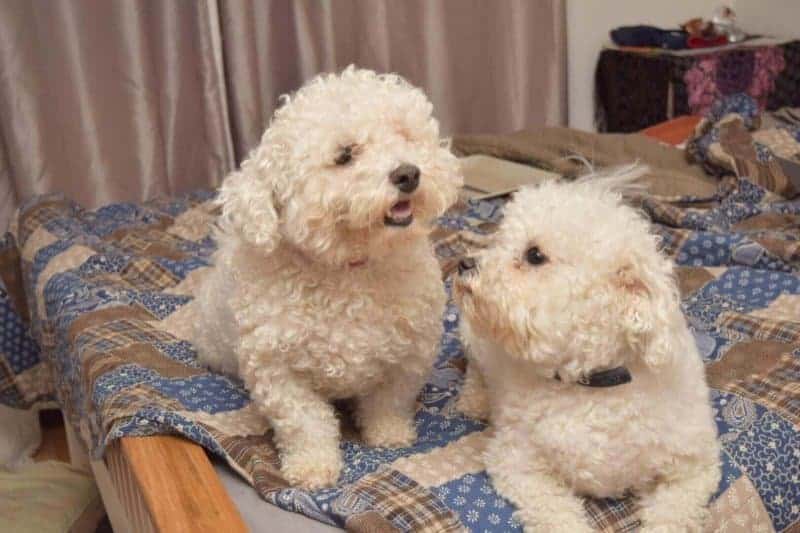 Yoda is also quite a good security guard. He loves to sit or lay on the windowsill and watch the world outside and of course bark like crazy at the cats who come in the garden.
Actually it's funny as there are quite a few cat's about. In fact our neighbour had words with my husband the other day. He complained that our dogs, Yoda and Casper were chasing his cat!
Hello..what do you expect when your cat comes in the garden? It is our garden after all.
If they were going into his garden I'd understand. I guess if you don't want your cat to get barked at and chased keep it indoors!
Anyway, I don't know how this post went from talking about sleeping to talking about our Bichon dogs but it did. I guess that's the way the cookie crumbles.
At the moment Casper has a sore foot and has been feeling all sorry for himself. What happened? Well I really don't know. He got a fungal infection or something because he would not stop licking his paw and he licked it raw.
Seriously, I tried to stop him and even put a pair of Sylvia's socks over his paws which he did not like. It did the trick for a few hours. Sometimes we have to do things to help our pets even if they don't like it.
Large Size Bichon Frise Resin Dog Sculpture Car Ornament

Joy to the World Collectibles European Blown Glass Pet Ornament, Bichon Frise

Bichon Dog Recycled Wool Ornament

Douglas Cuddle Toys 4078 Dandelion Puff Bichon, 8-Inches(20cm)

Sandicast Mid Size Bichon Frise Sculpture – Sitting

Bichon Frise Dog – Collectible Figurine Statue Figure Sculpture Puppy

Actually Casper was not keen on wearing socks. I guess no dog would be ha ha! However, he was given a pair for his front paws and every time he tried to take the sock off, I'd cover his leg with the blanket and tell him no.
He knew the sock needed to stay on! I told him it was for his own good but sneaky Casper went around the corner pulled the socks off with his teeth and then returned into the room looking rather sheepish.
We do have some cream for his paw now and really Casper needs to wear the cone of shame to allow it to heal. So John will be making a trip to the Vets to get a cone in the morning. Casper will not like it but it will be for his own good.
So, as I write casper has fallen asleep by my feet. I am in the lounge. Yoda aka Mr Piggy wiggy has woken and i can hear him crunching food and banging his bowl, so he must be having a midnight feast or should I say a 3AM feast.
I seriously love my Bichon's, they make my home life more interesting that is for sure and keep me in good company when everyone else is fast asleep and I am wide awake at silly hour.
P.S Our dogs need hair cuts badly… it will be done soon and then they can prance around showing off after their lovely grooms!
Angela x
Related Products
KONG Classic Dog Toy, Large, Red

101 Dog Tricks: Step by Step Activities to Engage, Challenge, and Bond with Your Dog

Comsun 2-pack Collapsible Dog Bowl, Food Grade Silicone BPA Free, Foldable Expandable Cup Dish for Pet Cat Food Water Feeding Portable Travel Bowl Blue and Green Free Carabiner ¡­