It has been an interesting two weeks for Yoda the bichon frise. He has spent more time out and about, has been for his second groom and even had a three day sleepover with his doggy friend "Pepper". Yoda is also becoming a more obedient dog and is having lots of "Happy Days". Go Yoda!
Out and About
Yoda attended his second Grooming session on Thursday. He is looking more and more like a fluffy Bichon. Cute! He didn't stay white and fluffy for too long though as he loves to get out in the grass and dirt and before we knew it that's exactly what he had done!
His biggest escapade to date was a three day visit to Pepper's home. John and I attended BritMumsLive in London and our wonderful Dog loving friend took over Yoda's care until we got back. We had a brilliant time but according to sources Yoda had an even better time.
He played in lots of fields, went on a trip to Preston (to see Pepper's girlfriend). Yoda even learnt some new commands and came back home even happier and even more obedient than when he left! Training a puppy, when you have little experience can be very hard. The only thing I can compare it to is being a new mum and having to figure out what to do as you go along. Everyone has suggestions and ideas and they are all so very different. We have to figure out what works for us and our family.
This evening Yoda is going to the Vet's. He has a undescended testicle (I'm not sure, he'd want me to tell the word) but hey, he's a dog- it's okay! It looks like he will be having an operation next week. I'll be sure to write about it, when he does. He will be wearing a cone on his head for a whole week. I'm not sure he will like that but it will give him time to heal. All I can say is thank goodness for Pet Insurance.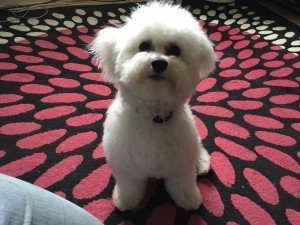 Toy of the Week
The one toy that has kept Yoda's attention more than any other this week is his trusty old red ball.
We have had this for weeks and he loves to play fetch and play with it! it was not easy getting a shot of him and he is always on the move with this toy but I waited patiently and finally got the shot I wanted.
Caught in the Act
This week Yoda has not done anything "naughty" or "cheeky" but he was caught in camera having cuddles with me after his groom. He was so gorgeous and fluffy I must say. I could not resist.

Yoda's Weekly Photo
This is my favourite shot of the whole week! – Angela x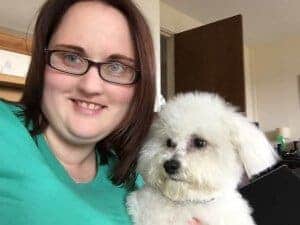 Nerf Dog Soccer Crunch Ball, Red, Small
KONG Rubber Ball Puncture Resistant, Small, Pack of 2
Jolly Pets 4.5-Inch Romp-n-Roll, Red
To read more stories about our Bichon Dogs visit A Dogs Life