8 Photos Of Happiness
A few weeks ago I was tagged by Laura from Laura's Lovely Blog to write this post, 8 Photos of Happiness. I was really excited to be tagged for this one as I love sharing photos and it's an opportunity to look back on happy times.
Thankyou Laura for the tag and I hope you enjoy my pictures. Angela xx
This is me with my parents, my sister and her husband and my two brothers. I live far away from my family as we migrated to New Zealand in 1995 and I returned to the UK in 2010.This photo makes me happy and is a nice reminder of those that I love and miss.
Next is a photo of my daughter Sylvia when I still called her peanut. At the time i did not know whether i was having a girl or a boy so peanut was the name.
This was Sylvia's first Christmas. It was a sad time because it was when I separated from Sylvia's birth father and took out a protection order but it was a happy time as I was on my own and always listened to Leona lewis Song Happy which made me happy.
This was on tour in Paris with Sylvia. When Sylvia was 18 month, we went travelling to different countries and this was a great experience full of happy memories.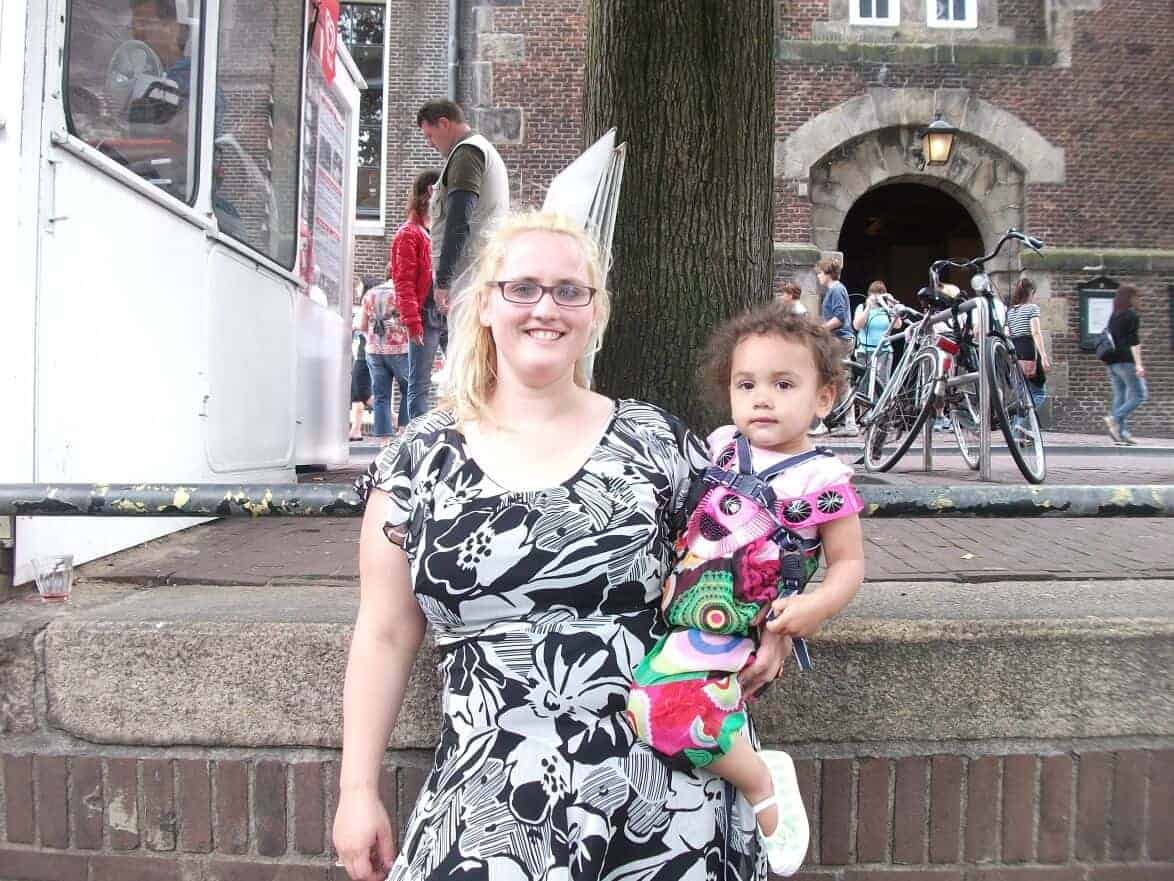 This is another travel Photo. This time we were in Amsterdam and had just been on a boat ride which was very cool.
This is a picture of John and I taken around the time we got engaged. We were both so excited and happy to have found one another.
Here is a lovely wedding photo. This was the best and most happiest day ever and a week before I collapsed and was diagnosed with Adrenal failure.
This is me at my daughter's school play. I don't get out much due to illness and it was wonderful to be able to go and see Sylvia perform as an angel. I loved it.
These photos make me happy but it also makes me really sad because I see my life and how different it is now I am unwell and on steroids. Not wanting to put a negative spin on it but I really do hope to get better treatment one day so I can feel happier about myself once more and go places and do things like I used to. No matter what though, I'll always try to be happy and positive no matter what life throws at me.
Angela x
Now I've finished my post, I'd like to tag the following blogs:
The Mommy My Way
Indulging Mum
Patterns and Milk
If you message me on my twitter handle @daysinbed to let me know when your post is up, I'll pop over and take a look.
Rules of the tag:
Thank your nominator and link them to the post.
Post your 8 Photos of happiness.
Write a brief description of the picture, why you chose it or let the pictures do the talking.
Spread the happiness and tag up to ten bloggers.
Thanks for reading
Angela x