20 Homemade Dog Treats Your Dog Will Love
Last week we took Yoda to the vets. He has bleeding on his leg and a huge bruise and we were not sure what had happened. The vet's said he had caught his leg most likely the fence in our garden. He was given some medication and sent home.
The Vet also noted that our little Bichon is overweight. It's not an easy thing when you have two dogs and they often steal each others food.
I guess the best thing we can do is feed our dogs small amounts and give them healthy treats in moderation. It's a work in progress and today I'm sharing a list of yummy and healthy treats for dogs.
I hope you like them.
*I use affiliate links in this post. If you buy anything from my links I will earn a small commission*
1. 3 Ingredient Puppy Treats
2. Easy Peanut Butter Dog Biscuits
3. Dog Treat Recipes
4. Easy Pumpkin Dog Biscuits
5. Peanut Butter Banana Grain Free Dog Treats
6. Peanut Butter And Bacon Dog Treats
7. Homemade No Bake Dog Treats With Pumpkin And Oats
8. Homemade Dog Treats
9. Dog Treats
10. How To Make Your Own DIY Dog Treats
11. Homemade Flax Seed Biscuits
12. Strawberry Blueberry Yogurt For Dogs
13. DIY Frozen Apple Dog Treat Recipe
14. Pumpkin Peanut Butter Oatmeal Dog Biscuits
15. How To Bake A DIY Doggie Cupcake
16. Dog Donuts
17. Yoghurt Peanut Butter And Banana Treats
18. Carrot Oat Applesauce Treats For Dogs
19. Frozen Dog Treats
20. Muddy Paws Blueberry Dog Treats Recipe
Check out our recipe for Peanut Butter and Bacon Dog Treats!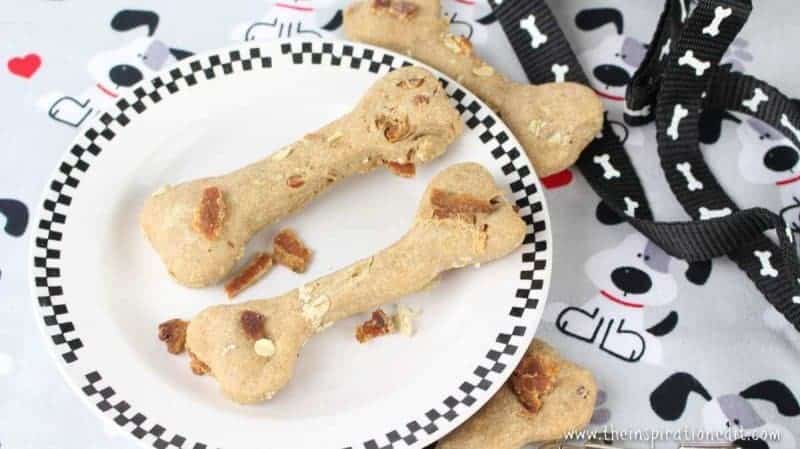 Please Pin Me